"It's expensive, a little bigger, a little more unwieldy than you thought it was going to be," Stewart said on Tuesday night's show. "It's going to be at least a two-year commitment. It kinda feels like you just fucking got the last one. On the bright side, at least it's not the watch."
But what really got him going wasn't just the airstrikes on Islamic State militants, but the attacks on a second group that most of us had never heard of.
For more on that, Stewart brought in Senior Pentagon Correspondent Jessica Williams for a lesson about all the other terror groups you haven't heard of yet... and probably never will again.
Check out the clip for more.
Related
Before You Go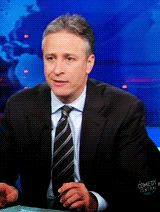 Jon Stewart GIFs
Popular in the Community