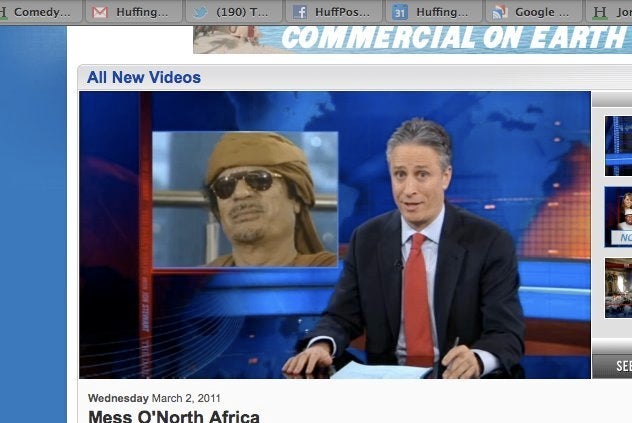 On Wednesday night's "Daily Show," Jon Stewart did his second segment on Libya since the populist uprising, this time focusing on Muammar Gaddafi's insane behavior and statements that make Charlie Sheen sound stable.
Stewart kept things as light as you possibly can while discussing a mad dictator like Gaddafi, starting the segment by mocking the likes of Mariah Carey and 50 Cent for having to give away the money they made performing in Libya. Even Stewart said he "suckled nectar from the Colonel's sweet entertainment budget teat" and showed some funny "footage" from his last stand-up show there.
But Gaddafi's madness was the real subject of the show. Aside from the mobs of his own people protesting him, Gaddafi's own deputy ambassador to the U.S. and pretty much teh entire world have spoken out against him. In interviews, however, Gaddafi claims that Libya not only has no leader and is a free state, but that all of his people love him.
"They're hitting pictures of you in the face with shoes," Stewart said, not falling for his existential bullsh*t:
"No wonder you're wearing sunglasses, you're high!"
Watch the full segment below to hear Stewart detail some more disturbing Gaddafi behavior, including the fact that he was in the Human Rights Council and recently said he would dispense arms to his people so Libya "becomes red with fire." He then "made up" for this by giving every family in his country $400.
"He's like the Ike Turner of dictators," Stewart quipped.
Calling all HuffPost superfans!
Sign up for membership to become a founding member and help shape HuffPost's next chapter