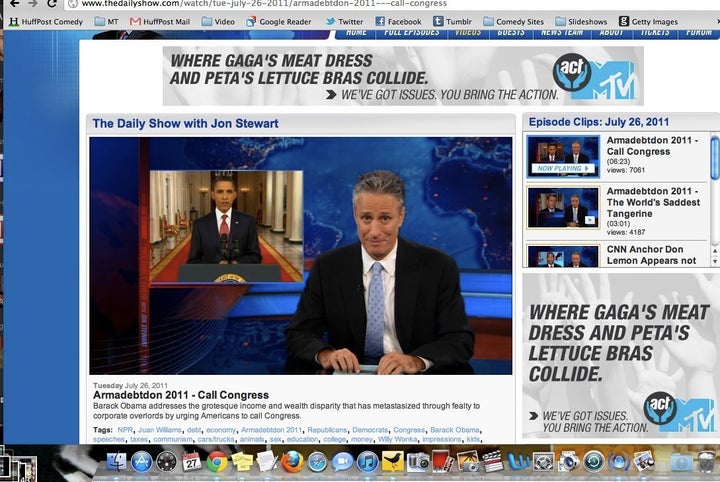 As the Aug. 2 deadline for raising the nation's debt ceiling approaches, Jon Stewart continues to take note of the ridiculous back-and-forth between President Obama and the Republicans in Congress. On Tuesday night's "Daily Show," Stewart focused on Obama's Monday night address and how it's starting to seem like the President is giving up.
First, Obama warned in his speech about potentially serious damage to our economy if the debt ceiling is not raised, but Stewart felt the message was undercut slightly by the "golden-chaired red carpet" room (or the "I killed bin Laden room" as it's known) in which he was giving the speech:
"Isn't there any way to do the 'tighten your belt' speech from a room that doesn't look like the foyer of the Vatican?"
Visuals aside, the part of the President's speech that stuck out the most to Stewart was the part where he called on Americans for help. Hearing Obama's explanation of the Republican's "cuts-only approach" where the super rich stay super rich, as well as his argument that hedge fund managers shouldn't pay less taxes than their secretaries, Stewart became filled with a Communistic spirit, grabbed a hammer and sickle, and praised the President for addressing our "grotesque income and wealth disparity."
"What is our mission, comrade?!" Stewart got excited before finding out what Obama was really asking Americans to do: call Congress and tell them to vote for raising the debt ceiling. Stewart was amazed:
"That's your idea, call your congressman? Did the President just quit?"
Watch the full segment below to hear how Obama's call for action sounds just like your mother trying to get your father out of the bathroom, and see the second video to hear what Stewart thought of John Boehner's debt speech from the same night.
Popular in the Community