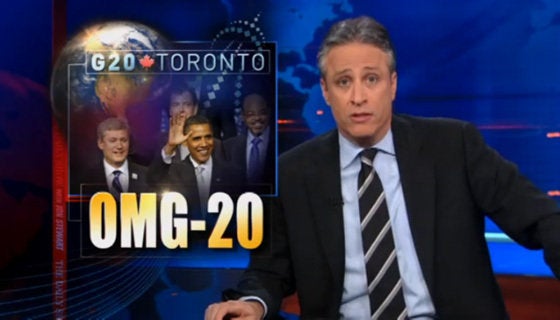 With so many world leaders in one place, Jon Stewart had some fun breaking down the key moments of the G-20 summit. Acknowledging the presence of swinging bachelors like Nicolas Sarkozy, Stewart suggestively remarked, "Leave the wives at home gentlemen. You're in Toronto."
Stewart capitalized on the highlights - like the awkward toast between Obama and British Prime Minister David Cameron, a topic that quickly devolved into a "go f--k yourself" fight with correspondent John Oliver.
He then moved on to mock the ridiculous Urban Outfit-demolishing protests, making solid points along the way:

"It's like these G-20 protests have become little more than festive yearly gatherings like an anarchist Thanksgiving... Are they aware how strange the juxtaposition is between the barbaric behavior of the streets and the sophistic internet culture they exist in?"
Calling all HuffPost superfans!
Sign up for membership to become a founding member and help shape HuffPost's next chapter