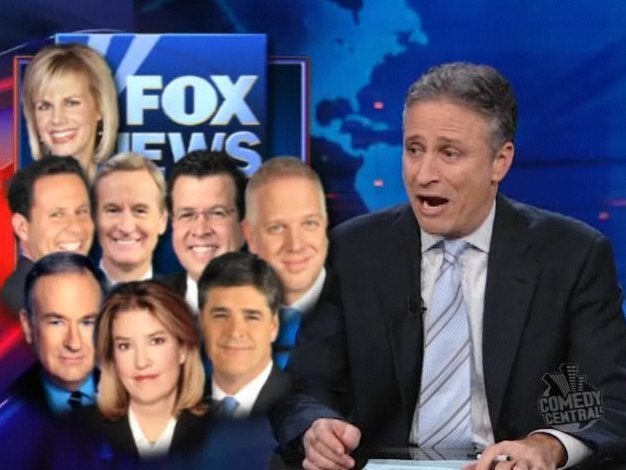 Jon Stewart devoted half his show last night to the Fox News/Obama "war" sparked either by White House Communication Director Anita Dunn or the cable network's constant attacks on the president, depending on how you see it. The former accused Fox of acting on behalf of the Republican party, the latter accused the president of being Stalin. Apples and oranges.
Fox News Senior Vice President Michael Clemente struck back at the White House after Dunn's remark saying, "It's astounding the White House cannot distinguish between news and opinion programming. It seems self-serving on their part." (Full disclosure: I worked for Clemente at ABC News.) Fox went on to define its news hours as 9am-4pm & 6-8pm, parameters which exclude Cavuto, O'Reilly, Fox & Friends crew, Glenn Beck, Greta Van Susteren, and Sean Hannity from the news category and leave a bunch of people you've never heard of.
Stewart not only skewered Fox for this defense and editorializing during their designated news hours, but also took on the Obama administration for saying they are speaking "truth to power" by fighting with Fox. Stewart pointed out that they are in fact the power: "It's your job to f*ck up power, it's Fox's job to f*ck up truth."
Full Episodes
Popular in the Community