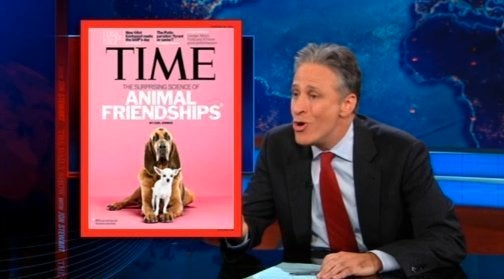 Jon Stewart called out Time for what he considered to be a significant difference between the cover stories the magazine features on its American and international editions.
Stewart started the segment by discussing how the American public counts on weekly news magazines "to provide context from the day to day news cycle." For example, Stewart said, Time's cover story this week focused on Italy's new Prime Minister, Mario Monti, with the gripping headline, "Can This Man Save Europe?" Stewart highlighted how the Moto story ran on the covers of Time's European, Asian and South Pacific editions.
The American edition, however, featured a different story titled, "The Surprising Science of Animal Friendships." The cover shows two dogs sitting together in a friendly manner. Stewart joked, "I'm not saying that Time has a low opinion of its American readers but when the editors of the magazine Highlights for children got pitched the same pet friend story they said, 'it's a little soft, isn't it?'"

According to Stewart, this was not the first time Timeran lighter stories on the cover of its American edition. In December 2011, international editions featured a cover story about the Arab Spring, which Stewart described as "dramatic" and "historic." The American edition — "Why Anxiety Is Good For You."
Stewart said that in August, the cover story for international editions was titled "Travels Through Islam." During the same month, a story titled "Chore Wars" was selected for the U.S. cover. "Chore Wars, because my grasp of Islam can wait until I know why emptying the diaper pale is my f--g job," Stewart said.
WATCH
:
Calling all HuffPost superfans!
Sign up for membership to become a founding member and help shape HuffPost's next chapter
BEFORE YOU GO
PHOTO GALLERY
Jon Stewart ripping Fox News