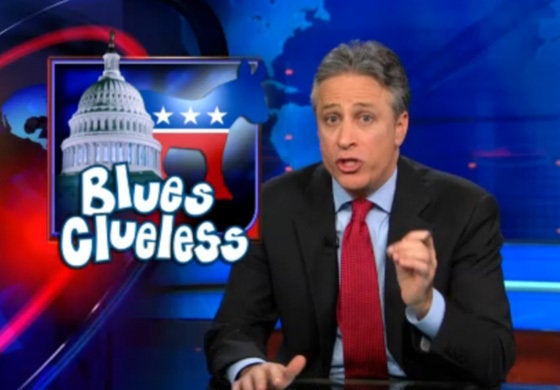 Jon Stewart had some advice for the Democrats last night. A week after Scott Brown won the Massachusetts election, many Republicans have suggested that Obama's best option is to move to the middle, a move that a number of Democrats seem to support.
Shocked that the Dems would make such concessions, Stewart asked, "Don't you get what the Republicans are doing? They're fucking with you." He then compared the ploy to the "Wonder Years" where Fred Savage's character would repeatedly attempt to get into a station wagon, only to have his brother Wayne drive off. Stewart warned that giving into Republican agendas would be fruitless: "No matter what you do, the Republicans are not going to let you into the station wagon."
Correspondent Aasif Mandvi joined Stewart, going as far to say that Democrats should abandon their unrealized agenda and revert to Bush-era policies. To top it off, he unveiled a new logo for the DNC: a lifeless possum. Explained Mandvi: "It says, 'You can't hurt us anymore. Because we're already dead.'"
REAL LIFE. REAL NEWS. REAL VOICES.
Help us tell more of the stories that matter from voices that too often remain unheard.