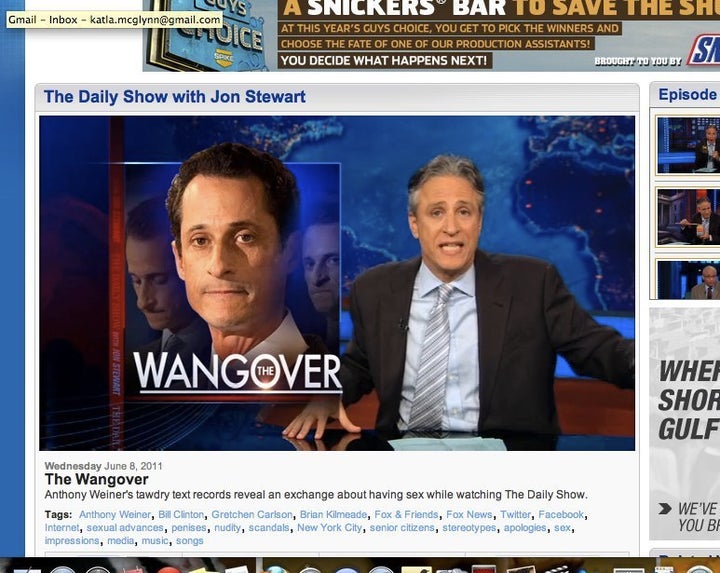 Following up his epic Anthony Weiner press conference parody and subsequent injury Tuesday night, Jon Stewart dedicated yet another segment to the story that keeps on giving on Wednesday night's "Daily Show."
The latest development in the scandal (aside from Wednesday's report that Weiner's wife is pregnant) is that Weiner actually called former President Bill Clinton to apologize for his immoral behavior. Stewart couldn't understand why:
"What?! A congressman had a sex scandal and has to apologize to Bill Clinton? For what? A copyright infringement?"
Aside from that ironic detail, transcripts of Weiner's salacious Facebook message exchanges have been released and are being read on-air (Stewart especially got a kick out of Fox News' Brian Kilmeade's reading). But one part of the conversation really stuck out to Stewart. Let's just say it suggests that Weiner has a desire to have sex while simultaneously watching "The Daily Show." Stewart responded in the only logical way:
"You want me to cut my wrist again?"
A sickening as this was, Stewart had to assume that Weiner isn't the only person who's "getting down" while watching his program. To embrace the sexual nature of his show, Stewart concludes with the second musical accompaniment he's had in as many weeks: A sexy, shirtless saxophone player.
Calling all HuffPost superfans!
Sign up for membership to become a founding member and help shape HuffPost's next chapter