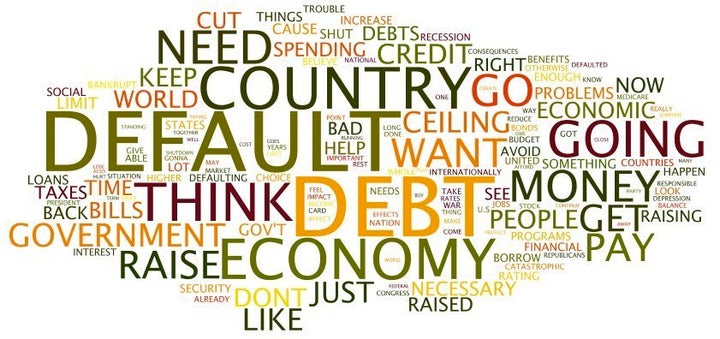 WASHINGTON -- Issue polling can often produce results that are confusing or flatly contradictory, and the flood of recent polling on raising the debt limit is no exception. But in this case the inconsistency is mostly about the complexity of the issue, the disconnect between the key questions being debated in Washington, the concerns of ordinary Americans and the difficulty of boiling public opinion down to a single number.
Earlier this week, Jon Stewart's Daily Show spliced together a series of talking heads on cable news using poll results to make wildly contradictory claims about public opinion on the debt ceiling debate (beginning at about 1:45 in the video).
One says a majority of Americans "want nothing to do with a tax hike in the debt deal," the next claims "the vast majority of Americans want tax hikes to be part of the debt ceiling deal." One cites "an almost two-to-one majority" of Americans who "want their member of Congress to vote against raising the debt limit," while another says more Americans are ready to say "raise it, they understand the implications for the economy." And so on. The result, per Stewart's quip, is a lot more obfuscation than clarity.
The apparent conflict in the poll results has two main causes: First, the debt ceiling issue is inherently complex and remote. Fewer than a third of Americans say they are closely following the debate. A Pew Research Center/Washington Post survey in early July found just 18 percent of Americans saying they understood "very well" what would happen if the government does not raise the debt ceiling, and a subsequent Pew Research poll found more than half (52 percent) saying they find the debt limit issue hard to understand.
Second, pollsters often ask about specific controversies that may not reflect the way ordinary Americans think about the issue. Consider a set of results recently released by the Gallup organization. Earlier in July, they asked a sample of 1,106 adults about "raising the debt ceiling" (with no further explanation) and two-to-one plurality opposed it (42 to 22 percent, with 35 percent uncertain). More interesting were the follow-up questions: They asked those expressing an opinion to explain their position in their own words.
Word clouds based on the text illustrate the words used most often by the respondents in their answers. Those who oppose raising the debt limit frequently used the words "debt," "spending" and "money."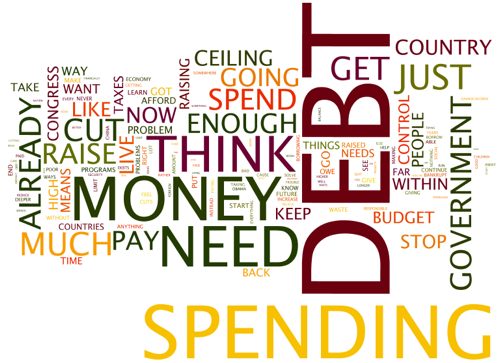 Responses were mostly about having too much debt or needing to reduce spending and frequently echoed the political messaging of leaders who oppose raising the debt limit:

"If I have to live in a budget so should they."

"My children and grandchildren can't afford to pay that debt. We need to pay our own debts now."

"Because I think we need to cut spending, and not spend more, and not print money when we don't have it."

In addition to the word "debt," the smaller number who expressed support for raising the debt limit were most likely to use the words "default," "economy" and "country."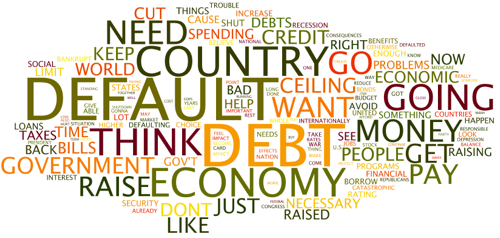 Those word choices reflect responses that were mostly about avoiding economic catastrophe and a default on the debt.

"U.S. government can't afford to default on debts ... creditors would lose faith ... catastrophic."

"Our country is in such bad shape -- our congress got us in such bad shape -- we have to."

"We can't default -- that would be horrible for our country."

"It is important to the U.S. economy not to default on loans."

At a meeting with reporters in Washington on Tuesday, Gallup's editor-in-chief Frank Newport explained that indicate that Americans are "fairly well informed to a certain level." The answers were "articulate" on both sides, "but they weren't responses that showed they had burrowed way through the surface." The respondents were "mimicking" the talking points of advocates on both sides of the issue. "I'm pretty positive," he added, "that the average American ... doesn't know the intricacies of what the impact of the deficit is on their ability, on inflation or employment or retail sales and sometimes can affect them directly, say 5 years from now."
And keep in mind that the responses reflect only the thinking of the roughly two-thirds of Americans ready to support or oppose raising the debt ceiling on this particular poll. Gallup did not ask for open-ended answers from the remaining 36 percent with no opinion either way.
The limited engagement of Americans on this issue (as on most legislative battles) helps explain some of the apparent contradictions in recent polling and helps distill some of the reality of public opinion.
We can infer from these results and many others, for example, that Americans don't like the sound of debt or deficits. So when a pollster asks, as the Fox News poll did this week, whether Congress should pass an "up or down vote on raising the nation's debt limit," 60 percent say they would vote against while only 35 percent would vote in favor.
But Americans also don't like the idea of default and bankruptcy. So when a pollster explains, as an NBC/Wall Street Journal poll question did this week, that an increase is necessary for the U.S. Treasury "to avoid going into bankruptcy and defaulting on its obligations," more favor raising the debt limit (38 percent) than not (31 percent).
Perhaps more important, the anxiety about rising debt is strongly related to worries about government overspending. So when pollsters ask about proposals to increase the debt ceiling that also include cuts in government spending -- as on this week's CNN poll -- they find majority support.
Of course, huge majorities also oppose cuts on spending on Medicare, Medicaid and Social Security, as the new CNN poll reaffirms. So if a deal achieves significant spending reductions that include cuts in those popular programs, some future polling question may well show majority opposition to that deal.
And for all the contradiction, the polls of the last week or so have produced some consistent findings:
Every poll released this week that asked found Americans prefer a deal featuring a mix of tax hikes and spending cuts to a deal featuring just spending cuts.
Most of the surveys find strong sentiment in favor of compromise, especially among Democrats and independents.
The surveys all show Americans expressing significantly more confidence and trust in President Obama's handling of the issue than of either the Republican or Democratic leadership in Congress.
The polls that have tracked identically-worded questions about raising the debt ceiling, such as CBS News, NBC/Wall Street Journal, Pew Research Center and YouGov/Polimetrix, have all shown sentiment rising in favor of increasing the limit.
Yes, poll results can be confusing and contradictory. And any polling snapshot taken today may look different if taken again in the future. But the flood of recent polling can still tell us a lot about the complex tapestry of views about government spending and debt, even if those views don't boil down to a single score showing which side is winning the battle of public opinion.
As part of a HuffPost and Patch collaboration, dozens of local Patch editors went out to talk to their neighbors about the debt ceiling. The goal: find out if normal Americans are worried about the US defaulting on its debts. And if so, who is to blame?
Popular in the Community