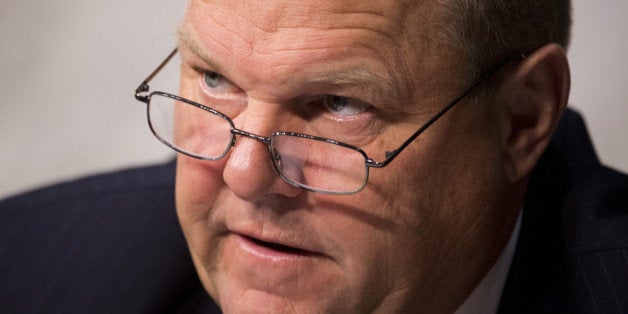 WASHINGTON -- Sen. Jon Tester (D-Mont.) was named the next chair of the Democratic Senatorial Campaign Committee on Thursday, placing a red-state Democrat with a populist streak in charge of recruiting 2016 candidates for the party.
Tester's new role was announced after Democrats in the Capitol held their leadership elections.
"One of my concerns moving forward is being able to win in every state across this country -- red state, purple state and blue," Tester told reporters shortly after the new leadership team held a press conference.
The appointment of the Montana Democrat comes as the DSCC has reached a crossroads. After four straight relatively successful election cycles -- with some unexpected victories in the latter two -- the committee suffered terrible setbacks in 2014. Eight Senate seats were lost to Republicans, with a ninth expected to be go following the runoff election in the Louisiana race.
But the next DSCC chair is also looking at an enviable political map in two years. Only 10 Senate Democrats are up for re-election in 2016, the residual benefit of the shellacking they took in 2010 when tea party Republicans swept into office. Republicans, meanwhile, will have 24 seats to defend, including five in states that President Barack Obama won twice.
With races being run in states like Illinois, Pennsylvania, Wisconsin and Iowa, Democratic recruitment could be easy. But fundraising might be tougher: The incoming chairman will have to compete with the Democratic presidential candidate for donor dollars.
Tester declined Thursday to weigh in on where the best chances will be for Democrats to pick up Senate seats in 2016.
"We'll look at the map. Every seat that there's a race, I think we've got a chance at picking it up," he told reporters.
Though he comes from a state with a comparatively small population, Tester has proved to be a strong fundraiser. He pulled in $20 million from 2005 through 2014. With one more election cycle, he is likely to pass former Sen. Max Baucus (D) as the most prolific fundraiser in Montana's federal political history.
Lawyers and law firms have been Tester's biggest donors, giving $1.39 million from 2007 through 2012. After them have come retired professionals ($850,000) and the securities and investment industry ($646,000), according to campaign finance records.
Tester's political reputation is that of someone who has been able to sell a reliably Democratic record in a conservative state. He was first elected to the Senate in 2006, when he unseated the Republican incumbent in a tight race, and won in 2012 against then-Rep. Denny Rehberg (R-Mont.). During the latter race, Tester defended his vote for the Affordable Care Act.
He also supported expanded background checks for gun purchases, despite hailing from a state where such a position could be toxic. He co-sponsored a constitutional amendment on campaign finance reform and joined with other progressives last year in opposing the idea of naming Larry Summers to chair the Federal Reserve.
But Tester is a backer of building the Keystone XL pipeline, putting him at odds with more progressive members of his party. His support of coal has similarly irritated the environmental wing of the party.
A progressive activist involved in Montana politics, however, was optimistic about Tester's ability to recruit.
"Jon's got a progressive heart and a political mind," said the activist, who requested anonymity to speak openly. "His job will be to find principled Democrats who can win in red states. There's no one in that caucus better able to do it."
Perhaps one of the reasons Tester ended up with the DSCC job is that few others actually wanted it. According to several Democratic sources, Tester went to Senate Majority Leader Harry Reid (D-Nev.) and said he was interested in the gig after other lawmakers took their names out of consideration.
Sen. Chris Coons (D-Del.), who was approached about the job and reported to be a finalist, was one of those who bowed out. He did so, his office said, due to family considerations.
"Senator Coons genuinely wants to do whatever he can to help Democrats take back the Senate in 2016, so he gave the DSCC job real consideration," said Coons spokesman Ian Koski. "He ultimately decided it wasn't the right time for him to do it. Senator Coons has three teenagers at home and the travel commitments of the DSCC chair are brutal. He's also inherently a pretty bipartisan guy and was concerned it would be harder to make real progress on some of his legislative priorities while running the DSCC."
"Senator Coons has offered to help Senator Tester however he can and looks forward to winning back the majority," Koski added.
Tester isn't the only change coming to the DSCC. Like the outgoing chair, Sen. Michael Bennet (D-Colo.), the committee's executive director, Guy Cecil, won't be back. Cecil is rumored to be in consideration to run Hillary Clinton's presidential campaign.
But Tester does have strong ties within the larger Democratic infrastructure. Stephanie Schriock, his former chief of staff -- and another oft-mentioned possible Clinton campaign manager -- has turned the group EMILY's List into a Democratic juggernaut.
Sen. Claire McCaskill (D-Mo.) said it was encouraging to see a fellow Democrat from a Republican-heavy state land a spot in leadership.
"Jon is one of my best friends in the caucus, and he does come from a state like mine, in terms of politics," McCaskill said. "I think having him out there as one face of the leadership is important for states that aren't bright blue."
Ultimately, McCaskill said, Tester is a great pick because he understands what hard work is about. "This is a guy who goes home and repairs his own tractor," she said.
Below are the Senate seats up for election in 2016:
Map created by Aaron Bycoffe.
Paul Blumenthal and Jennifer Bendery contributed reporting.
Want more updates from Amanda? Sign up for her newsletter, Piping Hot Truth.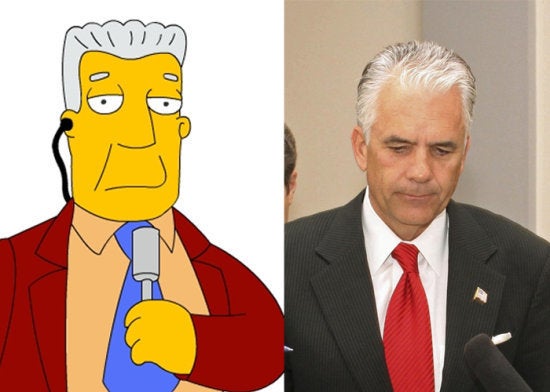 Political Look-Alikes
Popular in the Community