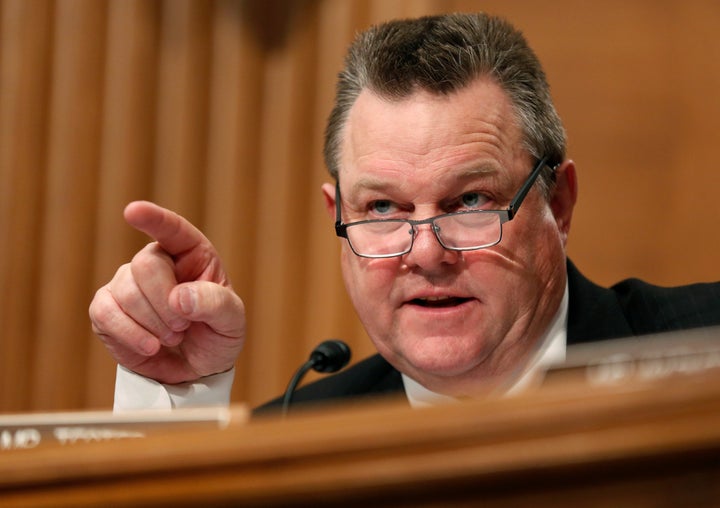 WASHINGTON ― Based on some of his recent votes in the Senate, you might get the impression that Sen. Jon Tester represents a blue state ― certainly not one President Donald Trump won by 20 percentage points in 2016.
The Montana Democrat, a top Republican target in November, has surprised progressives with his often vocal and early opposition to Trump's executive branch nominees this year. Tester voted against the appointments of Health and Human Services Secretary Alex Azar and Secretary of State Mike Pompeo. The senator earned Trump's wrath in earnest after raising alarms about misconduct allegations surrounding Ronny Jackson, the White House physician whose nomination by the president to lead the Veterans Affairs Department was derailed.
Most recently, Tester announced that he intends to oppose Gina Haspel, Trump's controversial choice to lead the CIA.
Tester's opposition to these Trump nominees stands in sharp contrast to other vulnerable red-state Democrats up for re-election in November. Sens. Joe Manchin of West Virginia and Joe Donnelly of Indiana, for example, supported Pompeo and intend to vote for Haspel. They have also voted with Trump and his agenda more often than Tester, according to the FiveThirtyEight Senate vote tracker.
"He's a profile in principled courage. For those who know Tester, they know he's voting like he truly feels ― not a finger-in-the-wind calculus," said Faiz Shakir, the national political director for the American Civil Liberties Union.
But Tester, 61, has by no means been some kind of resistance hero. He supported many of Trump's initial cabinet picks and has helped craft legislation this year that would deregulate some of nation's banks ― bucking liberals who say it would overly benefit large financial institutions.
In his first campaign ad released last month, the senator also highlighted 13 bills he helped write that Trump has signed into law ― legislation that mostly centered on improving health care and benefits for veterans. His team was also quick to point out that GOP senators shared concerns about Jackson's nomination.
"We're going to do what's right," Tester told HuffPost last week, when asked whether he was worried about how his recent voting record was going to play back home. "I look at it from the standpoint of who's best to do the job. ... And that's the same way I looked at it in previous administrations, too. So it really has nothing to do with the election."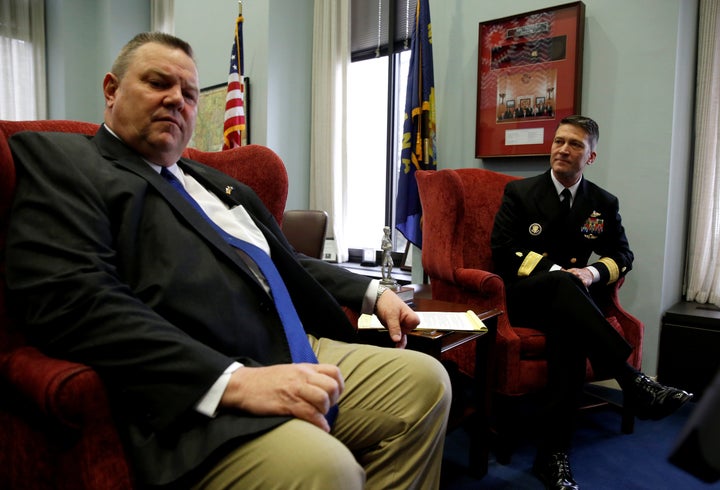 Tester's Republican opponent won't be clear until after the GOP Senate primary on June 5, but there's no question he confronts a tough race as he seeks a third term. Trump's approval rating in Montana has been among the highest in the country. A poll released earlier this year by Axios/SurveyMonkey ranked Tester as among the most politically vulnerable senators on the ballot in November ― and that was before his opposition to Jackson made him a particularly personal target for Trump.
It's still early in the campaign cycle, however. And Tester already has shown he can connect with voters in Montana ― a state that since 1964 has only been carried once by a Democratic presidential candidate (Bill Clinton, in 1992).
Tester, a farmer who as a child lost three fingers on his left hand in a meat grinder accident, started in politics as a local school board member. After two terms as a state senator, in 2006 he won his U.S. Senate seat by knocking off a longtime GOP incumbent. Six years later, he won re-election by 4 percentage points as Republican Mitt Romney carried Montana in the 2012 presidential race by more than 13 points.
Voters also give weight to whether lawmakers have delivered for their constituents, and that's been a strong suit for Tester.
"The reason these [Democratic] senators who represent more conservative states have been successful at building their own brand and developing coalitions beyond partisanship, is that their work and time in Washington is centered on what they think is best for their state," said a Senate Democratic campaign aide. "Even in conservative states, voters' worldview is centered on how what's going on [in Washington] will help them personally, not necessarily ideology or political division."
That's why Tester's campaign has so far focused on his work as the top Democrat on the Senate Veterans' Affairs Committee. Last week, in the wake of his high-profile clash with Trump over Jackson's failed nomination, he released another ad that featured dozens of veterans touting him as someone who's willing to fight for them. (Roughly 1 in 10 people in Montana are veterans, according to the Census Bureau)
It's also why Tester has highlighted his efforts to fund community health centers, on which many Montanans depend upon.
Tester's big challenge, however, will be convincing Montanans that he's an independently minded voice amid GOP attacks labeling him an obstructionist who's beholden to the progressive agenda. Montana state auditor Matt Rosendale, the favorite in the GOP primary who already has the backing of conservative Sens. Rand Paul (R-Ky.), Mike Lee (R-Utah), and Ted Cruz (R-Texas), has echoed Trump by attacking Tester for blocking the president's agenda.
Republicans argue that Tester should be defeated not only his votes against Trump nominees (the senator also voted against Neil Gorsuch's appointment to the Supreme Court) but for his opposition to the GOP tax cut law.
The GOP is investing heavily in the argument that Democratic opposition to tax cuts ― as well as whether Democrats want to repeal them ― will be key to turning out voters in November.
It's not just the backing Trump enjoys in Montana that will work against Tester, said Sen. Cory Gardner (R-Colo.), the chair of the National Republican Senatorial Committee. "It's voting against tax cuts that Montanans are now benefiting from," he said. "So it's going to be a big challenge in any of these states where the state wants fiscal relief from Washington, wants regulatory relief, wants conservative judges, and the member in that state doesn't provide it."
REAL LIFE. REAL NEWS. REAL VOICES.
Help us tell more of the stories that matter from voices that too often remain unheard.