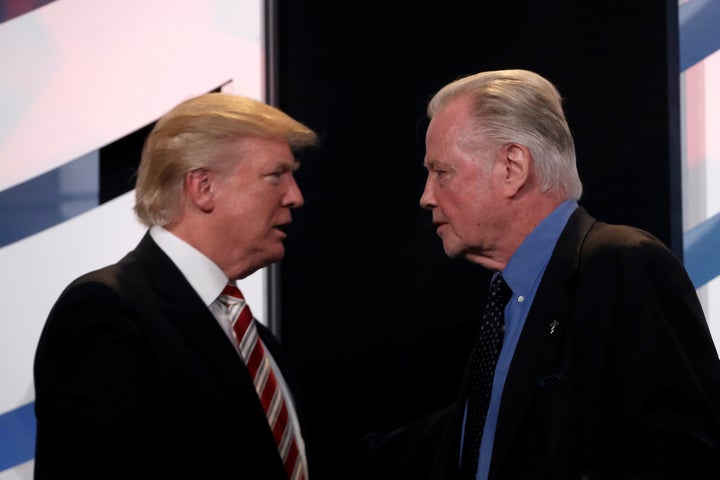 At the annual Values Voter Summit this weekend, Christian conservative leaders and attendees offered interesting and sometimes bizarre explanations for why they're supporting the thrice-married, often offensive and insulting Donald Trump in interviews with me for SiriusXM Progress. Outside the conference of evangelical activists at which Trump spoke on Friday, a group of religious leaders opposed to Trump staged a protest, explaining that the Republican nominee didn't exemplify Christian values when he mocked a reporter with disabilities and called women "pigs."
But former GOP Congresswoman Michele Bachmann, a former Ted Cruz supporter, called the protest "nonsense" and repeated her view that, "God had a hand in the political process" in making Trump the GOP nominee. She also dismissed Trump's praise of Russian President Vladimir Putin, saying only that, "there isn't a dime's worth of similarity between Hillary Clinton and Donald Trump."
Christian Broadcasting Network host David Brody, responding to Trump's claims that he will be "better for the gay community" than Hillary Clinton, observed that evangelicals will "look the other way on that" because they "believe Donald Trump will support conservative nominees" for the Supreme Court and they "look at it in those terms and don't look at it as a man, if you will."
Then there was actor Jon Voight, who said he traveled to the conference in Washington specifically to introduce Trump from the stage. The Academy Award winner, who explained that he'd supported Trump from the beginning of his run, responded to the protest of religious leaders outside of the event by comparing Trump to Saint Mother Teresa and the Nobel laureate and theologian Albert Schweitzer. 
"Well, I'm a Catholic and I'm speaking to this group of Christians, and I'm happy to be doing it," Voight said. "There will always be naysayers. There are people who are naysayers against Mother Teresa, trying to find something against her. They did it with Albert Schweitzer, and I was so enamored with what Schweitzer was doing in Africa."
"And," Voight continued, referring to Trump, "you're always going to have people picking apart this great man."
REAL LIFE. REAL NEWS. REAL VOICES.
Help us tell more of the stories that matter from voices that too often remain unheard.
BEFORE YOU GO
PHOTO GALLERY
10 Excellent Countries To Move To If Trump Becomes President