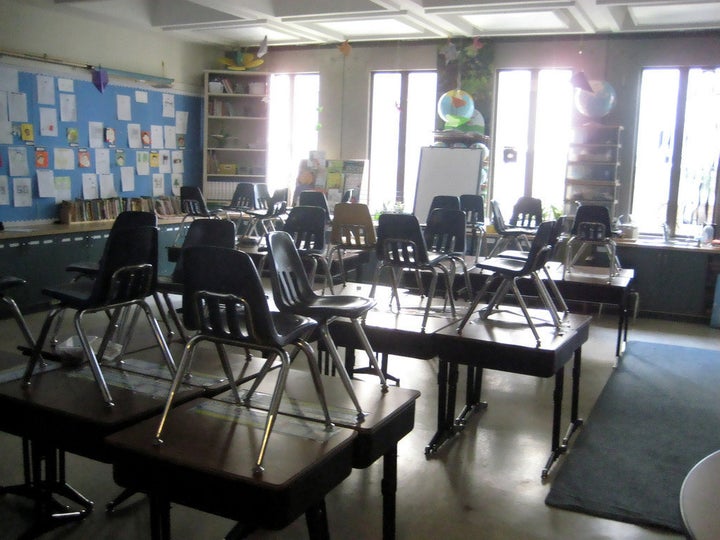 Jonah Edelman, the founder of the influential and cash-heavy education advocacy group Stand for Children, has issued an apology after a video surfaced in which he gives a cold-blooded analysis of his organization's political maneuverings.
In the apology, he described various moments in his talk as "blunt," "presumptuous," and "arrogant." But pro-union educators and activists view the talk as a disturbingly honest look at the role of money and politics in the passage of Illinois's recent sweeping education reform bill.
Scroll down to watch Edelman speak.
At first, he explains, Stand saw an opportunity when the Illinois Federation of Teachers turned against all-powerful House Speaker Michael Madigan over Madigan's passage of pension reforms in 2010. The IFT had been a reliable supporter of the Speaker and many of his supporters in the legislature, but it withheld all its endorsements that year from those who had voted for the pension bill.
Guessing presciently that Madigan and his House Democrats wouldn't be caught up in the national Republican wave of that year, Edelman decided to position Stand for Children on his side, hoping to curry favor post-election.
In one of many surprisingly forthright moments, Edelman describes how Stand chose who to back in the midterms:
I'm being quite blunt here. The individual candidates were essentially a vehicle to execute a political objective, which was to tilt toward Madigan. The press never picked up on it. We endorsed nine individuals - and six of them were Democrats, three Republicans - and tilted our money toward Madigan, who was expecting ... that all our money was going to go to Republicans. That was really an show of - indication to him that we could be a new partner to take the place of the Illinois Federation of Teachers. That was the point. Luckily, it never got covered that way. That wouldn't have worked well in Illinois - Madigan is not particularly well liked. And it did work.
In the lame-duck session following the election, Stand for Children and Advance Illinois pushed hard to pass a measure restricting collective bargaining rights for teachers' unions. They failed to do so, but in his estimation, they had made their point. By coming close to such overwhelming change, they had the unions coming to the table looking to find a middle ground.
"If you show them the capability to actually enact collective bargaining reforms, they're logically going to give on everything short of that to pull back the barricades," Edelman says in the talk. And so, it appears, they did: unions conceded on new rules about layoffs, teacher effectiveness and other issues.
Then, he revisits collective bargaining, in one of the less flattering portions of the talk. He describes negotiating with Chicago Teachers Union president Karen Lewis, whom he calls "a diehard militant," and essentially describes outsmarting her and the CTU.
Stand for Children and its allies proposed a requirement that 75 percent of union members participate in any strike vote. Based on their research, no vote had ever seen more than 50 percent of teachers participate, so the threshold was high enough in Edelman's mind that it was essentially a prohibition on strikes. CTU "took that deal, misunderstanding, probably not knowing the statistics about voting history," he said. "And we insisted that we decide all the fine print about the process - she was happy to let us do that."
The video of the talk was originally posted on Fred Klonsky's local education blog, after which it made waves across the education community. Klonsky, himself a teacher in Chicago, told The Huffington Post that his blog has seen skyrocketing traffic since its posting.
"Most people responded to the tone" of Edelman's response, he said in a phone interview. But "if you cut through all the self-important nonsense," the people who the video really embarrasses are the unions. "Our union's willingness to bargain away our tenure rights, our seniority, rights, our right to strike, these were all the things I was concerned about," Klonsky said.
In this Machiavellian masterpiece, we see Jonah Edelman of Stand for Children infamy .. describe in great detail how great wads of hedge-fund and other corporate cash came to bear on the last legislative election in Illinois, ... how teacher unions were lured to the table and how they were totally manhandled by the best lawyers and negotiators that money can buy, how union leaders became complicit, scared, weak, groveling.
In response to the growing criticism of his talk, Edelman sent an apology to Klonsky and other bloggers who posted the video. He chides himself for a tone he describes as "arrogant," and says that he portrayed the debate more as an "us-vs.-them" competition rather than the collaboration that he now insists it actually was.
Meanwhile, some of the wronged parties from the video are saying their piece. In a post on Catalyst Chicago, an education blog, a CTU spokeswoman argues that the union will in fact be able to meet the 75 percent threshold required to strike. "We would not have agreed with this if we did not believe that we had a viable option in collective bargaining," she said.
Related
Popular in the Community