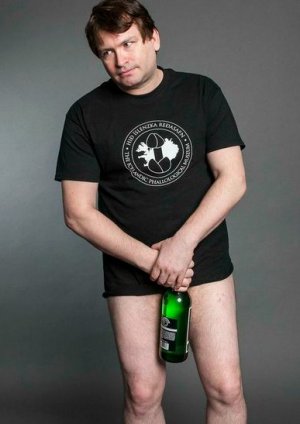 Jonah Falcon received an extraordinary gift at birth, and now he wants to give back.
The 43-year-old Manhattanite is recognized for having the longest penis ever measured in a documentary, a distinction that has made him an Internet star. He has declined many opportunities in porn. But now, he has an offer he can't refuse.
The Icelandic Phallological Museum -- better known as "The Penis Museum" -- has offered Jonah everlasting fame, by putting his 13.5-inch sex organ on display after his death.
"I am flattered by the invitation," Falcon says in a letter to the museum sent via HuffPost Weird News.
"I appreciate your museum's devotion to science, and it would be an honor to have my manhood put on display, hopefully nestled between the sexual appendages of a sperm whale and a polar bear ... I hope I don't make either of those creatures jealous. May I suggest you call the exhibit, 'Jonah and the Whale'."
The museum opened in Reykjavik in 1997 and houses more than 300 specimen penises and penile parts from more than 93 different animals, including 17 types of whales, seven kinds of seals and walruses, a polar bear and a gorilla. They range in size from a 2-millimeter hamster schlong to a 6-foot whale dong.
Pall Arason, a 95-year-old Icelandic tour guide, became the first human to be featured in the museum, after he passed away in 2011. His penis and scrotum, now in a pickle jar, is a featured attraction.
The race to become the first human in the penis museum is the subject of the recent documentary, "The Final Member." The film follows several would-be donors, including Tom Mitchell of California, who has vowed to represent the United States with pride, tattooing his phallus, nicknamed "Elmo," with stars and strips. (WARNING: Please don't click here if you don't want to see it.)
WATCH: 'THE FINAL MEMBER' OFFICAL TRAILER
Sigurdur Hjartarson, a Latin American historian who studied at Scotland's University of Edinburgh, worked as a teacher and principal for 37 years before founding the museum. He received his first specimen, a bull's penis, while working as a headmaster at a secondary school. He had collected 62 different penises upon opening what some consider Iceland's answer to the Louvre.
"On behalf of The Icelandic Phallological Museum, I'd like to say that we are very thankful and happy to accept this letter of donation from Mr. Falcon," Hjortur Gisli Sigurdsson, the museum's curator and founder's son, told HuffPost Weird News.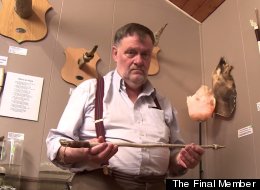 Sigurdsson admitted that Arason's shriveled remains might not be the most impressive human specimen. Upon reviewing a naked picture of Falcon, he declared the New Yorker "a fine exemplar" of manhood.
"Falcon is widely known for his larger than usual penis and the museum is an ideal place for it when the time comes, to exhibit and preserve, for future generations," Sigurdsson said. "Mr. Falcon's organ will greatly enhance the collection and will surely be one of the most outstanding pieces."
Falcon, who doesn't plan to become a museum exhibit anytime soon, now works as a blogger. He aspires to write and act in film. In 2012, he was stopped and detained by San Francisco TSA officers who were concerned about the large bulge in his pants. He tried to capitalize on his fame last year with a YouTube video entitled "It's Too Big."
WATCH: JONAH FALCON SINGS
Falcon said that he realized as far back as junior high, when he was in the gym locker room, that he was "a little different than the other guys."
"It was not until I reached adulthood that I realized how special I was, even though I'm of average height (5-foot-9) and I wear a size 10 shoe, like many men."
Falcon maintains that his sex organ measures 13.5 inches erect and 9.5 inches flaccid. He was measured on the HBO film, "Private Dicks: Men Exposed."
Jonah has appeared as an extra on "The Sopronos," "Law & Order" and "Melrose Place," among other TV shows. He appeared in an uncredited role as a mental patient in "A Beautiful Mind." He is a frequent guest on Howard Stern's radio show.
Like Us On Facebook |

Follow Us On Twitter |

Contact The Author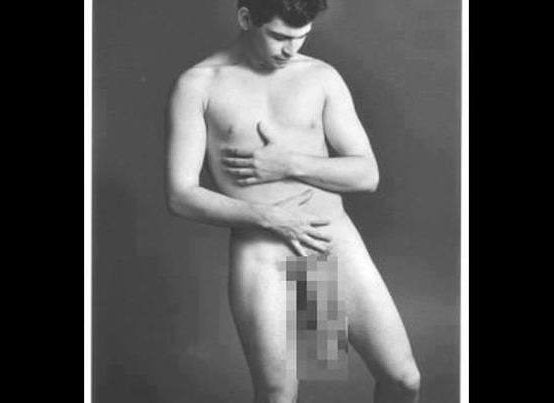 Jonah Falcon, The Man With The World's Largest Penis
Related
Popular in the Community