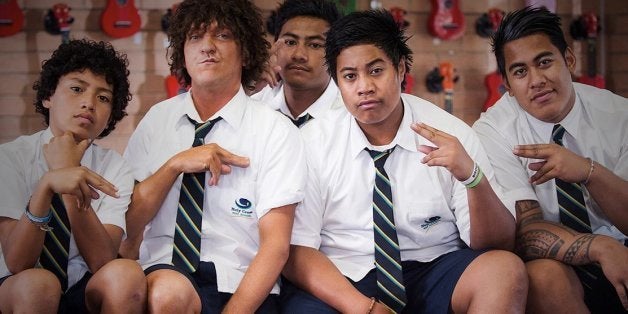 But there's one guy who really, really doesn't get it. Chris Lilley, a comedian, director and writer from Australia, has donned -- and received criticism for -- blackface, yellowface and, now, brownface in the form of HBO's new show, "Jonah from Tonga" -- written by and starring the controversial comedian himself.
The show, in short, stars a spray-tanned, hair-dreaded Lilley (complete with fake Polynesian tattoos) playing Jonah, a misunderstood, disrespectful, out-of-control school boy in Australia who's from the Kingdom of Tonga. Lilley told Esquire earlier this year that his portrayal of Tongan teens isn't just about Jonah as a "naughty kid," it's about the "culture he's from and how those kind of kids fit into school in Australia."
Not surprisingly, the show, which HBO aired on Aug. 8, has everyone wondering (again): Is Lilley's portrayal of Tongans and his use of brownface offensive? Salon and the Guardian seemed to think so, and The Washington Post wondered why HBO considered brownface "groundbreaking" material. BuzzFeed has even outlined all sides of the Jonah controversy, in this detailed piece.
On the flip side, the show's cast includes Tongan actors (some, which Salon points out, have "almost no acting experience") as well as Tongan characters who, unlike Jonah and the rest of his "Fobba-liscious" gang, are respectable people who clearly do not approve of Jonah's behavior. Kool Kris, the school's youth director, for example, acts as the voice of reason for the boys, constantly trying to keep them in check. Jonah's sister, according to her 10-word character bio, is also "not amused by her brother's antics."
But are these characters enough to save the show from being offensive to Tongans? Or are they just there to highlight the negative aspects of Jonah's character?
Now, more than 11,000 people have signed a petition asking HBO and Lilley to pull the "brownface" show. It pointed out that, "For Americans, most of whom have little knowledge about Tonga, this series will shape the way they think about the nation, its culture and its people. So what will they learn?"
If you're watching the show, you'll learn that young Tongan boys are often offensive, violent and disrespectful.
And what research did Lilley complete his conclusion of how to portray Tongan youth? "A lot of Pacific Islander kids are in prison in Australia for some reason," Lilley said in a recent interview with Splitsider. "I don't know why."
Lilley also said that he knows "a lot of people that have been to Tonga" and that his casting director was sent out to "a lot of Pacific Islander events and community groups," which proved to be very helpful in "making sure [the show is] realistic."
Realistic or not, the most troubling part of Lilley's portrayal of Tongans is that he assumed Tongans wouldn't watch the show. "With Jonah, the Pacific Islander people aren't interested," he told Esquire. "They're probably not even going to watch the show and it's a little more genuine for that."
Diamond Langi, for instance, has never been suspended from school: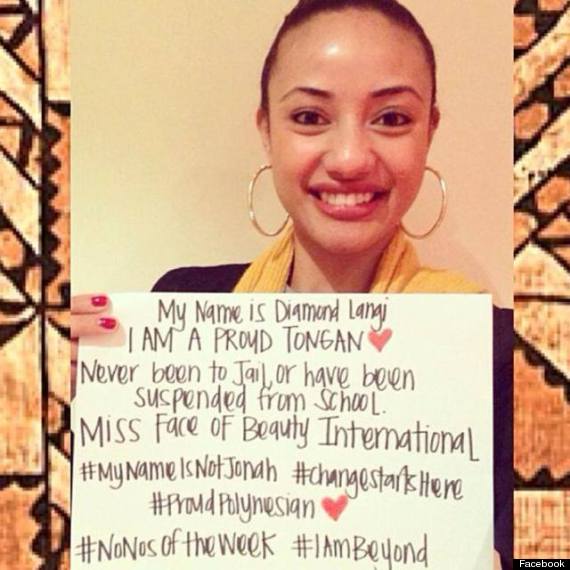 Tokateu Lolotonga will also not let Lilly's stereotypes define who he is: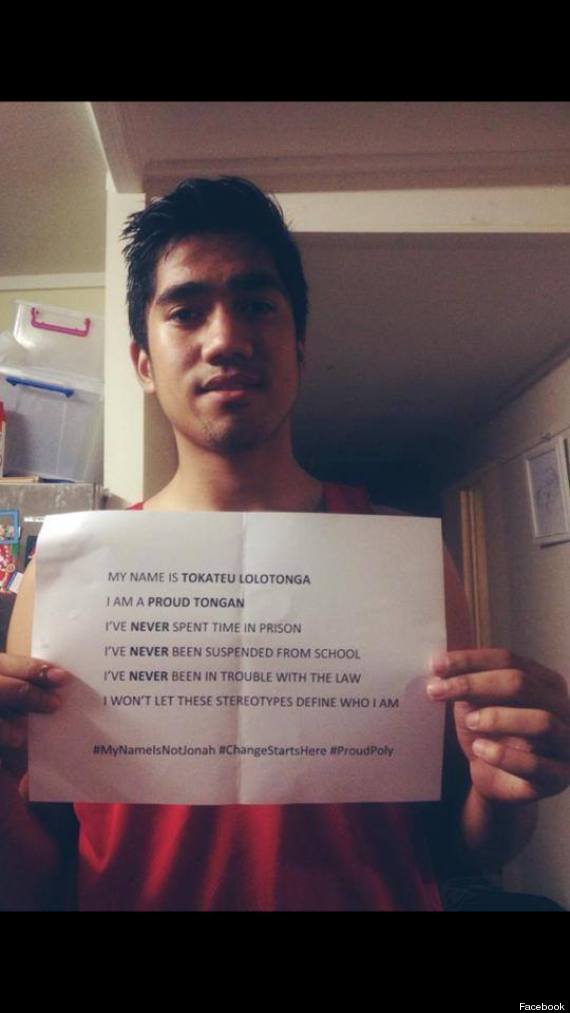 And Katie Pohahau is a proud Tongan who has never been suspended and is studying to be a nurse: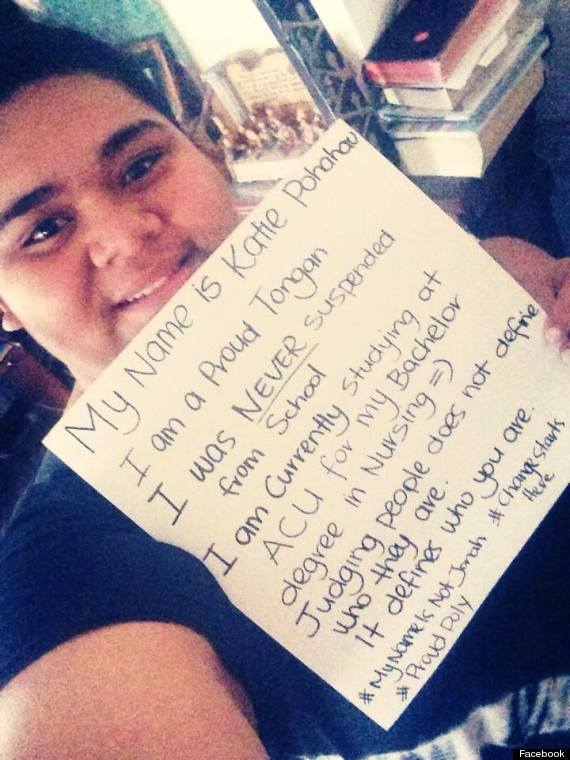 David Ware grew up in a rough neighborhood and has even been in trouble with police, but because of "Gods grace" and "real people" who helped him, he is finally living his "purpose on earth". And his name still isn't Jonah:
"I grew up in a rough neighbourhood, I got in trouble with the police, i experimented with substances, I didn't even finish 10th grade, I worked in factories and laboured in Steele yards and I never got my license till I was in my 20's and guess what... My name still isn't Jonah... I was Jonah (figuratively) but because of Gods grace, real people who helped me, educating myself and through the belief and love from friends and family I have my dream girl, dream job, own a house, have an adorable son and am living out my purpose on earth.... #mynameisnotjonah #imgoingin #sorrylastonefortonight... If you're a Jonah -- there's hope and no one but you can stop you from becoming all you can be! #WAKEUPTHECITY #FORREAL"
Before You Go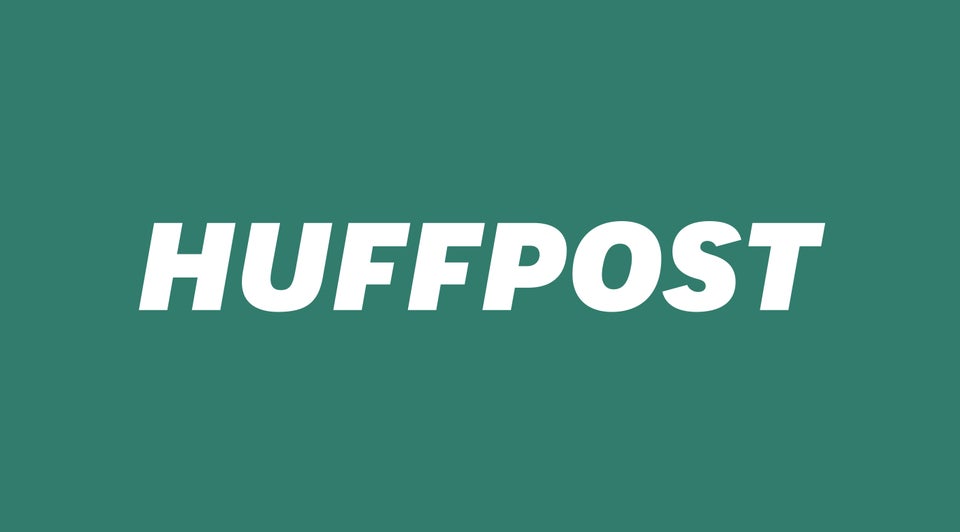 Movies Featuring Blackface
Popular in the Community