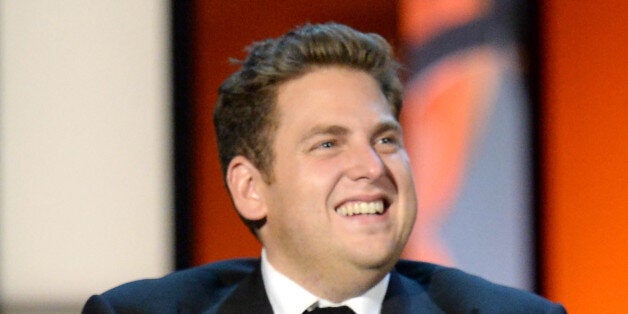 The new film, about the debauchery at real-life New York brokerage firm Stratton Oakmont during the 1990s (a fictional version of the company was depicted in "Boiler Room"), stars DiCaprio as Jordan Belfort, the man who wrote the memoir on which "The Wolf Of Wall Street" is based, and Hill as a composite character, prone to wild swings of excess.
"I mean, being shot in slow motion doing cocaine by Martin Scorsese is, like, maybe every actor's dream," Hill said of the experience. "Nothing will ever compare to it, except for maybe having kids one day or something."
Hill, who called Scorsese an "actual hero" in the piece, said "The Wolf Of Wall Street" is like "Goodfellas" in the way that the film mixes dark drama with even darker comedy. "The humor comes from really awful places. I've done some pretty wild scenes. I'm not shy, but I would be shocked at what we were doing every day," Hill recalled. "I have big fake teeth, I'm wearing crazy '80s suits. We would be on a yacht filled with people, and the yacht would sink. I was driving a purple Bentley, and Leo was driving a Lamborghini. The whole movie is about decadence."
The 29-year-old actor hasn't been shy about how much being in "Wolf Of Wall Street" meant to him.
"You can dis[s] me all you want on a blog, or write whatever you want in this magazine and I'll just be like, 'Whatever, man. Scorsese thinks I'm awesome," Hill said in an interview with Bullett Magazine, outtakes of which were provided to Salon.com. "He hired me and didn't fire me, so I can kind of not care now."
For much more from The Wall Street Journal's piece, head to the paper's website. "The Wolf Of Wall Street" will likely hit theaters before the end of the year.
PHOTO GALLERY
Celebrity News & Photos
Calling all HuffPost superfans!
Sign up for membership to become a founding member and help shape HuffPost's next chapter