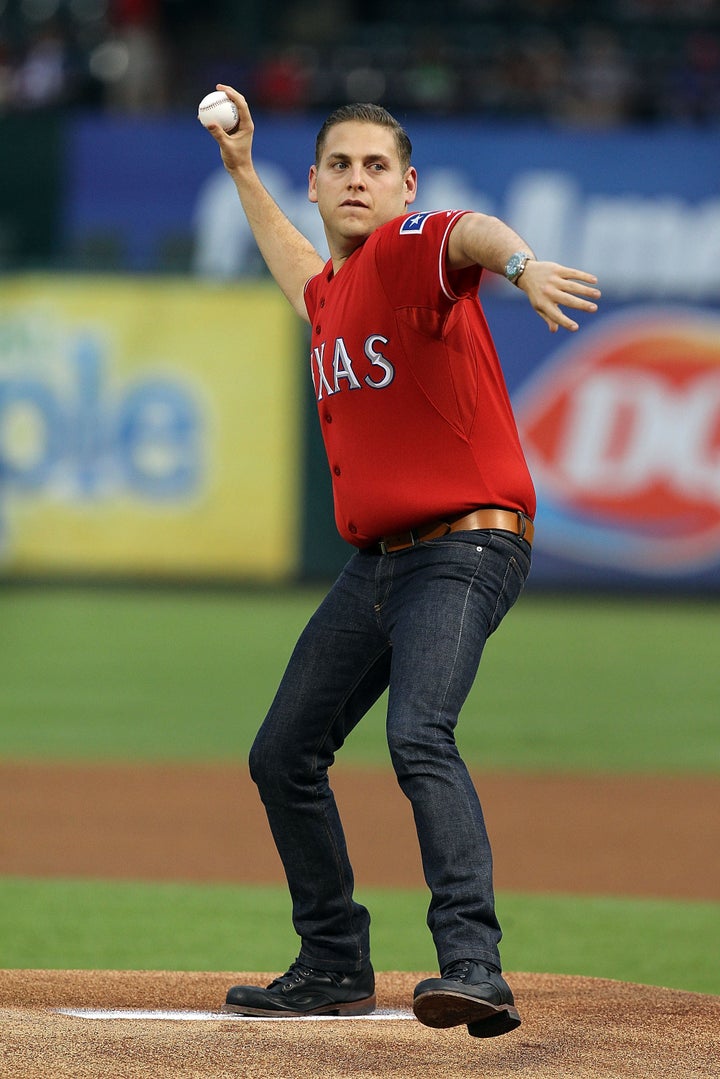 Jonah Hill may be a full-fledged movie star now that he's shared the screen with Brad Pitt -- and held is own -- but that doesn't mean he's too cool to crash with his mom and dad for a bit. While promoting "Moneyball," the 27-year-old is shacking up with the 'rents, waking up to his mom's gentle knock on his door. Suffice to say, we're charmed.
So "Moneyball" is a really big deal. Brad Pitt, Aaron Sorkin.
The whole thing's been surreal, dreamlike. I studied dramatic acting and comedic acting. I've had multiple opportunities to do comedy and one other opportunity to do drama in a movie called "Cyrus" that not a lot of people saw, and this is sort of my big introduction as a dramatic actor. And to do it alongside Brad Pitt and Philip Seymour Hoffman, with a script by Aaron Sorkin and Steve Zallian -- I don't know, it couldn't have aligned more perfectly.
Were you a little intimidated when you first started filming?
Yeah I was intimidated in my first few rehearsals with Brad Pitt and Philip Seymour Hoffman. I have a lot of respect for them. But I figured Brad Pitt and [director] Bennett Miller saw that I got the job over a lot of other people who probably have Oscars on their shelves. I figured I could be really intimidated and let that be the main thing I'm dealing with, or I can kick that to the curb and focus on coming through for these people who fought for me to get this part and not let them down.
You owe your career to Dustin Hoffman.
Yeah Dustin is the first person who encouraged me to be an actor. He went so far as to get me my first audition, which got me my first part in a film ["I Heart Huckabees"]. I always thank him profusely when I see him and he always says, "Just give me a cut."
You've also got a cartoon on Fox called "Allen Gregory."
Fox came to me and asked me if I,d be a voice on a pilot. I've always wanted to create an animated show so I said, "If I'm on your network as a voice, you probably won't let me create my own show." They said, "Well, you haven't created your own show." So I said, "Hang on a sec," and went into a room with Jarrad Paul and Andrew Mogel, my co-creators, and we didn't leave the room for like a month. We came out with "Allen Gregory," and then we ended up on Fox after "The Simpsons."
Can you relate to the character?
No I can't relate to him. He's the most pretentious person on the planet but an adorable seven-year-old boy. He's like an adorable seven-year-old Truman Capote. If anything, we made the show as an attack on pretentious people.
Were you amazed at how suddenly you became recognizable overnight after "Superbad?"
Yeah I grew up in the public eye. I became a man in the public eye, which is kind of a bizarre thing to come to terms with. Now I'm in my late 20s and I was in my early 20s when I became recognizable. But I think "Moneyball" represents a very strong shift in my career and becoming an adult and a man. To do something when you're 21, those movies that I did with Judd, I'm so prideful of those films, but as I mature and progress it's great to do other things as well.
It's very cool, otherwise you could be stuck in those movies being boy-man forever.
Yeah, your words not mine. I've said what I feel. (Laughs) I love how reporters try to get you to say what they're feeling. I'm very meticulous with my words. I say exactly what I mean and you want me to say what you mean.
You're no dummy! You write a lot. Where do you see your career going? Do you want to direct?
I directed my first music video for Sara Bareilles. I like writing and directing. I co-wrote "21 Jump Street" and I'm in that. To me, they all inform the other one. I think writing makes you a better actor, acting makes you a better writer, directing makes you better at both. To me, I'm just trying to learn as much as possible. Hopefully I'll be able to look back at my career and [be] prideful of the things I spent doing.
Like you said, you became famous so young. How did you not let it go to your head?
I think no matter how old you are if you have that instant recognition from a project overnight like I did, I think no matter who you are there's probably a moment when it does go to your head a bit, and I imagine there were a few months where it did go to my head. I think Bill Murray said you have two years to be a dick. I didn't have that at all, but it's important not to let the time-sensitive wonder of a project coming out make you think that that's what life is going to be like forever, because that would be foolish. When a movie like "Superbad" or "Moneyball" comes out, people make you feel like you're the most important person on the planet. The truth is, you're a billion percent not the most important person on the planet (laughs). It's all insulated in your world and no one could care less. It's just a movie.
Is it true you're living at home while your house is being renovated?
So does your mom knock on your door to get you up?
Yeah it's pretty annoying sometimes. My sister just left for college. It's very sad for me because we're very close, so instead of getting another apartment while my house is being renovated or be in a hotel, I liked to spend that time with her before she was leaving for the next chapter in her life.
And you get to hang out with your parents.
I love my parents. But I'm almost 28 and it's not fun to be asked, "What are you doing today? What do you want for dinner? When are you going to be home?" It just makes you feel like a kid. It's this juxtaposition of feeling annoyed and really lucky to have people who love you so much.
Right, that's what it's like being an adult with parents, I guess.
Great, that's what you're going to write about.
No! I just transcribe my interviews. The part where you diss me, which I love, will be in there. Believe me, if I'm a dick, it's in there. I have no shame.
You're not a dick. I've done enough of these now where I can understand what someone wants me to say and what their angle is in an interview. It's so rare where you just get to be yourself and that gets printed.
Well this will be. And believe me, the comments will be that I'm a douche bag.
(Laughs) You're not a douche bag. You seem really nice. I just feel in some of these interviews they try to push you to be somebody you're not.
Well I can tell you're really bright and funny.

Calling all HuffPost superfans!
Sign up for membership to become a founding member and help shape HuffPost's next chapter