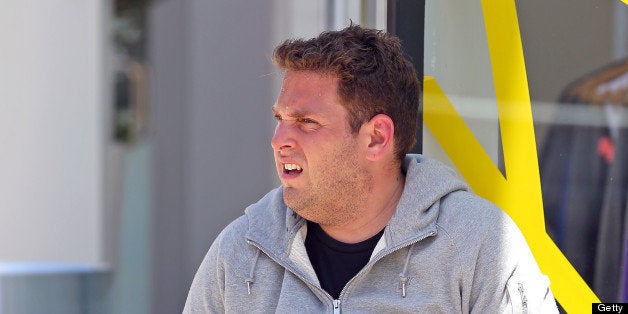 Jonah Hill has made a career for himself starring in raunchy comedies, but after a few "serious" roles it seems the actor has lost his sense of humor.
Rogen even warned the magazine that Hill is "serious," but he wasn't able to offer pointers on a suitable approach to talking to the actor. It's too bad, because Rolling Stone could have used the help.
During the course of their interview, Hill refused to talk about his workout routine, telling the magazine it's "of little relevance." But that was only beginning. "His eyes nearly jumped out of their sockets," according to Rolling Stone, when asked what type of farter he is.
"I'm not answering that dumb question! I'm not that kind of person! Being in a funny movie doesn't make me have to answer dumb questions. It has nothing to do with who I am," Hill responded.
"I've done one of the biggest challenges you can do in Hollywood, which is transition from being a comedic actor to being a serious actor, and I'm really prideful of that," he explained. "I could have made a billion dollars doing every big comedy of the last 10 years and didn't, in order to form a whole other life for myself. Now I have fulfillment doing both."
Hill also wasn't up for discussing his masturbatory habits, much to the magazine's disappointment. And while this might be one of the most awkward interviews ever, Hill did make an attempt to reposition himself in a more positive light, telling the magazine that in the film he comes off as "overly nice in a really false way" and is "really into my fame and success," but he's the "polar opposite" in real life.
Hill's self-assessment is hard to swallow given his earlier comments, but it might be that he sees himself differently than others around him. When the magazine brought up the fact that director Judd Apatow once called him "angry, nerdy," Hill didn't seem to think the label applies to him at all anymore:
"Yeah, there was probably an angry time for me. But I couldn't be a less angry person. Judd maybe thinks of himself that way. But I haven't worked for him in five years. I adore him. But I'm f**king 29 years old and not some angry kid," he said.
Calling all HuffPost superfans!
Sign up for membership to become a founding member and help shape HuffPost's next chapter
BEFORE YOU GO
PHOTO GALLERY
Celebrity News & Photos