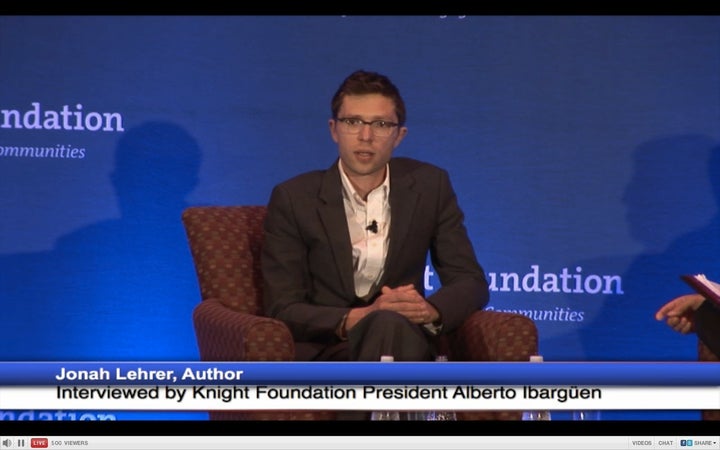 Jonah Lehrer, who resigned last summer from the New Yorker and Wired amid media scandal, was paid $20,000 to speak at the closing lunch of Knight's Media Learning Seminar and took questions from Alberto Ibargüen, the organization's president and CEO. He admitted plagiarizing, fabricating quotes, and lying to the journalist who caught him.
Lehrer's journalistic transgressions are certainly worthy of discussion at a media conference and his presence there allows for questions about why he did what he did. It's also customary for Knight speakers to receive an honorarium, as Poynter reported.
But in paying Lehrer, the Knight Foundation, which supports "transformational ideas that promote quality journalism," seems to be rewarding someone guilty of committing a couple of journalism's worst sins. Understandably, reporters not plagiarizing or fabricating may be left wondering why they're not getting tens of thousands of dollars to speak about actually doing quality journalism.
In an interview with The Huffington Post, Ibargüen defended the decision to bring in Lehrer to speak, saying that "what we were interested in was having him come and talk about the decision-making process," which was the subject of his book, "How We Decide."
"Since he wrote that book, he was able and willing to talk in a very dramatic, very compelling way, about his own admittedly bad decision-making process," Ibarguen said.
Ibarguen said he doesn't question "the umbrage that people have about what [Lehrer] did" and that "some people are still angry and feel he should be punished."
As for those critical of Knight for paying Lehrer to speak, Ibarguen said, "I understand the point of view."
Support HuffPost
The Stakes Have Never Been Higher
Related
Popular in the Community