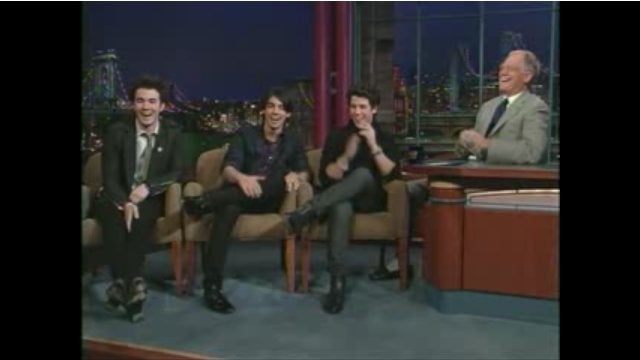 The Jonas Brothers made their first appearance on David Letterman Thursday and talked about their long path to fame while fielding questions about a few ex girlfriends and acknowledging they are living many peoples' dream life. They also read their own Top 10 (scroll below video to read it).
Kevin, Joe and Nick are promoting their 3-D concert film that is opens February 27.
Letterman gamely listened to youngest brother Nick talk about their ups and downs on the way to tween superstardom before interrupting.
"Let me just interject something. You're 16? You've had no ups and downs! It's all been up! You're 16!"
Asked about ex-girlfriend Miley Cyrus, Nick downplayed their lengthy relationship, "I was 14. I was pretty young, so I think you can just consider it a young, little relationship."
And asked about his ex, country crossover star Taylor Swift, Joe stuttered a little before telling Dave, "You know... we didn't work out."
"Top Ten Surprising Facts About the Jonas Brothers"
10. Our new 3D concert film puts you right in the middle of a six-hour tour bus ride from Pittsburgh to Albany.
9. Often we are astonished by how adorable we are.
8. Sometimes we lather, rinse, repeat and then repeat again!
7. Last Sunday night, I won a Grammy for "Best New Jonas."
6. Osama said he'd come out of hiding if we'd meet his 15-year-old niece.
5. One time when we were on the road, things got really crazy and we stayed up until 10:30.
4. We've seen Paul Blart: Mall Cop 27 times.
3. Once a week we get mail for Dr. Joyce Brothers.
2. We have no idea who that old dude behind the desk is.
1. A couple years back, Angelina Jolie tried to adopt us.