 Anyone can tell you who's already made it, but HuffPost Arts & Culture's On Our Radar series is here to tell you who's about to blow up -- and, in some cases, go pop.
If Jonas Kaufmann isn't quite a household name yet, it's only a matter of time. Not only is the 43-year-old widely recognized as the greatest tenor since Pavarotti, his much-gushed-about locks make him the closest thing the opera world has to Justin Bieber. Today, the comely German starts a worldwide tour of a sort -- appearing in movie theaters around the world as one of the stars of the Metropolitan Opera's "Live In HD" series. Kaufmann plays the title role in Richard Wagner's last opera, "Parsifal," making his a success story nearly too neat to be true: at the start of Kaufmann's career, he suffered a professional setback when he lost his voice singing a bit role in a production of...yes, "Parsifal."
In a small room at Met headquarters in Lincoln Center, Kaufmann chatted to the Huffington Post about his reasons for championing Germany's most contentious composer so avidly (Kaufmann's latest album is simply and accurately titled "Wagner"), why playing a grail-chasing knight somehow feels relevant, and why, all things as great as they are, he could still use a break.
The Huffington Post: Why do Wagner, and 'Parsifal,' matter?
Jonas Kaufmann: First of all, we could call Richard Wagner the most famous German composer. I'm German, so I have kind of a duty to support [his work]. But it's more than that. My family were all Wagner lovers. We would listen to Wagner's music all day long, not exclusively but very very often. My grandfather had all the Wagner vocal scores in his possession, and [he would] sing all the parts. So I grew up listening to that music, and that's why I liked it so much. Only later I found out that [Wagner] went into political statements which are definitely inappropriate and also about the abuse of Wagner's music during the Third Reich. I wasn't aware of that when I was a kid and I wasn't aware of that when I fell in love with the music. It did change a lot about my opinion about Wagner as a person, but it couldn't change anything about my feeling for Wagner as a genius composer. So i got stuck with it.
JK: "Parsifal" matters because it's the last opera of Wagner, and I believe probably the most perfect. You have moments in it where you think this could be an opera by Alban Berg, someone much more contemporary. You make a jump of almost 100 years in style. At the same time, when you look into the orchestra score, you can't find any mistakes. He plays every instrument, every orchestration, just perfect. It's actually frustrating for someone who wants to find some error!
JK: [Wagner] didn't call it an opera. He called it a Bühnenweihfestspiel, which means a stage blessing. He wanted it only to be played in Bayreuth he didn't want this opera to be treated like all the other operas and go on tour all over the world. I think it was played the first time actually, in the Met, without license of the Wagner family, in 1903. From 1913 onward it was finally released for everybody and it became an immediate hit. It's almost a fantasy story -- the spear and the grail and the goblet and the blood of Christ. The Christian story is more a vehicle to explain how important it is to believe in something.
JK: And the music is a masterpiece. Even in the prelude, it's like Wagner takes your hand and he pulls you into this mysterious world, and after hours and hours, you wake up from this daydream and you feel different afterwards.
HP: Who or what were early influences on your work?
JK: I was a little kid when I saw "Butterfly" for the first time. I couldn't believe that this lady would commit suicide in front of me, and I was totally shocked when the curtain then reopened and she bowed, because I was convinced that she was dead! It was so incredible.
HP: Can you name the lowest point in your career?
JK: When I lost my voice on stage because I was trying to compete with the others, even though I had a small part. That was 1995. I had just started singing professionally. It was "Parsifal" actually, but I wasn't Parsifal. I just tried to give more and more, and then I just just couldn't sing at all! The conductor was looking at me like, 'Are you mad?'
JK: I realized I needed to change something. Singing professionally means singing eight hours a day, and I couldn't do it. I have to do another job or I have to learn all over again, and that's what I did. I found a teacher who showed me a different way, a much more solid technique. He actually laid the basis for my whole career now. At that time, I was making the sound with my voice, with these tiny vocal chords and they were just not powerful enough to do that. The voice was not connected to the body. Now I'm making the sound with my body.
HP: What's been the peak of your career so far?
JK: Probably my first appearance here, at the Met, in 2006. I didn't expect that the European theaters and European audiences would give so much credit to what you do here, but it had a huge impact on my entire career. I was doing "Traviata." It was a huge success, and I was overwhelmed because I knew that nobody in the audience [in New York] would know who I am
JK: Still, people would cheer and applaud and stand up after the performance. It was almost like you want to turn around and see who just appeared behind you because you can't believe this is for you. This was really one of the high points. There are several others, maybe, and hopefully many more to come. I hope to sing for 20 more years.
HP: What are you obsessed with right now?
JK: I have a wife and three kids, so actually now what I' m obsessed with is convincing everybody that I need time off! It's not possible to work 365 days for the opera. If I can recharge my batteries at home, I can give much more onstage, but it's difficult to get the general managers to accept that.
Related
Before You Go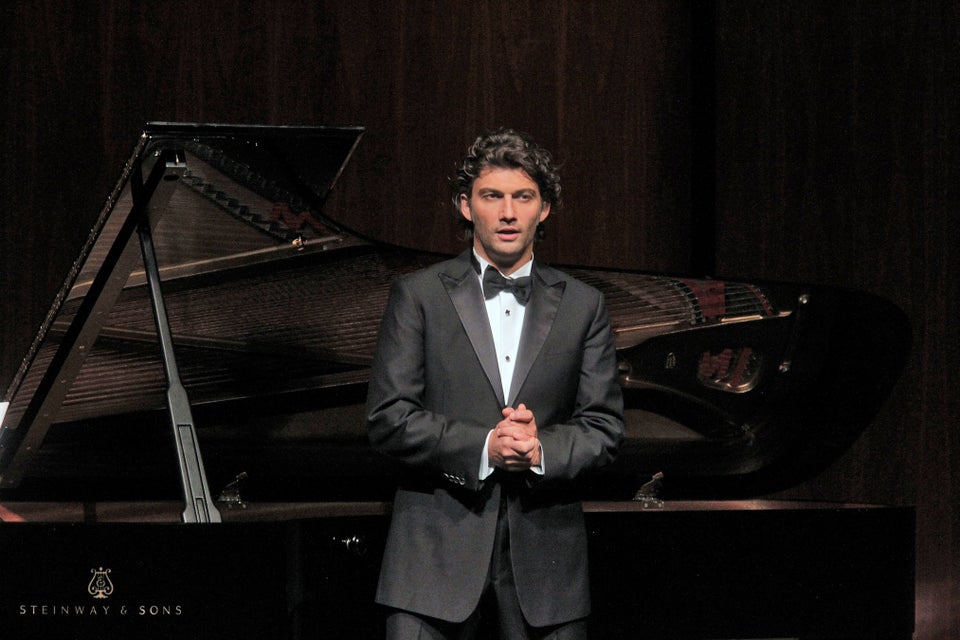 10 Hottest Opera Stars
Popular in the Community