Jonathan Adler is the master of quirky '60s-'70s-inspired design. If you don't already covet his fabulous furnishings, we present you with his incredible Shelter Island beach house, which will be featured in the March issue of Dwell (on sale Feb. 4). Though precious few of us can actually recreate something so luxe, we do think there are a few tips we can take from Adler's fantastic pad -- particularly when it comes to fearless design.
All photos: Floto + Warner
Bookcases don't have to have even rows of shelves -- or only house books. Remember, most shelves can be removed, so you can create bigger "curios." Perfect for those odd-but-cool figurines you found while thrifting.

Tile isn't just for backsplashes and bathrooms. Though it can be scary to make such a major commitment, a big tiled wall can create an incredible focal point. Still afraid of porcelain? Go for lightweight 3-D paper tiles instead.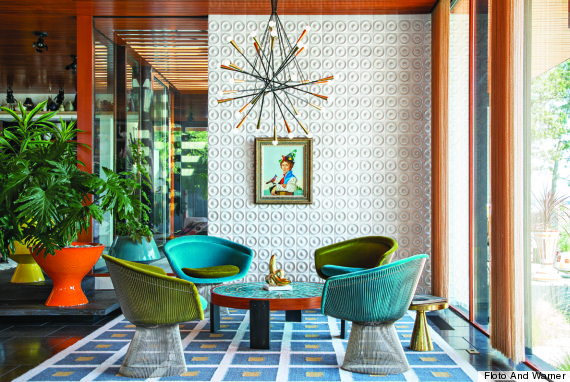 Divvy up an open floor plan with dividers and statement lighting. Why not have three pendants over your dining room table?

Don't be afraid to go with a dark exterior. Even if it's only repainting the front door or mailbox.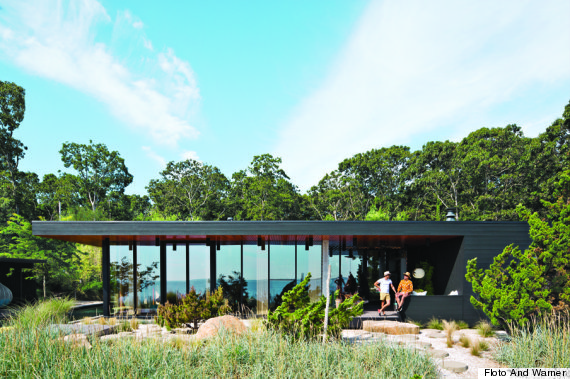 Bonus tip: Have a photogenic family. You can see Adler and his husband, the incomparable Simon Doonan, on the cover of Dwell's March issue.