A former Marine who planned the sexual abuse of his children with the consent of his wife -- before the kids were even born -- received two life sentences on Monday, the Orlando Sentinel reports.
Jonathan Adleta, 26, was found guilty on charges of conspiracy and transporting minors across a state line to engage in a sex act in September 2013. During sentencing Monday, U.S. District Judge Roy B. Dalton Jr. told the court in Orlando that Adleta was guilty of the "destruction and scarring of his own children," and that he chose two life terms partly because he believed that Adleta would offend again if released.
Adleta could have received as little as five years for his crimes.
Sarah Adleta, the former Marine's ex-wife, was sentenced to 54 years in prison in October 2013 for making child pornography with her husband and their two children.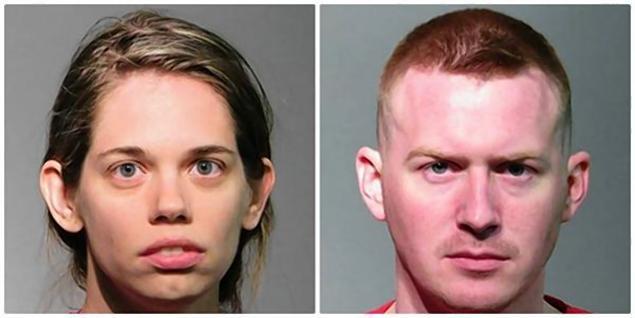 Sarah Adleta (left) and her ex-husband, Jonathan Adleta (right)
The 29-year-old mother of two became the key witness against her ex-husband, testifying that he had made "daddy-daughter sex" a condition of their getting married. She told the court that she'd been willing to do anything to stay with him, the New York Daily News reported.
While Sarah Adleta chose to plead guilty, Jonathan Adleta went to trial. According to the Orlando Sentinel, evidence presented during his trial showed that he abused his son and daughter, in addition to the child of another woman. The children ranged in age from 1 to 4.
Although Sara Adleta filed for divorce in 2011 and moved to Florida with the couple's children, the abuse continued via Skype. Jonathan Adleta ordered his wife to sexually abuse the children while he recorded it, then distributed images of the acts as child pornography.
In 2012, Jonathan Adleta met another woman, Samantha Bryant. According to NewsOn6, Bryant molested her 4-year-old daughter at Adleta's request, and allowed the man to molest the girl while she filmed it. Bryant pleaded guilty to sex abuse charges last year and received a 45-year sentence.
Arguing for leniency, his defense attorney pointed to his military service. Adleta served two tours with the U.S. Marine Corps in Afghanistan.
Dalton was not persuaded. What Adleta did, he said, brought "dishonor to the Marine Corps."
REAL LIFE. REAL NEWS. REAL VOICES.
Help us tell more of the stories that matter from voices that too often remain unheard.
BEFORE YOU GO
PHOTO GALLERY
Questionable Parenting