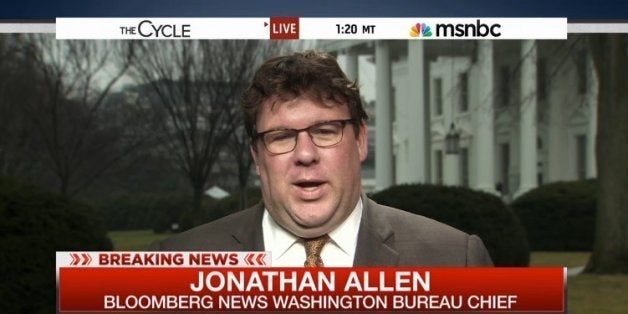 NEW YORK –- Jonathan Allen, the Washington bureau chief for Bloomberg News, is heading to Vox as the site's chief political correspondent.
"I love to live at the corner of politics and substance and to put things out both quickly and thoughtfully," Allen told HuffPost. "And I think Vox is doing that better than anyone else right now."
Allen added that he "couldn't be more thrilled to be joining a team so full of energy and as full of intelligence."
Allen joined Bloomberg last year from Politico to cover the White House and Hillary Clinton's likely presidential campaign. He co-wrote a 2014 book about Clinton's tenure as secretary of state.
He's now the second Bloomberg staffer with expertise on the Democratic front-runner to leave in recent weeks. Political reporter Lisa Lerer headed to the AP last month for a position focused on Clinton.
Bloomberg has expanded its political coverage in the past year with the launch of Bloomberg Politics. But the center of gravity has also shifted from Washington to New York, where journalists Mark Halperin and John Heilemann, its managing editors, are based.
Politico was first to report that Allen had left Bloomberg, but it did not reveal his destination.
Popular in the Community