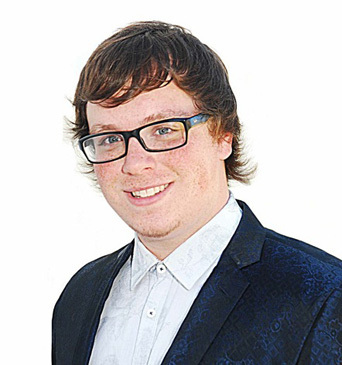 This week I talked with 21-year-old singer Jonathan Allen, who touched our hearts singing his way into the semifinals on America's Got Talent. When Jonathan first took the stage before delivering a stunning performance of "Por ti volaré," he announced that he'd been kicked out of his parents' home when he turned 18 because he is gay. This performance has been called the most emotional audition ever in the show's history. Since the show wrapped, Jonathan has become a YouTube sensation, with over 7 million views and counting. He will make his L.A. debut at Rockwell Table and Stage on Wednesday, Dec. 18.
I talked with Jonathan about his music and his spin on LGBT issues. When asked about his personal commitment to LGBT civil rights, he stated:
My personal commitment isn't so much to LGBT rights as much as everyone. I just want everyone to be equal and everyone to have a purpose in life. I'll be working with The Trevor Project soon, and I'm launching an organization called The Personal Stories Project, which I'm very excited about. It's the power of sharing stories and how that impacts people's lives and how that kind of gives people hope, hearing about other people's stories and what they're going through. I think it's going to be a great organization, and I'm really excited.
On the advancement of LGBT equality in America, Jonathan added:
We kind of live in a country where the advancement of LGBT equality has evolved over time. This past year I'm really excited; it seems like it's definitely moving forward. ... I really hope we can become a country where equality is what we're known for, and I really think we can become that.
A Tennessee native, Jonathan has been singing for as long as he can remember. He often used music as a refuge from the daily troubles of his childhood, and he grew up with a love for classical music, especially the performances of Pavarotti. Frequently compared to Josh Groban because of his operatic pipes, Jonathan has now set out to pursue a career in music and is working on an album that infuses classical music with pop and dance music. His L.A. debut at Rockwell Table and Stage on Wednesday, Dec. 18, will include many genres of music, including classical, pop and holiday favorites.
Listen to more interviews with LGBTQ leaders, allies, and celebrities at OUTTAKE VOICES™.
Calling all HuffPost superfans!
Sign up for membership to become a founding member and help shape HuffPost's next chapter