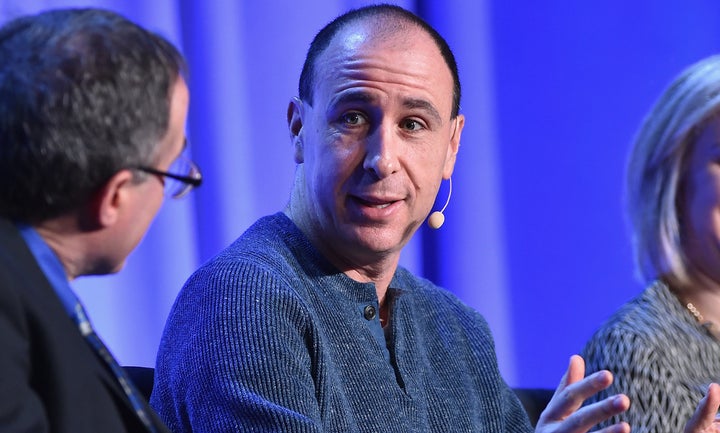 On Wednesday, New York magazine's periodic all-hands staff meeting came with a little bonus for the assembled staff: a 15-minute, onstage discussion between writer-at-large Rebecca Traister and columnist Jonathan Chait, with the magazine's editor-in-chief, Adam Moss, sitting in as moderator.
All three are big deals in journalism circles for different reasons. Traister is the voice of a watchful liberal feminism. Chait is the voice of the damp and shrinking neoliberal consensus. And Adam Moss is a guy with enough National Magazine Awards to gag David Remnick.
According to half a dozen staffers in attendance, it was during this brief off-the-record discussion that Chait let his colleagues know that, in fact, a part of him is glad Donald Trump won the presidency.
This wasn't an accelerationist argument. This came in response to a question about how Chait and Traister balance their roles as citizens with their roles as journalists. Were they at all happy for the tremendous content of a Trump era? (This idea comes up a lot among journalists. In Showtime's documentary about The New York Times, executive editor Dean Baquet, after watching Trump's inauguration address, marvels out loud: "What a story. What a fucking story.")
"Traister went first and gave the right answer, which is 'no,'" one employee, who's been granted anonymity to speak freely about an off-the-record meeting, told HuffPost. "She said there isn't 'a single molecule' of her that is happy Trump won and that we'll all face repercussions for generations."
Chait, however, answered the question with an affirmative "one hundred percent."
But in the New York meeting, he was glibber. "He compared the situation to Jerry Seinfeld's bit about how, from the back seat of a cab, the whole world outside becomes entertainment," the New York magazine staffer explained. "He said he's deadened his emotions to a point where he doesn't get emotionally involved with the Trump situation."
According to the staffer, Chait said with a laugh: "Maybe that makes me a sociopath." Some of the employees in attendance said the group was stunned by Chait's response; others were less surprised to hear this sentiment come from a self-described disenfranchised white man.
In an email to HuffPost, Chait clarified that he was referring to this Seinfeld routine, "in which he describes the experience of riding in a cab and feeling like you're watching something happening to somebody else."
Chait also added that his comments "were intended for an audience which, I assume, was familiar with my work and the obvious seriousness with which I take politics in general and Trump in particular. I was commenting in an ironic and self-deprecating fashion about the way in which I can professionally disassociate myself from the events I am commenting on."
Popular in the Community