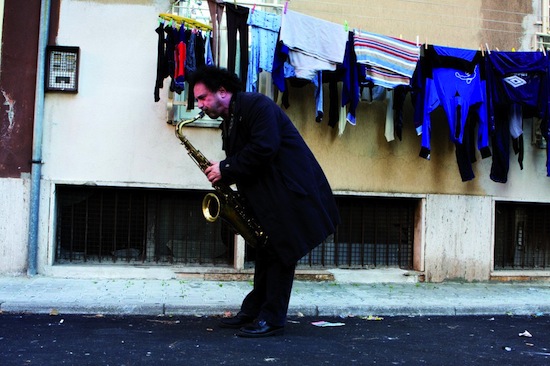 "I was listening to a radio program while driving across the George Washington Bridge in New York six years ago, when I first encountered the music of Enzo Avitabile, and my life changed." -- Jonathan Demme
We all may best know Oscar-winning director Jonathan Demme for his blockbusters like Silence of the Lambs, Beloved and Philadelphia. But Demme is also a wondrous documentary filmmaker, who deals sensitively and poetically with such fascinating subjects as religion (in Cousin Bobby), Haiti's human rights and politics (in both The Agronomist and Haiti: Dreams of Democracy) and music. It is in this last category that perhaps we find the heart and soul of a master filmmaker, one who has also managed that impossible, and at times unfairly looked down upon feat among artists: commercial success.
In his latest musical profile Enzo Avitabile Music Life, Demme shines his global soul light on Neapolitan jazz fusion saxophonist and singer-songwriter Enzo Avitabile. With grace and obvious mutual respect, Demme relays and Avitabile recounts a life of bridging cultures through the magic of music. While I am the first to admit that what I've learned about the world around me has been mainly through cinema, music has always accompanied me on that voyage, allowing a guttural reaction through its soul-reaching powers. Enzo Avitabile Music Life is a film that fuses those powers and takes the viewer on both an emotional and instructional journey.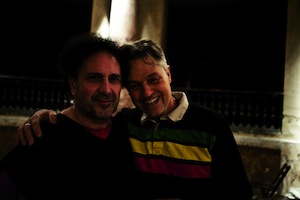 Perhaps the reason Demme's film hit so close to home for me is because my mother is Neapolitan. But that would be too easy, because a global soul like Avitabile can hardly be claimed by just one city. Even if that city is a metropolis on acid like Naples. Maybe it's because Avitabile so easily weaves in and out of the Western and Eastern cultures, without ever feeling out of place or like an outsider. Yet he's always one, defined by the simple, sheer power of his talent, his unique style of music. Possibly it could be Avitabile's unique and pioneering foresight, the peek he gives us, through Demme's stylish yet wonderfully invisible cinematic narration style, at just how great the world could be, if we learned to celebrate our differences instead of fighting wars about them. It's amazing how easily someone like Avitabile can envision true human understanding -- himself a double cornea transplant recipient.
Avitabile's own look is eccentric and unaffected: an Arab-style keffiyeh around his neck, a bracelet that dangles down to his middle finger wrapping it in a ring, various silver jewelry and a small cross earring. In the film, his musical style easily blends Flamenco guitar by Gerardo Núñez, Sufi sitar by Ashraf Sharif Khan Poonchwala, Indian tablas by Trilok Gurtu, Palestinian singing by Amal Murkus, Iranian tar by Hossein Alizadeh and Mauritanian pop by Daby Touré. Throughout, Avitabile remains the ringmaster of this ensemble of world music, the great unifier, yet never pushes his power around or overwhelms his fellow musicians. He simply allows their voices to complement his own, and in the process, create a global music movement to change the world.
Enzo Avitabile Music Life opens in NYC on October 18th and in Los Angeles on October 25th. To say that the film is a must-watch would be an understatement.
Images courtesy of Shadow Distribution, used with permission.
REAL LIFE. REAL NEWS. REAL VOICES.
Help us tell more of the stories that matter from voices that too often remain unheard.