A 911 call shortly before Jonathan Ferrell's death could help prove that North Carolina police officers knew he was unarmed before opening fire, a lawyer for his family says.
"[Ferrell] made no threatening comments. It was clearly apparent he had no weapons," attorney Chris Chestnut told WCNC-TV.
"By the time they stop shooting, then they start saying, 'Get on the ground, get on the ground,' he had already been shot."
Ferrell, 24, a college football player at Florida A&M University, was killed by police early Saturday morning after he crashed his car in a rural area near Charlotte.
After the accident, he dragged himself from the wreckage to a doorstep where he sought help from the woman who lived there, Sarah McCartney.
When McCartney heard the banging at the front, she opened it, expecting her husband. Instead, she saw Ferrell, an African-American, and slammed the door. She then called 911 to report what she believed was an attempted robbery.
Ninety seconds into the call, a man can be heard loudly saying, "Hello?" followed by garbled words. It is unclear if the voice was Ferrell, but it took responding officers 11 minutes to arrive to the crime scene.
A dash cam video from one or more of the patrol cars suggests that Ferrell was empty handed as he approached officers, according to WSOC-TV. At one point, he hiked up his pants, possibly to show he had no weapons there either.
But he ran out of camera's view before officers told him to stop. At that point, Officer Randall Kerrick, 27, fired 12 shots at Ferrell, 10 of which hit him.
CORRECTION: An earlier version of this story incorrectly stated Charlotte was in South Carolina.
Related
Before You Go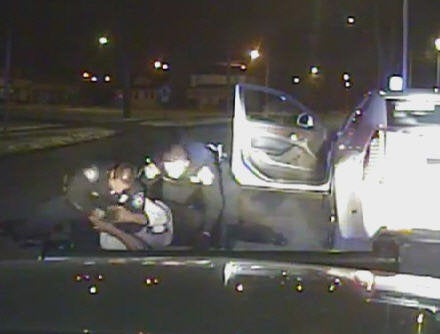 Police Brutality Incidents
Popular in the Community