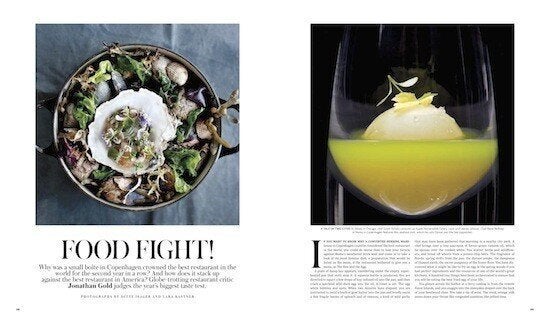 That's why we were excited when we heard Gold was reviewing two of the most famous, highly regarded restaurants in the world for this month's Wall Street Journal Magazine. Gold's idea was to compare Copenhagen's Noma, two-year winner in the San Pellegrino Top 50 Restaurants in the World list, with Chicago's pioneering Alinea, often called the best restaurant in America. In the process, he sums up what he calls the three major strains of ultra-high-end cooking today: Modernist cuisine, nose-to-tail maximalism, and forager-focused localism. (Gold notes that Noma exemplifies all three schools.)
After visiting the two restaurants for dinner, he says they're both superlative. But he ultimately declares Noma, helmed by Rene Redzapi, the winner of the face-off. "If Alinea is Cirque du Soleil, Noma is Tristan and Isolde," he writes. "The technology is the same, the airs and gels and water ovens. But in one case it is being used to dazzle, in the other, to enable a story to be told." Along the way, though, "Food Fight!" includes countless descriptions of gustatory delight. Of Grant Achatz's Alinea, Gold says:
The idea of restaurant as theater has become a cliché, and every chef who manages to sous vide an artichoke without electrocuting himself has been declared a genius, but Achatz's handiwork is still better explained in theatrical terms than in culinary ones. As in a melodrama, you know that the flags presented in the first act are going to come into play in the fourth (they turn out to be sheets of fresh pasta, meant to be wrapped around braised shortribs, with dabs of fermented garlic, smoked salt, halved blackberries and tobacco sabayon). A dramatic serving bowl is always going to come apart in sections, so that you experience the combination of rabbit and squash first as a cold mousse, then as room-temperature rillettes with blood sausage, and finally as a cinnamon-scented consommé kept hot with a roasted rock.
But then there's the Copenhagen contender:
With a kind of reverence, a chef sets down a lidded mason jar filled with ice. Inside are
tiny prawns from the fjord; after lumpfish roe, the translucent creatures are the second sign of Nordic spring. You open the jar, and the prawns stare up at you, barely moving, although when you pick one up, it wriggles like mad. You stare at it a moment, man against prawn, predator and prey, and when you pop it into your mouth you feel it go limp under your teeth all at once, its small life absorbed into your own.
If all the talk about photography being "food porn" is warranted, Gold's piece is the culinary world's equivalent of erotic fiction.
Catch the full story in the July/August issue of WSJ Magazine, in newsstands June 25th. Here's what to look out for, in miniature: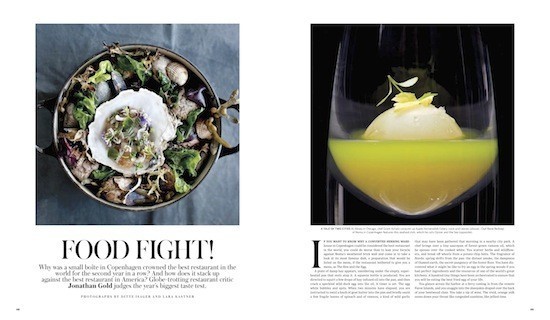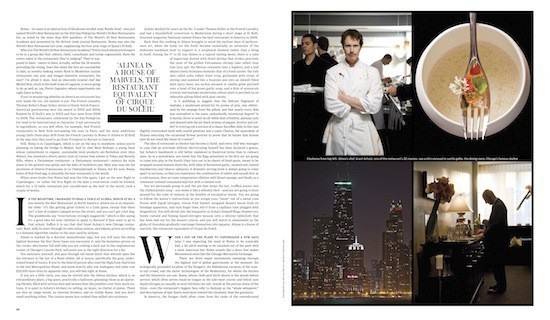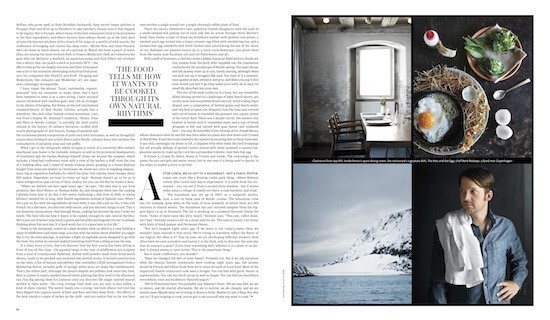 Popular in the Community