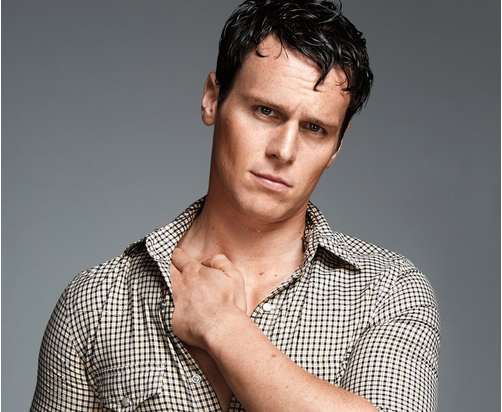 Joking that he knew he "wouldn't be the male romantic lead in a Nicholas Sparks movie" after coming out, Jonathan Groff nonetheless says there are a lot of advantages to being openly gay in show business. 
"I'd rather be a working actor and not hiding anything in my personal life," Groff tells Kevin Sessums in the new issue of FourTwoNine magazine. The actor, who was 23 when he first opened up about his sexuality to friends and family, saw his film and television presence increase soon after coming out, adding, "The difference between being in the closet and out of the closet as a gay man is such a huge shift. I feel so connected still to that 22-year-old, but the idea that I was not open with that part of my life -- which I am now so open about -- is sort of surreal."
Groff, 30, has kept himself busy since the cancelation of "Looking," the acclaimed HBO series about the lives (and loves) of three gay friends in San Francisco. This fall, he'll return to Broadway in the hotly-anticipated new musical, "Hamilton," and recently wrapped a starring turn in "A New Brain" at New York City Center. 
Still, he gets sentimental when discussing "Looking," which received strong reviews but nonetheless struggled to find an audience over the course of two seasons. Saying the project "meant so much" to him as an actor, he finds some solace in the fact that HBO has announced plans for a two-hour "special" to conclude the series, and notes, "For me, the sadness was more based on our having found our stride in the second season and expanded our world. ...I am grateful that we at least get to come back and put a little closure on the experience. Because I didn't get to say goodbye to the experience when I heard the news."
He opened up about past relationships with Zachary Quinto and Gavin Creel in the interview, noting that, in his experience, dating fellow actors is no more or less challenging than those in other industries. 
 "When I was dating Gavin and dating Zach, it was more about the people they were instead of the actors they were, which is the same about the people who aren't actors that I've dated," he says. 
He's perhaps less diplomatic when it comes to Madonna, who reportedly texted throughout an off-Broadway performance of "Hamilton" at New York's Public Theater. (The singer's spokeswoman has denied the claim) 
When Sessums asks if he was disappointed that "Hamilton" composer Lin-Manuel Miranda barred the Material Girl from visiting cast members backstage, Groff replies, "No. Because that bitch was on her phone. You couldn't miss it from the stage. It was a black void of the audience in front of us and her face there perfectly lit by the light of her iPhone through three-quarters of the show."
To read the full FourTwoNine interview with Jonathan Groff, head here. 
PHOTO GALLERY
Celebrities Who've Starred In Disney Movies
REAL LIFE. REAL NEWS. REAL VOICES.
Help us tell more of the stories that matter from voices that too often remain unheard.