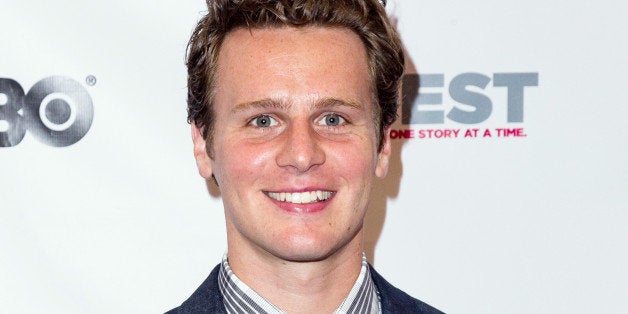 The new HBO gay dramedy, "Looking," has generated a lot of buzz, and actor Jonathan Groff says he hopes it delivers by depicting the "reality of gay sex."
"I hope that our sex scenes are sexy — and I think that they are — but I think even more than that what we're trying to display is a reality of gay sex as opposed to the salaciousness of gay sex," he said. "We're trying just to keep it real—which means humor. Some of our sex scenes are very emotional and very beautiful. Some of our sex scenes are awkward. We're trying to get as close to reality as we possibly can. Hopefully, when people watch it, you'll think, Oh, I've had that exact experience. I know what it feels like to be intimate with someone in that way."
Groff similarly opened up about "Looking" during interview with BuzzFeed in September.
"We're not showing sex to be sexy, necessarily," Groff noted. "When is the last time we've seen gay sex dealt with in a very frank and realistic way? Normally, it's very salacious and sexy, which it is, but there are complicated things about having sex as gay men that I think hopefully we'll address on our show."
He added that shows like "Will & Grace" and "Modern Family" showed gays as "sort of middle America... Hopefully, now we can show a different side of it."
"Looking" focuses on the story of a group of gay friends living in San Francisco, according to The Hollywood Reporter. The first episode was directed by "Weekend" director Andrew Haigh and features openly gay actors like Groff (who was previously on "Glee") and Russell Tovey.
"Looking" premieres on Sunday, Jan. 19, at 10:30 p.m. on HBO.
REAL LIFE. REAL NEWS. REAL VOICES.
Help us tell more of the stories that matter from voices that too often remain unheard.