Jonathan Groff is back on Broadway as King George in the musical phenomenon, "Hamilton," after a short leave while he made the wrap-up special of the now-canceled HBO series, "Looking." In an interview with me on SiriusXM Progress, Groff talked about everything from Beyoncé's backstage "Hamilton" visit to "the most intense sex scene" yet in the upcoming "Looking" film.
"I was just so excited that she and Jay-Z were even in the audience," Groff told me. "She spoke very specifically to everybody about their performances and things that she noticed, and whatever, and she specifically talked about this walk that I do when I walk out onstage, and [she] imitated it. And then she talked about this exit move I do. And what was amazing about it was just knowing that Beyonce is watching. It makes sense because she's Beyonce, and like, she's incredible, to put it mildly. And just to know that she's watching with such careful -- she's really watching. When she goes to see something she's really watching the nuance and the things that she was picking out in all of our performances were very specific…[Beyoncé and Jay Z] were so generous and so cool backstage. They say, 'Never meet your idols,' or whatever, but those two were just amazing."
About the promised "most intense" sex scene yet in "Looking," Groff quipped, "You know, we just strap on those anal covers and go to town, like we always do!"
Groff's character in the series, Patrick, is a gay man who hasn't had much experience in love and sex in the beginning of the show, which was canceled after two seasons. The film special brings the San Francisco-set series to a conclusion, and Groff says that at the top of the film we see a "different" Patrick who has "grown up a bit." He won't say who the sex scene is with, and would only describe it this way: "Patrick has had a lot of sexual hang-ups. And now he doesn't."
Regarding the steamy sex scenes he had in the two seasons of "Looking" -- several with his high-tech company boss, Kevin, played by gay heartthrob Russell Tovey -- Groff said, "we laugh a lot," and noted that that he's had the good fortune of doing sex scenes with people with great hygiene.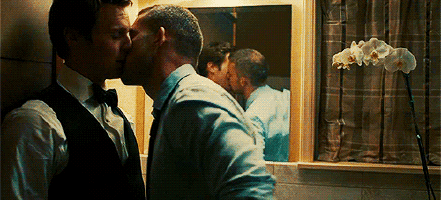 "So, when you first get there and you take off the robes and you're in your weird little dick sock and your anal cover, there's usually some, like, laughter," he explained. "And then we sort of talk about what is happening in the scene. And we sort of do a rehearsal with our shorts on or whatever. And then we do it. I find [sex scenes] really fun and enjoyable and funny and weird and hilarious and a great opportunity to share a lot about characters. And there's no words, so it's an interesting thing to act. But I've never done a sex scene with someone who smells bad or I didn't like something about them. That would be terrible. That's the benefit I've had. I've never done a sex scene with someone that has not been so respectful and great about smelling fine and making it as palatable as possible."