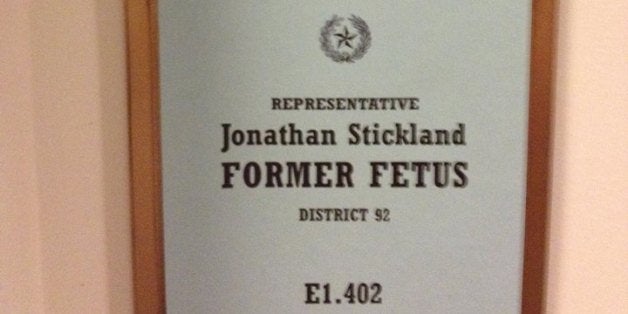 As Planned Parenthood lobbied the Texas state Capitol on Wednesday to continue receiving cancer screening grants, state Rep. Jonathan Stickland (R) hung an official-looking sign outside his office that identified him as a "FORMER FETUS."
"Today Planned Parenthood is visiting and lobbying the Capitol," Stickland wrote in a Facebook post about his new sign. "In honor of their visit, I put this sign up on my office door. Organizations that murder children are not welcome in my office."
The sign didn't last long. Stickland said fellow Republican Rep. Charlie Geren tore it down on Wednesday and threw it in a staffer's face to intimidate him.
"It's just been ripped down and thrown in my staffer's face by Charlie Geren," Stickland told the Tribune.
"I thought it was absolutely handled in the wrong way," he added. "I wish Rep. Geren was more professional about it instead of intimidating my staff."
Geren, the chairman of the House Administration Committee, said on Twitter that the sign broke an administrative rule and that he did not throw it in anyone's face.
"Signs are not allowed to be posted in the walls of the building," Geren tweeted. "They were removed and placed in the office of the members."
The dust-up came as the Texas Legislature debates a budget bill that would put Planned Parenthood and other independent women's health clinics at the bottom of the priority chain for cancer screening grants. The bill redirects state funding to public health clinics -- a move that even some Republicans believe could end up hurting women's access to health care in the state.
State Rep. Sarah Davis (R) said the move could cause the federal government to pull women's health grants from Texas, which could force many clinics to shut down.
REAL LIFE. REAL NEWS. REAL VOICES.
Help us tell more of the stories that matter from voices that too often remain unheard.
BEFORE YOU GO
PHOTO GALLERY
Abortion Protests Around The Nation