Each month Athlete Ally and Huffington Post will feature a new Voice to Voice segment featuring LGBT and ally people of color leading the movement to end homophobia, biphobia, sexism and transphobia in athletics. The discussions will focus on the interplays of race, ethnicity, sexual orientation and gender identity, and how those relationships affect LGBT inclusion and allyship in sports. Topics may include faith, family, health, body, immigration, community, stigma, visibility, economic status, violence, masculinities and femininities, language and more. Kye Allums, Ashland Johnson and Akil Patterson, all active and accomplished LGBTQ advocates, will act as lead moderators for the initiative. They will be joined by guest moderators Katheryn King and Alyssa Puno.
This month's Voice to Voice is guest moderated by Jonathan Teinor. He is a senior Kinesiology major and Spanish minor at the University of Maryland. He has participated in cheerleading and Gymkana (a club gymnastics troupe). He plans to work in orthopedics, with a focus on athletes and elderly patients. Along with a career in medicine, Jonathan plans to someday become an international ambassador for Athlete Ally, and aid in transforming the sports world into a comfortable place for LGBT athletes.
The past two years have been historic ones for gay athletes, especially black gay athletes. With the public comings out of Jason Collins, Brittany Griner, Derrick Gordon and Michael Sam, I thought that this would be the perfect opportunity to chat and reflect with an out athlete.
Derrick Anderson is a senior at Ohio State University, where he has been a member of the track and field team for four years. His events include sprints and hurdles. In his 2013 season, he set a personal record of 8.35 in the 60-meter hurdles. Derrick is an out and proud black gay athlete.
Jonathan Teinor: Unlike many gay athletes, I began my coming out process during high school and started my college career with the closet behind me. When did you first realize you were gay and when did you first tell someone?
Derrick Anderson: I first knew for sure back in high school but I didn't start acting on it until college. I knew for a while, though. I first told someone, my best friend, my sophomore year in college. I told her after getting asked out by a guy. She was the first one that I told. She loved it! I think she already knew, though. She was extremely happy for me and wanted to know whom the guy was.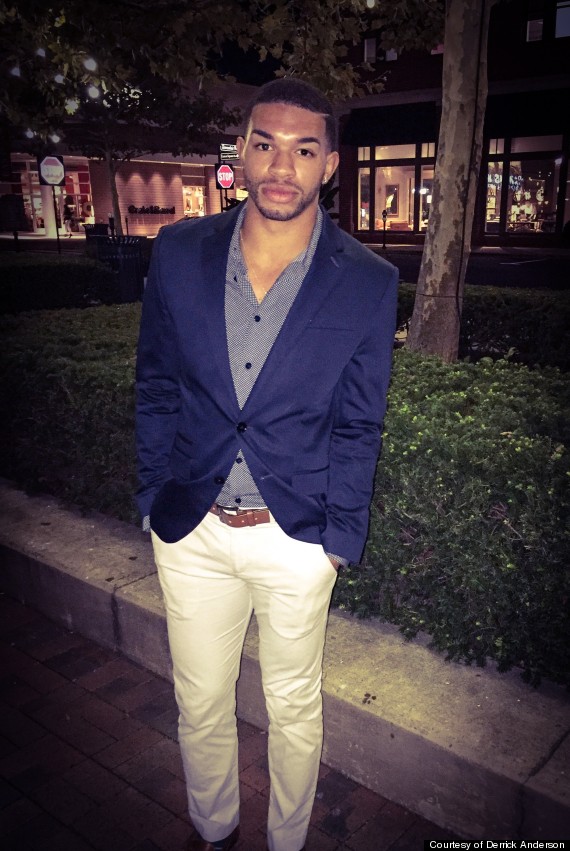 Teinor: Yeah, the best friends always know. I remember telling one of my good friends over text and she replied, "Finally!"
Do you think that race plays a factor in people's ability to come out?
Anderson: I do. I feel that in the black community, coming out is totally different because it isn't normally talked about. Culture can influence the way someone comes out. I think the process is virtually the same in all communities, but I think it might be a little bit easier in the white community.
Teinor: Have you experienced this personally in any way?
Anderson: Yes. Being gay, you just have to think about a lot of factors when talking to people or telling them that you're gay. It happens across all communities. However, there's more I had to think about before doing so [coming out].
Teinor: I definitely agree with that. A lot of times when people are unsure of their parent's stance on homosexuality, they tend to wait until they're financially stable to come out. I feel like that's a safe bet in order to avoid getting "cut-off."
With what race or ethnicity do you identify?
Anderson: I say I'm black. But if people ask if I'm mixed, I'll tell them I'm half
black, half Native American and a little French.
Teinor: Did you ever fear that your sexuality would hinder your recruiting process?
Anderson: During my recruiting process, I was actually in the closet so it didn't hinder it. I tried to keep it under wraps because I felt that it was something that people didn't need to know. I don't think it makes you a viable option when considering an all-guy team. Also the locker room stereotypes don't help.
Teinor: Have you come out to your teammates?
Anderson: Yes. They all know. It's definitely not a secret on my team anymore.
Teinor: How do you think Derrick Gordon's coming out was received nationwide? (Gordon is the first openly gay male player in Division I basketball.)
Anderson: I think it was great and it wasn't that big of a deal, which is a good thing. I'm happy for him. It's a great moment in history that he's currently playing. I love that he's continuing to play in college.
Teinor: The black community has sometimes been portrayed as being intolerant towards gay athletes or gays in general. How do you think the increasing presence of gay athletes and gay athletes of color is changing that?
Anderson: I would only hope that it's making people more accepting. I personally think people are recognizing it and as a result there is more acceptance.
Teinor: Having been involved in cheerleading and gymnastics, I've seen a lot of people come out in college. Additionally, I've noticed that track and field has a high representation of out athletes. Do you feel that it was easier to come out in a non-contact sport such as track?
Anderson: I think the mix of girls and guys made it easier. At first there were some questions. They were just curious. They had never really been teammates with someone who was [openly] gay. It might be a lot easier to come out in cheerleading though, it wouldn't raise any eyebrows [laughs].
Teinor: Absolutely [laughs].
Do you think it's harder to come out in the more popular, violent sports?
Anderson: Definitely. I played football and I would have never come out while playing. People who might be unaccepting could put your safety in jeopardy.
Teinor: Growing up, did you have any role models?
Anderson: My role model would be my dad. He was a major role model. I didn't really look toward any celebrity figures. My parents were my main role models because I was around them a lot and I saw their journey. I appreciate seeing them get their degrees and accomplish their goals.
Teinor: What do you attribute your success to?
Anderson: I would say having a good head on my shoulders and having the family that I have. I appreciate the lessons my parents instilled in me at a young age.
Teinor: What are your future aspirations?
Anderson: I want to have a career and be successful, but my one aspiration would truly to be able to travel and see the world in all its grandeur.

Teinor: That's a great outlook. All athletes, whether professional or collegiate, have admirers, whether across the country, on campus, or the neighborhood they grew up in. What message would you like to send to your fans? What would you like them to know about you?
Anderson: I'd like to let them know that I value loyalty and friendship. I count my friends as my brothers and sisters. I am extremely big on family.
Teinor: One last question: What advice would you give to any athlete that wants to come out?
Anderson: Being yourself shouldn't be something that you battle everyday. It should be something that you can do. If you're scared, you have to get over it. There's going to be a lot of battles in life. You shouldn't have a battle within yourself while you have external battles to fight.
REAL LIFE. REAL NEWS. REAL VOICES.
Help us tell more of the stories that matter from voices that too often remain unheard.