We first met Jonathon Keats many years ago, and we were immediately struck by what an eclectic set of interests he had, and what amazing bowties he wore. He's working on a couple new projects, and his book You Belong to the Universe: Buckminster Fuller and the Future came out this year, so we picked his brain about philosophy, lighting, publishing, and how to get strange and beautiful books published.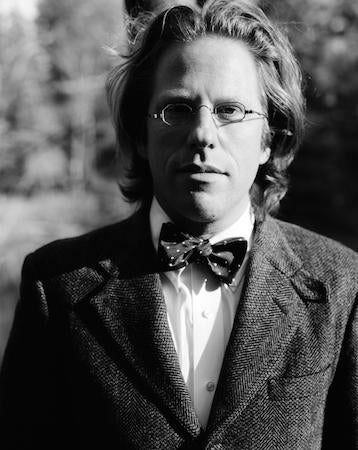 The Book Doctors: First of all, tell us about your new book.
Jonathon Keats: I've written a book that explores the legacy of Buckminster Fuller, a visionary inventor and architect who styled himself as a comprehensive anticipatory design scientist. Fuller spent much of the 20th century striving "to make the world work for one hundred percent of humanity." His visionary thinking led most famously to his invention of the Geodesic Dome, but I believe his deeper legacy was as a pioneer of what we now refer to as world-changing ideas. Many of these – such as visualizing global resources and gaming world peace – were not possible in Fuller's lifetime but have become feasible since his death in 1983, and are now urgently needed to meet the growing demands of an exploding world population.
My ambition with this book is to revive Fuller's comprehensivist approach to framing and addressing colossal problems. Along the way I delve into his life story and personal eccentricities. This is a man who seriously proposed to make cars with inflatable wings and to build a dome over Manhattan. He was equal parts genius and crackpot, and I believe we need to consider all aspects of his character if we're going to responsibly revive comprehensive anticipatory design science in our own time.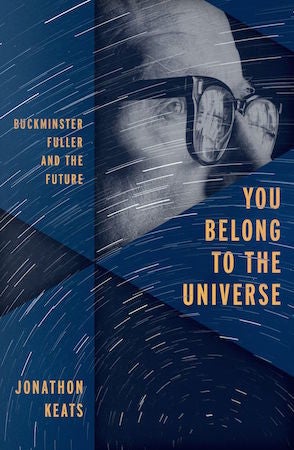 TBD: How exactly does one go about becoming a professional conceptual artist and experimental philosopher?
JK: It happened by default. I studied philosophy in college, but ultimately found it too stiflingly academic. So I sought ways in which to do philosophy in public, engaging the broadest possible audiences in questions that ultimately concern everyone: questions about what we value in life and what kind of future we want.
For instance, I recently designed a camera with a hundred-year-long exposure. Hundreds of these devices have been hidden in cities worldwide. You might think of them as surveillance cameras, invisibly watching over the decisions we make. They'll reveal our activities to future generations that have no way of influencing us yet will be impacted by many of the choices we're making today.
I've found the art world to be the most permissive realm in which to undertake these large-scale thought experiments. If I'm a conceptual artist, it's really a matter of convenience. Conceptual art provides cover for doing what I've always done, which is to systematically question everything.
TBD: What has being a critic taught you about writing?
JK: Criticism keeps me honest. It exposes me to other work and helps me to examine my own work at a distance.
TBD: How did you go about getting your book published?
JK: This is my third book with Oxford University Press. My first book was about language and my second one was about forgery, and before those I wrote a collection of stories inspired by Talmud, which was published by Random House. My interests are eclectic and my writing reflects that. I suppose it can be a liability in terms of getting published, since publishers may be unsure of how to define me, but at a certain point, the eclecticism became a defining characteristic. My books all have in common the fact that they have nothing in common except my eclectic sensibility. Somehow it seems to work – and eclecticism turns out to be a good starting point for writing about a comprehensive anticipatory design scientist.
TBD: What do you want people to take away from the book?
JK: I want people to understand Buckminster Fuller's way of thinking. Equally important, I want people to appreciate the limitations of his worldview. Fuller was a techno-utopian who believed that all problems could be solved by engineering. This assumption has become mainstream as companies like Google have come to dominate the planet. By seeing the ways in which Fuller failed – and there were many – we can be smarter about technology and how we engage the new economy.
TBD: Tell us about the global warming ice cream project.
JK: Maybe I should blame it on Fuller. He was obsessed with data visualization. Toward that end, he invented the Geoscope, a vast animated globe intended to reveal patterns ranging from cloud cover to human migration. While the Geoscope never got built, visualization has subsequently become increasingly mainstream. We're increasingly immersed in big data, and we increasingly rely on visualization to model complex systems.
Yet for all the benefits of visualization, we remain incapable of understanding many phenomena, from the accelerating expansion of the universe to the intricacies of climate change. So I started thinking about whether visualization was the only way of examining complex patterns, and I realized that there was another option. Instead of visualizing complex systems, we could gastronify them. In other words, we could eat our data.
The human gut turns out to be a remarkably intelligent organ, second only to the brain in number of neurons. The enteric nervous system is also manifestly unlike our gray matter, as is suggested by talk about 'gut feelings.' By representing scientific models with digestible biochemicals instead of colored arrows, it's possible to expose scientific phenomena to the alimentary canal, where they may be understood in terms that elude the brain.
Over the past year, I've been developing a chemical language based on the effect of substances like vanillin and capsaicin on receptors lining the intestine. Practically any phenomenon can be represented, but I'm initially concentrating on global warming, transforming the carbon cycle and albedo effect into edible feedback loops. My gastronification of the global climate will be presented next month at the STATE Festival in Berlin, where it will be consumed not only by climate scientists but also the general public.
I've chosen to serve the climate feedback loops in a specially-made sorbet, since ice cream seems to be universally popular and is bound only to become more so as the planet warms. Unlike the conundrum of dark energy, climate change needs to be understood by everybody because we need to act on it as a society. By consuming my sorbet, people may internalize the problem, emotionally confronting climate change through the enteric nervous system.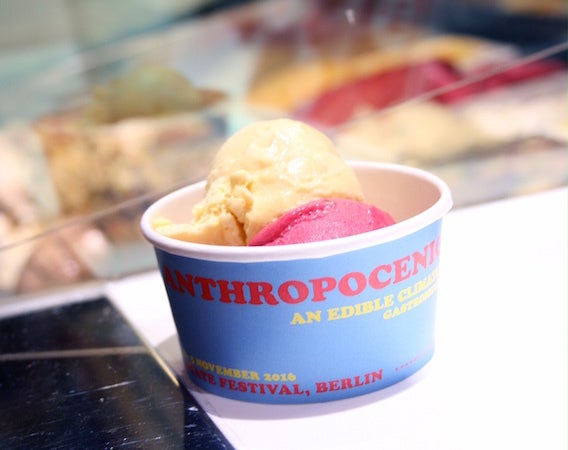 TBD: How does being a visual artist influence you as a writer?
JK: I really don't differentiate between the two modes of expression, at least at the outset. In some cases ideas are more effectively explored through narrative, while others can be examined more incisively through an object or installation. So for any given project, I decide on an approach that I think will be most generative. There are countless considerations – such as the trade-off between control and flexibility – but ultimately I work on instinct.
And I'm also pretty promiscuous. Over the years I've made numerous artist's books, and my installations inevitably involve language. Just consider all the words I've used to talk about data gastronification – and I'm only getting started.
TBD: What were some of your favorite books as a kid, and why? What are you reading these days?
JK: My favorite books as a child are still some of my favorites, and remain some of the most profound influences on what I do every day. Harold and the Purple Crayon showed me how to create an imaginary world with the simplest imaginable materials. Goodnight Moon taught me philosophy. (What to make of the page reading "Goodnight nobody"? I'm still trying to figure it out.) The light touch of the best children's books allows them to probe deeper than most anything else ever written. In everything I do, I strive for that lightness. I have yet to achieve it.
The books I'm reading today are often those that I'm reviewing. (The most recent is Time Travel by James Gleick.) Then there are new books by friends, such as Damion Searls's excellent forthcoming history of the Rorschach Test, The Inkblots. And finally there are books I find myself rereading on a regular basis, always finding something I hadn't previously noticed. One of those is Five Hundred and Seven Mechanical Movements by Henry T. Brown. (The title pretty well encapsulates what it's about.)
TBD: How would you improve the English language?
JK: I think we could benefit immeasurably by adding to our relatively meager stock of tenses and moods. One addition that comes to mind in this election season is the faithful. It would work much like the conditional, only instead of indicating statements of possibility, the faithful would mark statements of belief. (Present: I have, you have, s/he has. Conditional: I would have, you would have, s/he would have. Faithful: I believe I have, you believe you have, s/he believes s/he has.) The widespread adoption of the faithful tense – especially the first person faithful – might lead to greater accountability not so much because politicians would actually use it but because we'd be more attuned to what they were avoiding.
TBD: We hate to ask you this, but what advice do you have for writers?
JK: The virtues of procrastination are greatly underestimated. I tend to do my most interesting work when I'm working on too many things and alternatingly procrastinating on all of them. Projects get mixed up in my head. Serendipitous connections occur to me. And serendipity is a pretty good proxy for creativity.
Jonathon Keats is a writer, artist and experimental philosopher. He is recently the author of the story collection The Book of the Unknown (Random House), winner of the American Library Association's 2010 Sophie Brody Medal, as well as Virtual Words: Language on the Edge of Science and Technology (2010) and Forged: Why Fakes are the Great Art of Our Age (2013), both published by OUP.