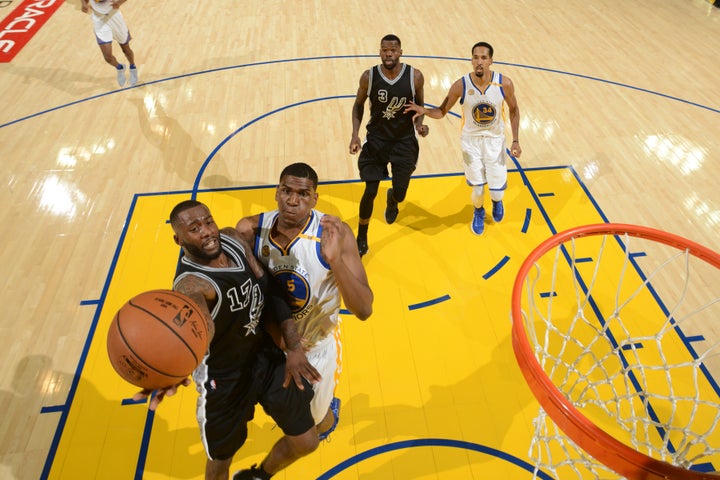 His decision to enter the draft after one season at the University of Houston had been a failure. He hadn't even made a summer league team, let along gotten drafted. Now, here he was at Concordia University, where he paid a $150 registration just for the right to show the San Antonio Spurs' development league team that he had what it took to make it in.
The process in the years before that were hard. He had gone to two community colleges. He had four daughters he needed to feed. He was just about to give up and pursue another one of his talents: cutting hair. But he stepped into that gym, and he impressed.
Flash forward three years later to Tuesday night, and Simmons wasn't only in the NBA. He was destroying Stephen Curry, Kevin Durant and the heralded Golden State Warriors in their first game of the season.
Simmons, 27, who joined the Spurs as a rookie last season, let the world know he belongs. He registered 20 points, three three-pointers, a +33 plus-minus, three rebounds and one absolutely monstrous monster block on two-time reigning MVP Stephen Curry. 
He also registered a buzzer-beating three to end the half for good measure.
In what was supposed to be the first of many dominating nights for the Warriors following their signing of Kevin Durant, fans in the Bay Area instead could only watch on in horror as the Spurs dismantled the NBA's newest super-team, 129–100. Kawhi Leonard was a big part of the reason for the dominating victory, as was LaMarcus Aldridge. But so was Simmons, much to the chagrin of his opponents.
"We let Simmons come in and destroy us in the first half, and he continued it in the second half. No disrespect to him, but you can't let guys like that come off the bench and get 20," Draymond Green said after the game. "It's hard to win like that. I don't care where you're at."
Whatever happens this season, Simmons started it with a bang. If nothing else, he has made his presence known. "It takes different people different paths," Spurs general manager R.C. Buford said last year. "Clearly, his wasn't linear."
Highlights from Jonathon Simmons game against the Golden State Warriors.
CORRECTION: A previous version of this story incorrectly said Simmons' tryout occurred at Concordia College. It occurred at Concordia University in Austin, Texas.
REAL LIFE. REAL NEWS. REAL VOICES.
Help us tell more of the stories that matter from voices that too often remain unheard.
BEFORE YOU GO
PHOTO GALLERY
Great Pictures From 2016 NBA Draft