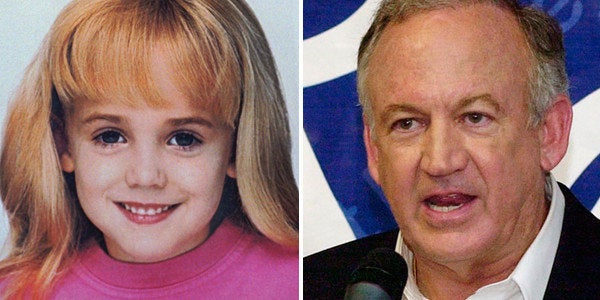 In an interview that aired this morning on ABC News, JonBenet Ramsey's father, John Ramsey, said he regrets putting his daughter in child beauty pageants.
During the interview, Ramsey said that while he hasn't seen a full episode of "Toddlers and Tiaras," a TLC show that follows families into the competitive world of child beauty pageants, in hindsight he finds that world "very bizarre."
JonBenet Ramsey, a child beauty queen, was found dead in the basement of her Boulder, Colo. home on the morning December 26, 1996.
John Ramsey's book, titled "The Other Side of Suffering," will be published Wednesday. The book chronicles John Ramsey's religious faith throughout his tumultuous life, including the death of his eldest daughter in a car accident, the international media attention to JonBenet Ramsey's still-unsolved murder and the loss of his wife Patsy to ovarian cancer in 2006.
Ramsey also voices his belief that the killer is still at-large.
"Patsy had [JonBenet] sitting atop a friend's convertible in the Christmas parade waving at the people lining the streets," Ramsey recalled. "Patsy's mother later told me that a strange man approached the car during the parade and it made her uncomfortable. I think about these things now and it makes me cringe. We were so naive. I now believe with all my heart that it's not a good idea to put your child on public display."
Though both John and Patsy Ramsey were considered prime suspects for years after JonBenet's murder, they were cleared--along with their son Burke, who was nine at the time--in 2008 by then-Boulder District Attorney Mary Lacy due to new "touch DNA" evidence. The new DNA provided conclusive evidence of an unrelated male.
Boulder Police Chief Mark Beckner issued a statement shortly after the new DNA findings were made public:
"The discovery of additional matching DNA in the JonBenet Ramsey murder case is important information that raises more questions in the search for JonBenet's killer. The Boulder Police Department concurs with the Boulder District Attorney's Office that this is a significant finding. We remain committed to bringing JonBenet's killer to justice. That is, and always will be, our goal."
Boulder Police have tested over 150 DNA samples and investigated more than 140 people in the murder of JonBenet Ramsey, but they have yet to positively link someone to the crime.
The full interview will air on "Nightline" Wednesday at 9:35 p.m. MST.
Popular in the Community