Staff Sgt. Jonea Cunico is an Aircraft Electrical and Environmental Specialist in the Air Force Reserves and mom to a 14-month-old boy named Joshua Jr. When photographer Jade Beall captured gorgeous pictures of Cunico breastfeeding in uniform, she showcased a powerful image of a mother and woman serving her country.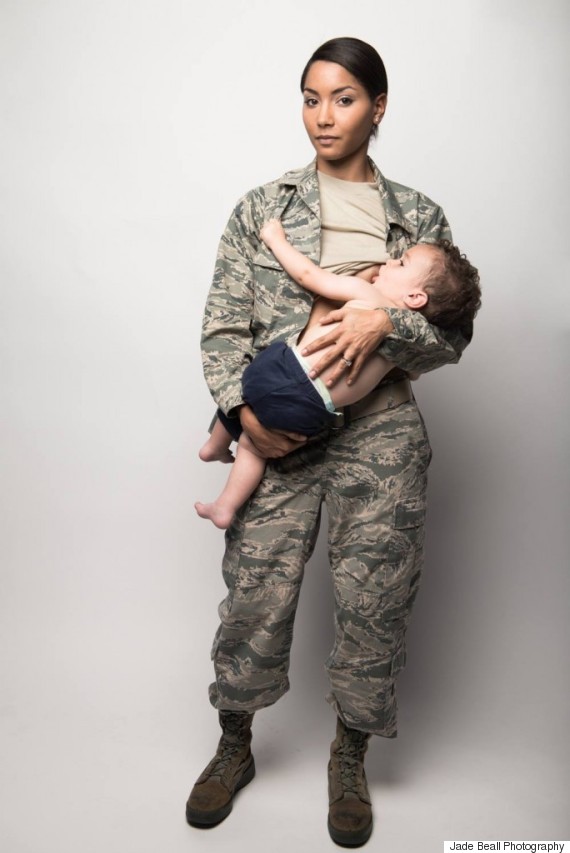 Cunico reflects on her experience with breastfeeding and pumping, at home and in the military, in an interview with Breastfeeding in Combat Boots -- veteran and International Board Certified Lactation Consultant and Registered Nurse Robyn Roche-Paull's online resource for military mothers working to nurse while serving their country.
After persisting through the early breastfeeding challenges she faced, Cunico was very proud to let Beall photograph her nursing Joshua Jr, all while 12 weeks pregnant with her second child, she told The Huffington Post.
Though she worried about nursing and pumping in her predominantly male unit, the military mom says she was "pleasantly surprised" with how well her peers responded to and supported her decision to breastfeed. She told Breastfeeding in Combat Boots:
The first day at my unit I was very clear with my supervisor that I was breastfeeding my son and that I would need to take precautions when handling chemicals, and that my work on the aircraft would be limited. He was very understanding and didn't have a problem. I also let him know that I would need a private, clean place to pump while at work. He found me an office right away.
Nursing in uniform has caused a stir in the past -- most notably in 2012 when National Air Guard members Terran Echegoyen McCabe and Christina Luna received criticism for their viral breastfeeding photo. But a formal review by the 12th Air Force JAG found Cunico's photos acceptable, she confirmed to The Huffington Post.
In a note to Beall, which the photographer shared on her Facebook page, the military mom said "I know there will be people who don't agree with me nursing in uniform. There are no regulations forbidding me to do so. I am a mother. Both inside and outside of my uniform. Breastfeeding is part of motherhood for me."
Since the photo's appearance on Beall's social media accounts and elsewhere, Cunico told The Huffington Post that the responses have been overwhelmingly positive and supportive -- with a small number of "incredibly hurtful" comments. Cunico said she is proud of the "willingness of others to stand up for me against the negative commenters," but she was upset that some had misconstrued her intentions.
"I'm not making a statement, I'm not trying to represent all breastfeeding mothers in the military, I'm not campaigning or supporting a cause," she explained, adding, "I love the military and all that it has done for me and my family. I would never misrepresent my branch of service, the military, or my country."
Reflecting on her own challenges with breastfeeding in the military -- which prompted her to create her nursing support book and website for servicewomen -- Roche-Paull told The Huffington Post, "I thank Jonea for sharing her experiences and her photo. The more that the public, and more importantly, military women see other military women being successful at breastfeeding in the military, the more likely they will be successful themselves."
This post has been updated throughout with additional comments from Cunico and Roche-Paull about the photograph and the online response.
CORRECTION: A previous version of this article misstated Robyn Roche-Paull's title.