WASHINGTON -- Iowa GOP Senate candidate Joni Ernst floated the idea of impeaching President Barack Obama in January, calling him a "dictator" and arguing he was "overstepping his bounds" by using executive authority to enact parts of his agenda without Congress' cooperation.
Ernst's comments came during a Jan. 15 forum with the other candidates who were at the time vying for the GOP nomination. Ernst won her party's backing in the June 3 primary.
The moderator of the forum asked Ernst about the Supreme Court case regarding Obama's use of recess appointments.
"[I]f we could assume for a moment that the Supreme Court would rule there was abuse of power, what do you think should be the punishment? And two, as a U.S. senator, what would you do to stop this blatant misuse of power through such things as executive order?" he asked.
Ernst replied that she believed that Obama had overstepped and should be held accountable. She mentioned impeachment and removing him from office as two possible solutions:
He is continually using executive order, he is making appointments without authority. So yes, absolutely he is overstepping his bounds. And I do think that, yes, he should face those repercussions. Now, whether that's removal from office, whether that's impeachment...

But as a U.S. senator, absolutely -- as a U.S. senator though, we have to push that issue, and we can't be silent on things like that. And unfortunately we have a number of legislators right now that simply let these things happen. They are not speaking up against these actions. They're not speaking out against the president when he oversteps his bounds, when he makes those appointments, when he's appointing czars, when he is producing executive orders in a threat to a Congress that won't do as he wishes.

So he has become a dictator. He is running amok. He is not following our Constitution, and unfortunately we have leaders who are not serving as leaders right now. They're not stepping up, they're not defending the Constitution, and they are not defending you and me.
Watch Ernst's response in the above video, which was sent exclusively to The Huffington Post by a source.
Reached for comment on Ernst's January remarks, spokeswoman Gretchen Hamel said, "If any president oversteps their bounds, there are procedures in place for Congress and the American people to hold him or her accountable. Impeachment is a strong word and should not be thrown around lightly."
Last month, the Supreme Court ruled that Obama's recess appointments to the National Labor Relations Board were unconstitutional. It did not, however, completely take away the president's ability to make recess appointments.
Conservatives have railed against Obama over the appointments, charging that he should defer to Congress and stop using his executive authority to push his agenda. House Speaker John Boehner (R-Ohio) recently said he intends to sue the Obama administration over its use of executive actions.
Former GOP vice presidential candidate Sarah Palin -- who endorsed Ernst in March -- called for Obama's impeachment Tuesday, writing in an op-ed, "Enough is enough of the years of abuse from this president. His unsecured border crisis is the last straw that makes the battered wife say, 'no mas.'"
Ernst faces Rep. Bruce Braley (D) in the general election, and HuffPost Pollster's average of the polls conducted in the race show the two virtually tied at this point. They are seeking to succeed retiring Sen. Tom Harkin (D).
UPDATE, 7:45 p.m. -- Ernst elaborated further on her January comments in a statement later Tuesday:
I was asked a question involving a hypothetical about what I thought should happen if the Supreme Court ruled that the president had committed an "abuse of power." Obviously if the Supreme Court were to ever rule that the President of the United States had abused their power, that would be a very serious charge. I responded by saying that if the court in fact made such a ruling, that the president should face the necessary repercussions. I would give the same answer about any president, Republican or Democrat.

To be clear, I have not seen any evidence that the President should be impeached.

I obviously do not believe the president is a dictator, but his repeated use of unilateral action sure makes him look like one.

I hope Bruce Braley would feel similarly about any chief executive whom the Supreme Court ruled had abused power.
Want more updates from Amanda? Sign up for her newsletter, Piping Hot Truth.
Before You Go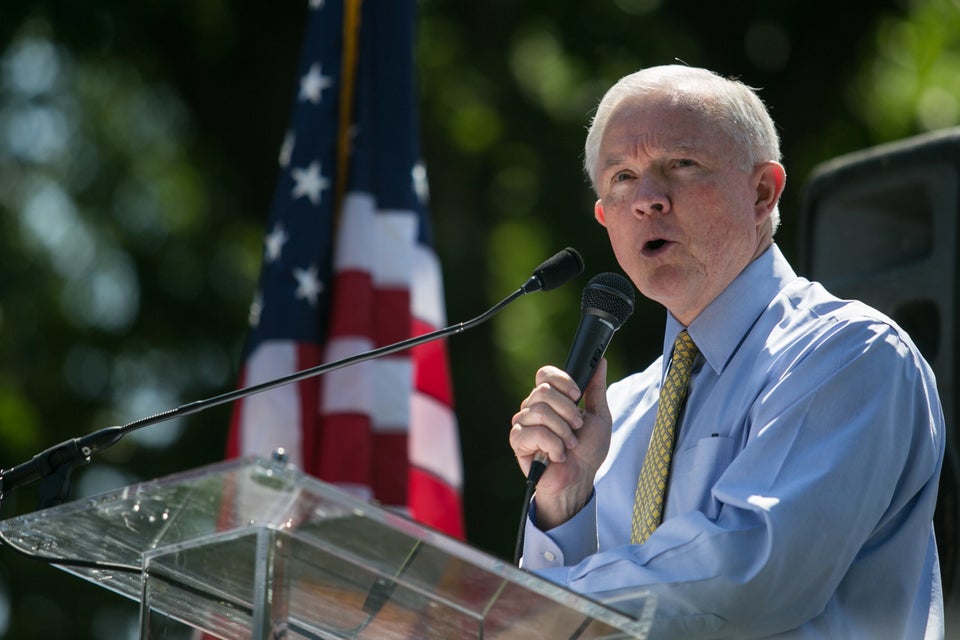 Senate Seats Up For Grabs In 2014
Popular in the Community