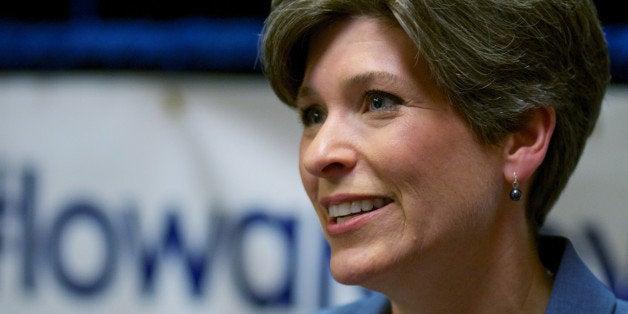 Is this going to matter? If you consider the fact that the end product of a sit-down with newspaper editors is an editorial endorsement, perhaps not. There's plenty of relevant research suggesting the power of newspaper endorsements is over-rated. But what if you consider the potential for sustained backlash from those who serve as gatekeepers to "the political narrative"? A lot will depend on whether Ernst's decision is held to the same standard as those of other politicians in this cycle.
Ernst's decision to bail on her previously appointed meetings is written off by her campaign with an insistence, embedded within a flurry of cliches, that these various newspapers have already made up their minds: "Joni is barnstorming the state, visiting all 99 counties and talking face to face with voters about the issues they care about most. Recent editorials in the Des Moines Register make their position in this race perfectly clear, and it's one that many voters across our state seem to disagree with. With less than 12 days to go, time is precious and Joni wants to spend every minute talking to undecided voters, hearing their concerns, and demonstrating why we need a change in Washington."
Sure. The larger truth of the matter is that Ernst, in her contest with Democratic Rep. Bruce Braley, has a good thing going, poll-wise, and the one thing that could cock it all up would be Ernst herself, saying things in front of reporters who then go on to report them. That the Ernst campaign might be assigning a higher likelihood to a foul-up than they are to Ernst persuading these newspaper editors to support her policy preferences is perhaps telling. But let's face it -- Ernst is hardly the first among American politicians to sniff the finish line and decide that the only thing to fear is them, themselves.
We were disappointed by the Ernst camp's decision to not spend an hour with the editorial board and share her vision for our state and the rest of the country. This has been an incredibly nasty, competitive race where both sides have spent millions and aired tens of thousands of TV spots. Undecided voters I talk to want Sen. Ernst to break through the rhetoric and cacophony of campaign ads about hogs, Obamacare and balanced budgets. It's a time for sharing specifics. It's a chance to have a serious conversation about vision, priorities, the economy, national security, foreign relations and Social Security. I'm not angry she snubbed the Des Moines Register editorial board, which is in final deliberations about our Senate endorsement. It truly isn't about us. We wanted to discuss the future of the state and allow Joni Ernst to share insights and specific responses to the concerns and questions of Iowans and voters. It's unfortunate that cannot happen.
It's interesting to look at Ernst's decision alongside some other events from the recent past. Just last week, we watched agog at what transpired at the Florida gubernatorial debate between Gov. Rick Scott (R) and former Gov. Charlie Crist (D). That affair initially appeared as if it might not come off because of Scott's refusal to participate. In case you missed it, Scott was, for some reason, bent on throwing a hissy fit over the fact that there was a small fan at the base of Crist's lectern. Scott eventually acquiesced after it became clear that his puzzling decision was resulting in near-instant, universal ridicule.
The issue came up midway through the interview when Courier-Journal editorial director Pam Platt asked Grimes if she voted for Obama in 2008 and 2012. U.S. Sen. Mitch McConnell, Grimes' opponent, has spent the last year trying to link Grimes to the president, who is wildly unpopular in the state.

"This election isn't about the president, it's about making sure we put Kentuckians back to work," Grimes said.

"Did you vote for him?" Platt asked again, after once interrupting Grimes to ask during her previous answer.

"I was actually in '08 a delegate for Hillary Clinton and I think that Kentuckians know I'm a Clinton Democrat, through and through. I respect the sanctity of the ballot box, and I know the members of this editorial board do as well."

"So you're not going to answer," Platt said.

"Again, I don't think that the president is on the ballot, as much as Mitch McConnell might want him to be. It's my name and it's going to be me who is holding him accountable for the failed decisions and votes that he has made against the people of Kentucky," Grimes said.
On MSNBC's Morning Joe, adjectives like "ridiculous" and "cringe-worthy" and "amateur" were used.

"And Kentuckians expect her to cast a tough vote on anything?" asked NBC political reporter Chuck Todd on the show. "I think she disqualified herself."
One wonders: If refusing to answer a single question posed by a newspaper editorial board can said to be disqualifying, what happens when you refuse to answer every question of three editorial boards?
But there I go, looking for consistency! The salient point is that Ernst probably just wants to avoid any last-minute scrutiny, so she's going to opt to go dark in this instance and trust she won't be too damaged over it.
"Savvy move!" is what I'm supposed to say. And then I'm supposed to nod and stroke my chin or something.
Calling all HuffPost superfans!
Sign up for membership to become a founding member and help shape HuffPost's next chapter
BEFORE YOU GO
PHOTO GALLERY
Senate Seats Up For Grabs In 2014