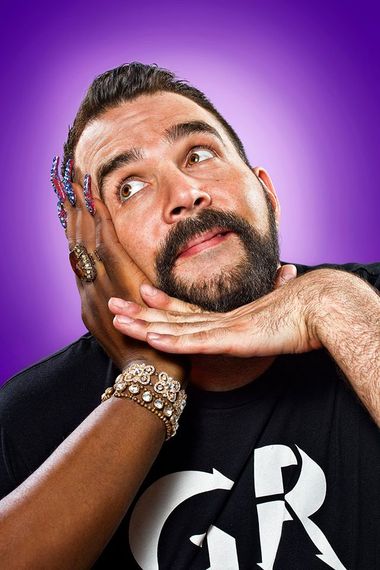 In New York City, there used to be a time that you could not swing a drag queen without seeing or hearing about Jonny McGovern. Tracks like "Soccer Practice" and "Something for the Fellas" were part of the soundtrack of New York City, and along with glitterati like ErickaToure Aviance and Linda James, the original "Gay Pimp" ruled New York City. Having made the move to Los Angeles and having a sort of renaissance, McGovern sat down with us to chat about his ultra popular show "Hew Qween", a sort of "Tonight Show" for the gay set (now in it's fourth season), why he thinks the ladies of "RuPaul's Drag Race" make such amazing guests, and how he thinks the "Real Housewives" are learning so much gay lingo!
The legion of "Hey Qween" fans have been rabidly loyal and anxiously awaiting Season 4 and it's premiere episode!
I could not be more excited. We have definitely stepped it up a notch this year, and we have added some new elements. It looks better than ever this year! People really have gotten to see the show by now, and now our guests are really coming to play! They are definitely ready to "spill the tea" so it's been alot of fun so far.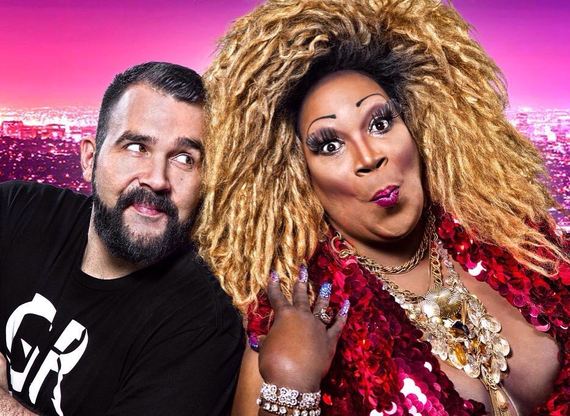 Who have you had sit in the guest chair on this season of "Hey Qween" that you can talk about?
Hmm..well we just taped with "RuPaul's Drag Race" Season Three winner Sharon Needles, she was our premiere guest. We also chatted with girls like Kennedy Davenport, Heklina, and Gia Gunn. We also had Milan Christopher from "Love & Hip Hop"
Milan Christopher is part of the much publicized duo on "Love & Hip Hop that were a true gay couple this year correct? That was quite a landmark moment for such a hip-hop oriented show.
Thankfully, Milan is the half of the couple that is still gay. If it had been the other one, it would have been pretty awkward! (LOL)
Your podcast "Gayest Of All Time" is still one of the best ones going and full of such hilarious content.
Thank you! You know, I love long form radio and it was the podcast that really prepared me for the opportunity to do "Hey Qween". The podcast was always completely unrehearsed and it helped me build and entire team around me. Luckily, I've had alot of my New York homies move to Los Angeles! One of the newer additions is going to be Adam Joseph, who has produced all of my albums and also has been on the podcast very regularly. He's now on "Hey Qween" as our new bandleader; Adam Joseph and the Go To Bed Wigs! Erika Toure Aviance and One HalfNelson have just moved to Los Angeles and they were also on the podcast. They've been helping with production design and things like that, and will also be guest appearing on the podcast this season as well. It's great that alot of the podcast universe has come to Hollywood, so it's all exciting. All of my sisters and children have come home to roost!
Your content across the board is so streamlined to the LGBT market, yet Sirius OUTq recently just disbanded. Do you think there is a need for a niche market for the LGBT community?
I definitely think there is always a need for content that is true to who you are. The reason I write super gay stuff is because I'm super gay I love celebrating all different aspects of gay culture; club culture, nightlife culture, the ball scene, and bring little elements of that into the show. It doesn't mean that it can't be enjoyed by all types of people, since they just love the guests; they love drag queens, they love the comedy of it. I think it's important to remember though, when we live in the Los Angeles or New York bubble where everything can be "gay" that around the world and even in the United States, people don't' get to be around gay culture and be easily accepted. I think there is definitely a place for gay content to be a way to send a message of positivity and empowerment to gay youth and any other isolated gay people. They can be strong and can send a positive message that they can do it!
I feel one of the best things about your show is that you promote "RuPauls Drag Race" so heavily.
When we started the show, it was just really a conversation between some of my favorite gay artists, people I knew, things like that. When we started to have the girls from "Drag Race" on, the audience reaction was so overwhelming. The truth is- "Drag Race" has changed the game. I can remember during the first two seasons of "Drag Race" and trying to pitch different drag-themed events to clubs, many people would respond that drag was "over". "Drag Race" has really changed the game and these girls on the show have truly become stars. There really isn't a place other than "Drag Race" where you can get to know them, hear their story, or even give them a redo than "Hey Qween"
For instance, Season Six's Laganja Estranga essentially had her "Oprah Moment" on "Hey Qween". She was able to explain herself, rewrite her narrative, and really show what it was like from her point of view. You can see that that show really changed the narrative and people really appreciated her in a different way. Now she's on tour with Miley and doing her thing!
It's not just about the "Drag Race" girls though, I love that we can bring on all kinds of people. I love that we can bring on someone really underground or locally known like Heklina or someone like that who children who are fans of "Drag Race" should know about. I love that we can include the "Drag Race" girls, but we also want to be sure to bring in our history and tell the stories.
If you think that all of the phrases you love came from "RuPaul's Drag Race" you have never seen "Paris is Burning" , you don't know about the ball scene, and that's important to know. That's part of the mission of "Hey Qween".
Is part of the mission of the podcast always keeping everyone updated on your favorite pop culture happenings, specifically the "Real Housewives" of any city.
Oh definitely! We are all television junkies and it's really fun. The podcast is the audience that stuck with me the longest and knows me the best. I love being in touch with that audience and let them know what we're loving because they love the same things we do.
What "Real Housewives" are you loving right now?
"Real Housewives as far as the Atlanta and Beverly Hills are ruling it for me. Atlanta has become the shadiest of all of them, so its perfect that they're calling that night "Shady Sunday". Never before have gay makeup artists and stylist informed how women will speak to each other. They have all had queens whispering to them to bring in that fan, snap that fan. etc. Alot of it is how "Drag Race" has popularized certain lingo and "Real Housewives" has done the same thing.
Where do you see Jonny McGovern in five years?
I would love to bring 'Hey Qween" to television. I think there is a real lack of a place like we have, where gay stars and gay friendly stars can go. I would love to bring "Hey Qween" to the next level. The reaction we have had from the internet fans have been so strong and I really think if we could get it on television, we could even go further. The basis of "Hey Qween" is about positivity and the friendship of the people on it, myself Lady Red Couture and Adam (Joseph). I think a larger television audience could relate to that. It will take a brave television network to do it though. LOGO are you listening?
Hey Qween - YouTube
https://www.youtube.com/channel/UCStjBZ-91yduQVNtsBkjgJQ

Jonny McGovern (@GayPimp) | Twitter
https://twitter.com/GayPimp
Calling all HuffPost superfans!
Sign up for membership to become a founding member and help shape HuffPost's next chapter