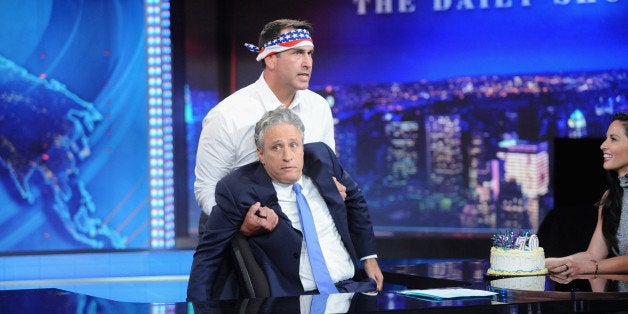 In the span of less than three months, we have lost David Letterman and Jon Stewart, as a regular presence on TV. What the hell are we supposed to do now?
And yes, Jon Stewart's farewell show was a thing of beauty; from the dream scape of former Daily Show correspondents who paid Jon a last visit, to the final money shot of Bruce Springsteen, singing "Born To Run." That was truly a Jersey boy's concept of heaven.
Perhaps the most poignant moment, was the soliloquy of praise dispensed by Stephen Colbert, as Stewart appeared to be on the verge of tears. Colbert called Stewart "a great artist and a good man," and said that "everyone who worked on this show is a better person for having known you."
Wow! Praise does not get much better than that!
TV has lost a lot with the retirement of Jon Stewart. His was the only show of its kind. It was the only rebuttal to the drivel spewed by his arch rival Fox News. And a brilliant, sharp rebuttal it was.
Jon Stewart was not just going for laughs, he actually cared about the people and issues he talked about. His passion and sometimes anger were heartfelt and conveyed a depth which most of today's TV talking heads lack.
There is no replacing Jon Stewart. In fact, the only remaining talk show host who has anything like Stewart's depth and intelligence, is Bill Maher. And frankly, just saying that makes me afraid that Maher will soon be retiring too. God, I hope not!
In Stewart and Letterman we had iconic, bright, fiercely independent thinkers on TV most nights of the week, and always calling to task the worst abuses by right wing shills like Bill O'Reilly and Sean Hannity.
Now those voices are gone, and it's doubtful that anyone is going to step up and fill that void. Score one for the new culture of stupidity on television.
Like all the great ones, Jon Stewart knew to adhere to the old show business adage to always leave your audience wanting more. Jon Stewart left way too soon, but then so did the Beatles.
Thankfully, Stewart was given one last going away present by the God's of comedy; the presidential run of Donald Trump.
Stewart absolutely filleted The Donald during his last few weeks on the air, and it was like watching Michael Jordan play basketball.
One great moment was when Stewart imitated Trump's saying that Senator John McCain was not a war hero. In his thuggish, mob boss Trump voice, Stewart said "John McCain's a war hero because he got captured, I like the guys who don't get captured. And f*ck cancer survivors, I like people who don't get cancer."
Jon Stewart was the best system of checks and balances that we had in the media. He showed us four nights a week that "fair and balanced," was neither.
To his credit, Stewart never fell into the trap of simply becoming a Left Wing shill. He raged against the B.S. from wherever he smelled it. In fact, Stewart final call for all of us to sniff out the B.S. speaks to the core of what made him so valuable.
In an increasingly noisy, contentious and stupid media world, Jon Stewart gave us intelligence, heart and a whole lot of brilliant comedy. We needed him more than he needed us.
Calling all HuffPost superfans!
Sign up for membership to become a founding member and help shape HuffPost's next chapter