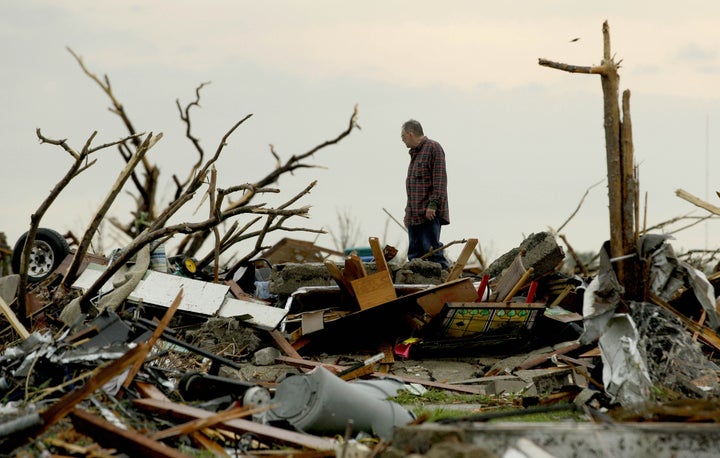 WASHINGTON (AP/The Huffington Post) -- In the aftermath of Sunday's devastating tornado in Joplin, Mo., a key House panel has approved a $1 billion aid package to make sure federal disaster relief accounts don't run out before the end of the budget year in September.
The Appropriations panel approved the measure by voice vote as an amendment to a measure funding the Federal Emergency Management Agency and other Department of Homeland Security programs for the 2012 fiscal year beginning Oct. 1.
The disaster aid package would be financed by a $1.5 billion cut from a loan program to encourage the production of fuel-efficient vehicles. That means the new spending wouldn't add to out-of-control budget deficits.
Rep. Robert Aderholt, R-Ala., said the move would ensure that there's enough money for victims of the Joplin tornado, as well as those suffering from flooding in the Mississippi Basin and from tornadoes that swept across Alabama last month.
The additional money would make sure that ongoing relief efforts for past disasters like hurricanes Katrina, Rita, Gustav and the massive Tennessee floods of last spring aren't interrupted as new disaster relief efforts get under way across the South and Midwest.
The Federal Emergency Management Agency, which oversees disaster relief efforts, has plenty of disaster recovery money for immediate needs like food, debris cleanup and temporary shelter. But Aderholt said that this summer FEMA may have to delay grants to cities and counties for rebuilding public infrastructure like schools and sewer systems.
Such infrastructure grants were withheld for six months last year until the backlog was addressed with a $5.1 billion supplemental appropriation last summer.
"Under the best-case scenario, the Disaster Relief fund will essentially run dry before the end of the year. That means sometime in mid-to-late summer, FEMA will have to freeze its recovery operations and only fund what they call, "immediate need," Aderholt said. "That means recovery, rebuilding, and general assistance will stop .... I cannot allow that to happen."
But the underlying homeland security measure won't become law until September at the earliest, which means that the disaster aid money may have to advance on its own.
House Appropriations panel spokeswoman Jennifer Hing said that there are no plans yet to advance the disaster aid measure as a separate, emergency measure but said that might be an option if the underlying homeland security measure is delayed.
The Obama administration has come under criticism from lawmakers in both parties for being slow to react to the ongoing shortfalls in disaster aid accounts.
"We are monitoring the situation closely and will consider a supplemental request if the need arises," said White House budget office spokeswoman Meg Reilly.
The Obama administration only requested $1.8 billion for the budget year that begins in October, less than half of what will be needed to deal with recovery costs of past disasters like hurricanes Katrina, Rita, Gustav and the massive Tennessee floods of last spring even as the next wave of bills come in. Authorities are beginning to assess the damage and don't have estimates of recovery costs.
The move comes as the House Appropriations panel kicks off action on a round of 12 spending bills for the budget year that begins Oct. 1.