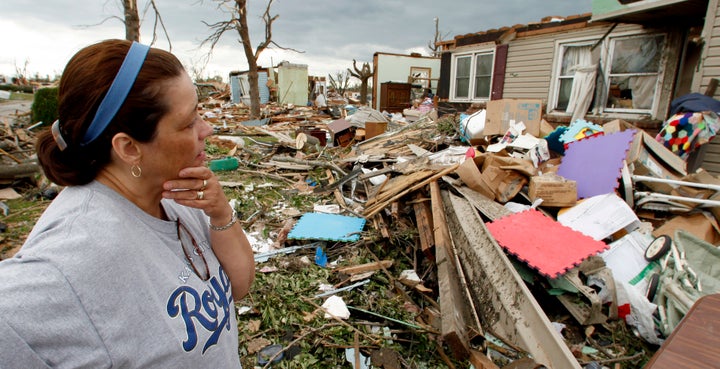 On Sunday, a massive tornado plowed through southern Missouri, leaving thousands without homes in the densely occupied city of Joplin. At least 89 are confirmed to be dead.
Kerry Sachetta, principal of Joplin High School, described the physical damage to the Associated Press:
"You see pictures of World War II, the devastation and all that with the bombing. That's really what it looked like... I couldn't even make out the side of the building. It was total devastation in my view. I just couldn't believe what I saw."
Joplin's tornado was one of more than 60 that appeared in the Midwest over the weekend, reports the AP.
CNN reports that President Obama has already sent federal aid to the afflicted region, including Federal Emergency Management Agency teams and supplies.
Other organizations have begun to answer the tornado victims' calls for help, and are eager for volunteers and donations.
For any animals that may have been victims of the storm, the Missouri Humane Society has dispatched a response team to the area. So far, the organization has rescued at least 50 animals displaced by the tornado.
A Facebook page titled "Joplin, MO Tornado Recovery" has been launched for community members to announce needed relief. Similarly, Relief Spark, a nonprofit dedicated to designing schools, has turned their Twitter feed into a constantly refreshing resource of local information, announcing new shelters and calls for supplies as the organization finds them.
The Salvation Army has deployed efforts in both Joplin, Missouri and other areas across the affected Midwest states. To find out how to get involved, visit the organization's website.
Any with medical skills who can volunteer are encouraged to sign up with Show-Me Response to donate their abilities to relief efforts.
The Red Cross has launched Safe and Well, a service that helps families reconnect after natural disasters. Also, the organization has made a call not only for monetary donations but for blood donations as well. Any in the area interested in donating can find a local donation center, or money can be sent through the Impact links below.
Popular in the Community