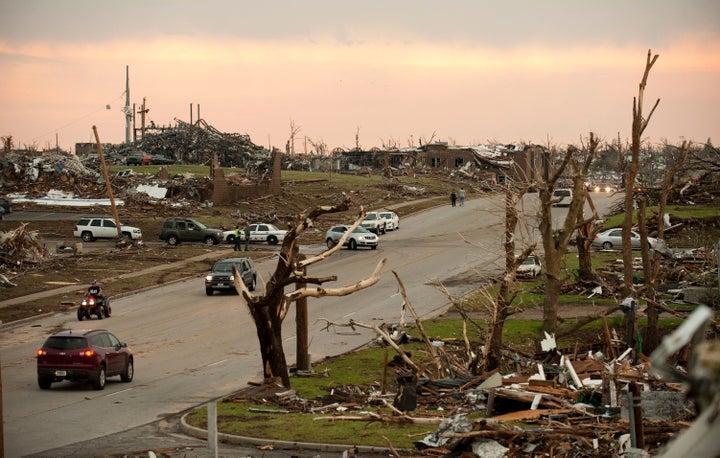 During the devastating tornado that ripped through Joplin, Mo. Sunday evening and killed at least 90 people, several churches were destroyed. Those that survived have quickly become shelters and gathering spots for neighbors, friends and loved ones to reunite.
"There is nothing but floor and rubble. The organ and pews are piled up," said Bill Pape, pastor of the now-crumbled Peace Lutheran Church in Joplin. He said the 70 members of his church had reported no deaths or major injuries, but some are now homeless. Pape is searching for a location at which to hold worship next week.
Shane Munn, campus minister of Joplin's Ignite Church, fared better. His church survived the strong tornado -- winds were estimated at 166 miles per hour -- with minimal damage.
"Right now, our church is more of a shelter. We opened our door last night to shelter 40 people and gave them food and clothing," Munn said. "A lot of folks are coming here looking for lost or loved ones, but believe it or not, the mood is very positive, very helpful."
Eight miles outside Joplin at Carterville Church, members were collecting canned food and preparing meals to deliver to Joplin churches, said a church representative. At College Heights Christian Church in Joplin, ministers and members were collecting donations and food, too, and hosted dozens of disaster victims Sunday night.
"We have a list that's two pages long of people from church who we can't find. We're just trying to reconnect people," said a minister at College Heights Christian.
Many Methodist churches were damaged in Joplin, a city named after a Methodist minister.
"We pray for God's comforting presence among those who feel completely overwhelmed. And we give God thanks for all those ready to help and serve and give and pray so that people can rebuild their lives," Robert Schnase, Bishop of the denomination's Missouri Conference, said in a statement. "I invite United Methodists to respond prayerfully, courageously, and generously during these weeks to come. May God's grace be known through our serving."
Phone lines for several churches and pastors were not working Monday afternoon because of tornado damage, but churches and ministers around the country are sending help and prayers via the Internet.
"Prayers sent to you from Alabama. We hope you are as blessed as we have been by the kindness and support of your neighbors. Our thoughts and prayers are with you," wrote Darnell Allen on the Facebook page for "Joplin Missouri Tornado Prayer and Support," which had 61 members Monday afternoon. Another Facebook group called "Prayer for Joplin Missouri" has 690 "likes."
Requests for prayer have also been popular on Twitter.
"Let's lift up in prayer all those devastated by the storms in Joplin, Missouri. If you need prayer, call our prayer line @713-491-1283," tweeted Joel Osteen, pastor of Lakewood Church in Houston, Texas.
Albert Mohler, president of the Southern Baptist Theological Seminary in Louisville, Ky., also tweeted Monday morning. "Praying for the people of Joplin, MO this morning. Very sad accounts of the devastation," he wrote.
Related
Popular in the Community