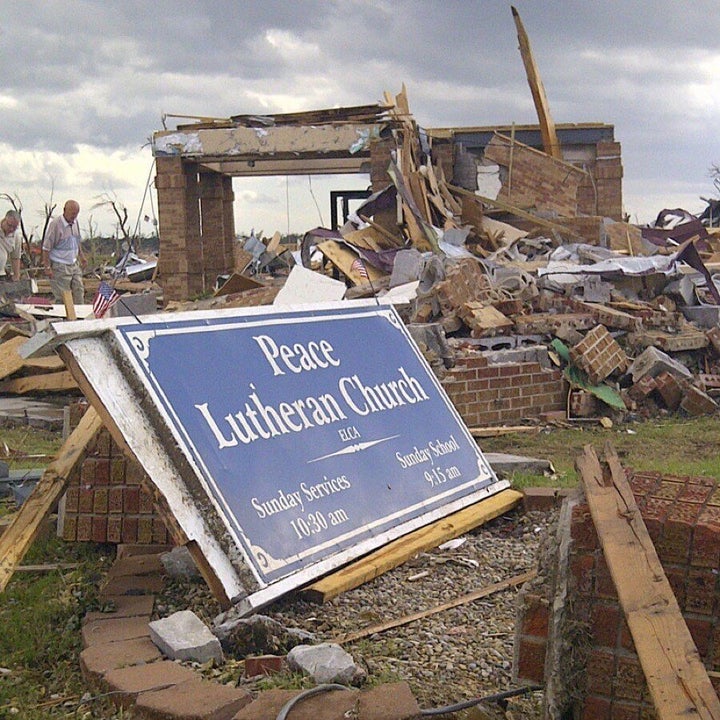 I got home around 11:30 last night (May 25) following a trip to Joplin, Mo., and a visit with members of Peace Lutheran Church in Joplin, a congregation of the Evangelical Lutheran Church in America (ELCA). I serve as bishop for the ELCA Central States Synod in Kansas City, Mo.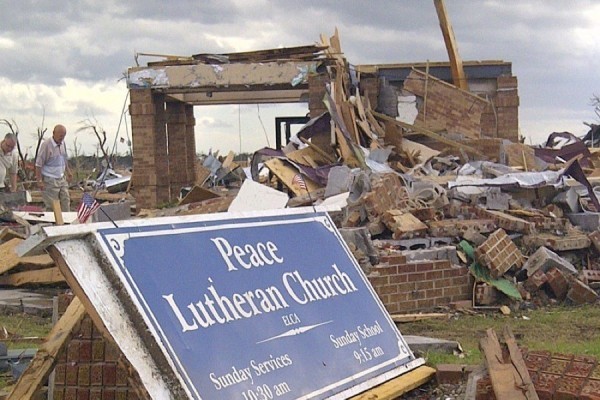 I guess pictures never fully capture and convey what a situation is really like, and that's how I felt driving into Joplin and then seeing Peace Lutheran Church and the neighborhood around it. The May 22 tornado destroyed the congregation's building. The destruction is unbelievable, the landscape nothing but rubble. I heard one national disaster worker say this is the worst destruction he's seen since Katrina.
Those who experienced the tornado said it lasted so long, just kept blowing, sucking, destroying. I've never been in a war zone, but I've a feeling tornado-damaged Joplin is as at least as bad as the worst of war zones. One looks at the total devastation in awe of what kind of sky-borne monster could possibly have wrought this destruction.
What the city will do with all this debris is a huge question. But clean up cannot begin until the missing are accounted for. I understand the state has released a listing of more than 200 missing. Search and rescue teams were working their way through the neighborhoods.
I spoke with some young people on the parking lot of Peace. Two were from homes totally destroyed, as was their high school one block from Peace Lutheran. But their real sadness was in not knowing the whereabouts of a close friend. I thought of them later as I saw a rescue team crawling in and inspecting one of the hundreds of overturned and mangled autos.
Peace Lutheran will worship somewhere on Sunday, the place yet to be determined. Bill Pape, an ELCA pastor, and some leaders want badly to worship in their parking lot. But access might be limited, traffic moves extremely slow, and the visit of President Obama on Sunday will present other logistical problems. But worship they will, somewhere. Janice Kibler of my staff will be there with them and again bring words of comfort and support of the larger church.
No members of Peace were killed though several (four to six) had homes totally or partially damaged. One, Kathrin Elmborg, 82, was featured in a Kansas City Star article yesterday. She lives across the street from Peace, and survived in an interior room. She's a hearty soul and her story is one of the mysterious and miraculous wonders of these disasters, how one is taken and another lives.
About 30 or so people from Peace gathered for the 6:30 meeting at Missouri Southern State where Congregation President Judy Stiles works. After I led them in prayer, we listened to their stories and experiences, all varied, all moving. But then the conversation shifted to the future clean up, rebuilding, next steps. I expect there will be much more grieving in the weeks and months to come as the magnitude of the loss, the reality of the situation and the challenges before them sink in. The folk were deeply grateful for our visit.
Governor Nixon has been onsite as have been some national FEMA officials. The challenges for Joplin are enormous, a community where suddenly 3,000 homes no longer exist, 500 businesses no longer exist, and a high school and four elementary schools no longer exist. Gov. Nixon, a United Methodist member, expressed his own sense of this burden and need for strength from beyond.
We had magnetic Lutheran Disaster Response signs on the side of our vehicles. People noticed, and one driver gave us the thumbs up as we passed along the street.
I made a quip last night comparing our work to long distance running, not realizing that also was Lutheran Disaster Response. But that is how Kevin Massey, director of Lutheran Disaster Response, describes the work. Lutheran Disaster Response will be the last to leave. Last night was just the first step in what will be a long journey of walking with the people of Peace Lutheran Church and the city of Joplin.
Calling all HuffPost superfans!
Sign up for membership to become a founding member and help shape HuffPost's next chapter