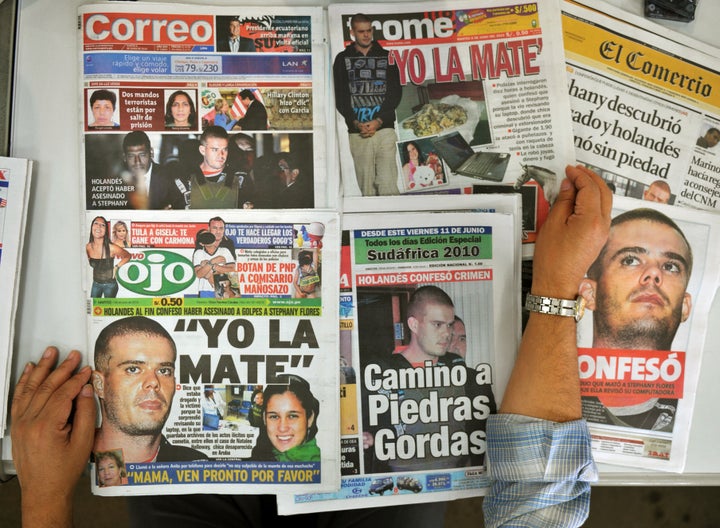 Joran van der Sloot, the imprisoned Dutch native charged with killing a woman in Lima, Peru, and extorting money from the mother of missing U.S. teen Natalee Holloway, may be a father-to-be.
The rumor that the Dutchman enjoys private visits from a Peruvian girlfriend, who is now rumored to be pregnant with his child, surfaced in several foreign media outlets, including Dutch newspaper De Telegraaf, SBS Broadcasting and Peru's Periodismo en Línea news agency.
A longtime suspect in the 2005 disappearance in Aruba of Holloway, van der Sloot has been in police custody since June 2010.
Van der Sloot's girlfriend was reportedly working in the same casino where he met Peruvian business student Stephany Flores in May 2010. He has been charged with first-degree murder and robbery for the May 30 slaying of Flores, who was found dead in his hotel room in Lima on June 2. If convicted, he could face 15 to 35 years in prison.
Van der Sloot appeared briefly in court in Lima on Tuesday for a private hearing on the murder of Flores. A new lawyer accompanied the 23-year-old van der Sloot. His former attorney, Maximo Altez, quit unexpectedly last month.
Following the hearing, the victim's father, Ricardo Flores, demanded that officials at Lima's Castro Castro Jail investigate the unorthodox visits that van der Sloot is allegedly receiving from his girlfriend. Flores said he is also angered by reports that van der Sloot has been running a lucrative business out of his cell selling candy, allegedly supplied by his girlfriend.
Flores told the Univision Network he had expected to see a "miserable person" –- an emaciated prisoner. But instead he was shocked to see his daughter's alleged killer was a "fatso" because of the snack bar van der Sloot allegedly has in his cell.
El Comercio, a local Lima newspaper, reports they were unsuccessful in getting officials at Castro Castro to comment on the allegations.
Calling all HuffPost superfans!
Sign up for membership to become a founding member and help shape HuffPost's next chapter