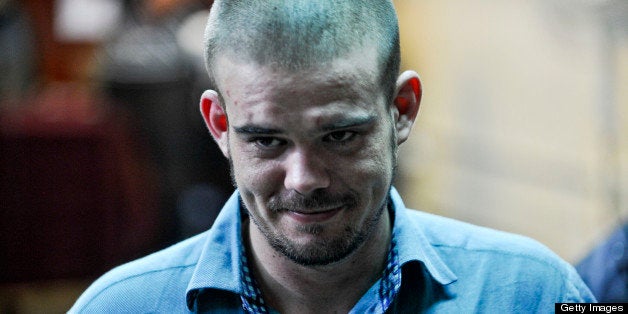 Convicted killer Joran van der Sloot is engaged to a Peruvian woman, according to his attorney Maximo Altez. The wedding is to be held in June, pending final approval by prison officials.
"He wants to marry, change his life, start a new life," Altez, also Peruvian, told the AP.
According to published reports, the young woman van der Sloot plans to wed is Leydi Figueroa Uceda, who he met in early 2011 when she was distributing products to inmates at the Miguel Castro Castro prison in San Juan de Lurigancho.
The future bride, according to published reports, was born on Sept. 19, 1989 in Peru. She is reportedly a devout Roman Catholic who lives in San Juan de Lurigancho. She is the mother of a child who may or may not be the son of van der Sloot. There are conflicting reports that the child was conceived during an unsupervised conjugal prison visit. The bride-to-be is, according to the Associated Press, registered at the prison as a conjugal visitor for the convicted killer.
Van der Sloot, an inmate at the Piedras Gordas prison in Lima, was born in Arnhem, Netherlands on Aug. 6, 1987. The Dutch citizen lived in Aruba and is an alumnus of the International School of Aruba. He is the son of Anita van der Sloot-Hugen, an art teacher, and the late Paul van der Sloot.
The future bridegroom is serving a 28-year prison sentence for the murder of Stephany Flores. The 21-year-old business student was found stabbed to death in van der Sloot's Lima hotel room on June 2, 2010. He is currently pursuing a reduction of his sentence.
The Dutchman is also the prime suspect in the disappearance of Natalee Holloway. The 18-year-old from Mountain Brook, Ala., vanished while on a class trip to Aruba in 2005. She was last seen leaving an Oranjestad nightclub with van der Sloot, then a 17-year-old honor student living in Aruba. Holloway's body has never been found, and van der Sloot has not been charged in her disappearance.
If the marriage is approved, the wedding will be held within the reinforced concrete walls of Piedras Gordas, a 161,000 square-foot high-security prison that houses leaders of drug and organized crime cartels. A desolate, desert-like landscape will serve as the backdrop for the exchanging of the vows.
Calling all HuffPost superfans!
Sign up for membership to become a founding member and help shape HuffPost's next chapter
BEFORE YOU GO
PHOTO GALLERY
Natalee Holloway