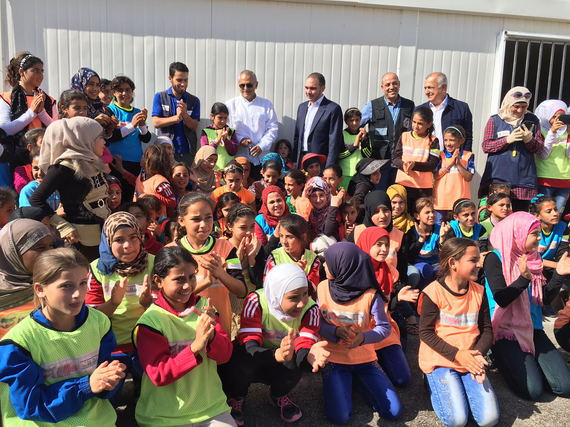 Last week I visited Jordan as guest of Prince Ali Bin Hussein and his wife, Princess Rym Brahimi Ali. Prince Ali is the third son of King Hussein, and half-brother of King Abdullah II. He is a member of the Hashemite family, which traces their ancestry directly to the prophet Muhammad.
Princess Rym, a graduate of Columbia University's Journalism School, covered the Iraq war for several years. She is the daughter of famed Algerian diplomat Lakhdar Brahimi who mediated every known major war of the last 20 years. They married in 1994 and have two beautiful children, Prince Abdullah, now 9 years old and a girl, Princess Jalila, aged 11.
Though presiding over a relatively small country without strategic oil resources, the late King Hussein was a giant of the region and respected on the global stage. King Abdullah II, a worthy successor of his father, has shown equal wisdom and political skills, ensuring support among his diverse people and gaining respect from its neighbors and beyond.
I had last met with King Abdullah almost 20 years ago. When we met on this trip, he was again welcoming and warm, noting that "we have come a long way." He gave me a comprehensive "tour d'horizon" of the security challenges posed by extreme ideologies, from the Middle East to North and West Africa and Asia.
On a map where countries/regions of threats are marked, there is only one region of the world, Latin America, where religious and/ideological fanaticism is not in force and a source of conflict or potential source of conflict.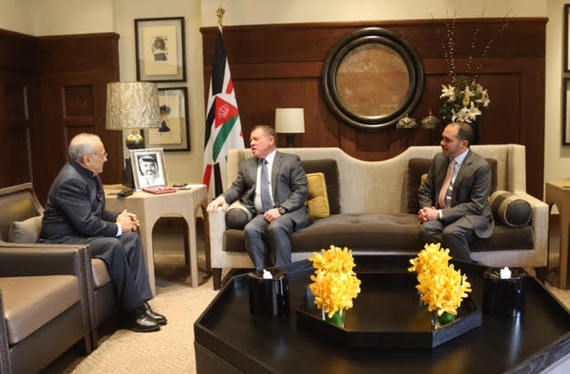 While the King clearly believes that when necessary, targeted force must be used against violent extremists, he correctly argues that this is a battle that must be waged primarily through education, dissuasion and persuasion. King Abdullah is rightly concerned and he pointed out that there's an abysmal lack of concerted and coordinated strategies among the partners in dealing with this global challenge.
Predictably, Jordanians are reserved in commenting on the result of the recent US election and what it might mean for the region. While the Kingdom always enjoyed excellent relations with both Democrats and Republicans, they know this is not the usual Republican President or the usual Republican-dominated Congress.
Things are not going to be the same from this point forward. But I am sure that the moderate, middle of the road, pragmatic and wise statesmanship shown by the Jordanian monarchy over decades will continue to help it stay afloat and survive the storms that are gathering.
My host, Prince Ali Bin Hussein, a graduate of the famed British Royal Military Academy Sandhurst, has the rank of Major-General of the Jordanian Special Forces, and was head of King Abdullah II′s Special Security in the Royal Guards.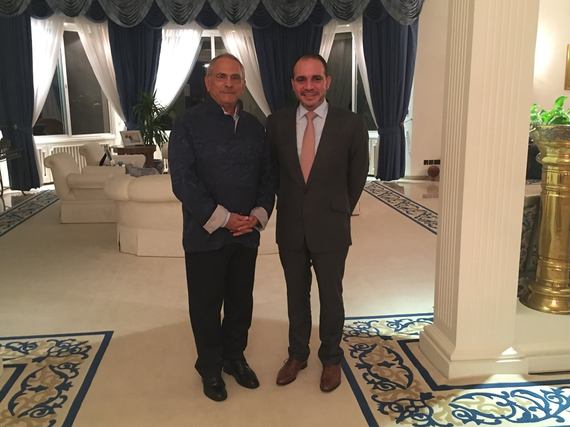 Very much a sports enthusiast and believer in "sports for peace" Prince Ali is also president of the Jordan Football Association, and founder and president of the West Asian Football. When Prince Ali stood for FIFA President against the discredited Sepp Blatter, his campaign focused on change, football ideals, and uniting and raising the profile of Asian countries, both within FIFA and generally. Prince Ali successfully championed the lifting of FIFA's ban on the hijab in women's football.
On November 9, 2005 Jordan suffered a series of coordinated bomb attacks on three hotel lobbies in their capital, Amman. 60 people were killed and 115 injured. Entrusted by the King in their aftermath, Prince Ali conceived and structured one of the world's most sophisticated early warning, crisis prevention and crisis management centers, the National Centre for Security and Crisis Management.
The Amman bombings were the last major terrorist attack in Jordan. I was privileged to visit the modern high security facility established by Ali, buildings several stories high but deep underground, and was briefed about Jordanian authorities' preparedness to deal with man-made and/or natural catastrophes.
The Kingdom faces formidable challenges, from a non-generous nature that denies it the basic commodity, water, (it is the fourth driest country on Earth) and the all too obvious complex regional security challenges.
Neighbors are not always friends and with the exception of Israel none is stable. The disruption of Jordan's main trading routes and partners, Syria, Iraq, Iran, are severely impacting an already depressed economy.
However, Jordan is what it has always been, a relatively peaceful and stable country, thanks to an old monarchy, whose legitimacy and strength derive from history (the Hashemite family ruled over Mecca for more than 700 years until 1925 and over Jordan since 1931) and also from its fiercely loyal tribal base. As Jordanians take a fish eye look at the man-made catastrophes in the region, they cherish their oasis of peace and tranquility.
Like Lebanon and Turkey, Jordan shoulders a huge portion of the refugees from Syria. With Prince Ali Bin Hussein I visited the Zaatari camp in Northern Jordan, near the border with Syria, covering 5.3 square kilometers (approximately 2 square miles). The camp hosts close to 80,000 refugees from Syria, and is managed by UNHCR and several dozen NGOs. It is a model refugee camp with reasonable conditions - water, sanitation, schools, clinics, sports facilities. The health clinic offers good services with 14,000 weekly consultations.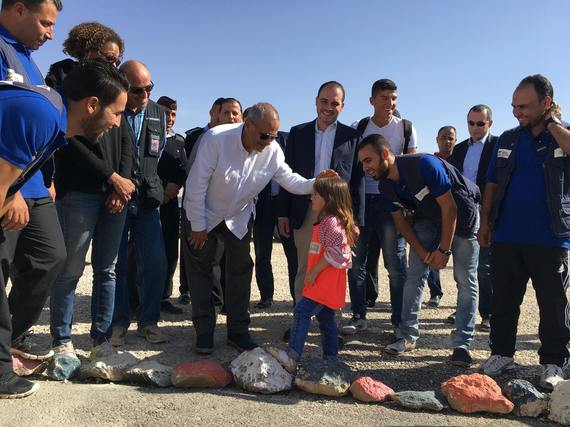 Since its opening in 2012 close to 500,000 refugees have been sheltered in this camp. Of the current refugee population 57% are youth, 19.9 percent are under 5. One in five households are headed by women. New life is born in the camps with an average of 80 births per week.
Every refugee is thoroughly identified through the iris technology. It is the only refugee camp in the world with such sophisticated identification system. According to Jordanian security personnel common criminality is very low. While life is never normal in refugee camps, visitors are impressed with the near normality in the camp. I saw countless children, boys and girls, going to/from schools and nothing is more reassuring than seeing smiles on their faces.
Some enterprising refugees seek additional income through small business activities within the camp where some 2,000 small shops have sprung up.
During the visit to the camp I witnessed one of the ongoing football training workshops organized by Prince Ali's Asian Football Development Project (AFDP). We toured the facilities of the recently-inaugurated Zaatari House of Sports, established as a joint sports venue benefitting boys and girls of all age groups inside the camp. I was told that initially mothers refused to allow their daughters to play football. Today they enthusiastically cheer their all-girls teams. So close to the horrors of the war, I was impressed at how these young boys and girls seem to have overcome their nightmares, exuding real happiness.
In contrast to Jordan, Lebanon and Turkey, who have jointly absorbed the largest number of refugees, the richest Arab country, Saudi Arabia, refuses to receive one Syrian refugee. Instead Saudi Arabia wages a war in Yemen causing enormous destruction, and the loss of countless innocent lives.
Jordan is indeed an oasis of peace in a turbulent region. The Zaatari camp that has emerged on its barren land is providing safe haven from the horrors of Syria for tens of thousands of Syrians. With generous support by many in the international community, and professional, human management by UNHCR and the NGOs, it provides a model for the rest of the world for treating those who have lost everything but their precious lives with respect and dignity.
Support HuffPost
The Stakes Have Never Been Higher
Related
Popular in the Community