A culinary adventure thousands of years in the making.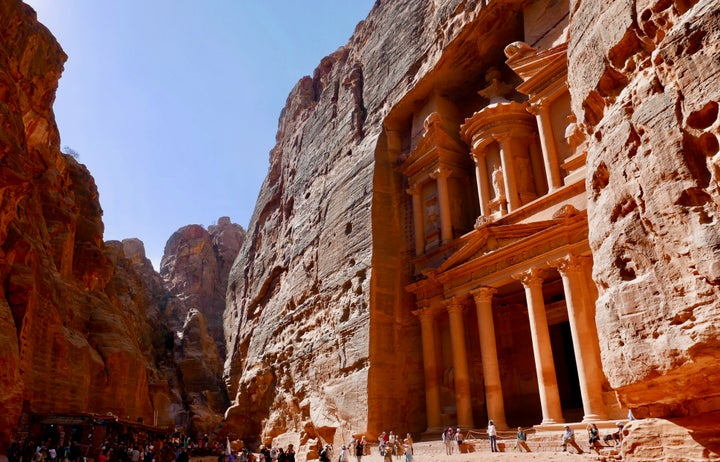 There are many reasons to visit Jordan—the "long-lost" city of Petra, carved by an ancient civilization out of the red sandstone mountains; Wadi Rum, the romantically gorgeous desert of Lawrence of Arabia; the spot on the Jordan River where John the Baptist baptized Jesus; and a welcome by the people that is both so sincere and so warm that even the most jaded traveler will be charmed by the hospitality.
And then there's the food. Finely chopped fresh vegetables, olives, figs and dates, as well as hummus, falafel and pita are familiar to any American whose diet goes beyond the drive-thru window.
The basic ingredients and preparation are common throughout the Middle East and much of the Mediterranean, but Jordan is a distinctive culture, blending Bedouin and Levantine heritages, and the country's kitchens serve up their own twists on the regional cuisine.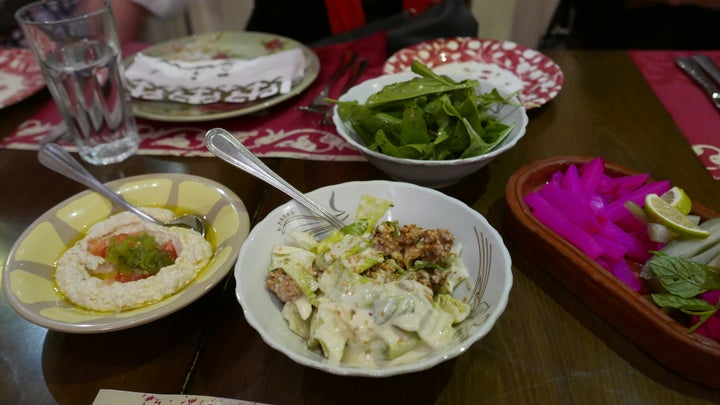 Arriving in Jordan's capital, Amman, in the northwest of the country, you will be struck by the number and variety of places to sample the local fare. From fancy hotel restaurants to sidewalk eateries to street food stalls. A great place to start and get a taste of the breadth of Jordanian cooking is Sufra on Rainbow Street. At this elegant, traditional restaurant, the appetizers—mezze—represent every imaginable combination of chickpeas, eggplant, tahini sauce (made of crushed sesame seeds) and olive oil. Dimseh, for example, consists of lentils, eggplant, garlic and tahini sauce drizzled with a pomegranate molasses dressing.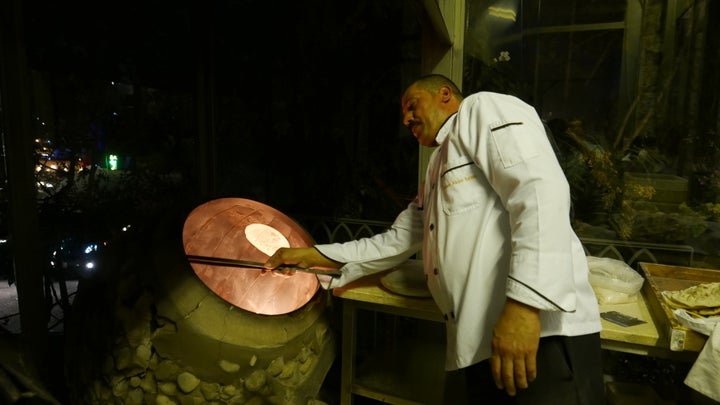 You will quickly attack any mezze with the warm tannor bread that's made in the back of the restaurant. Using a wood fire inside a clay drum, the baker slaps a disc of dough onto the upper interior of the drum. The flames peck at one side of the bread while the hot drum cooks the other. It's a bread-making method still common around the country, with steel often replacing the clay.
Billed as the national dish, mansaf is an entrée and then some. This hearty combination of rice and lamb chunks is bathed in jameed sauce, which is made from the dried goat-milk yogurt of Bedouin culture. Rich and deeply flavorful, mansaf is typically garnished with almonds and pine nuts.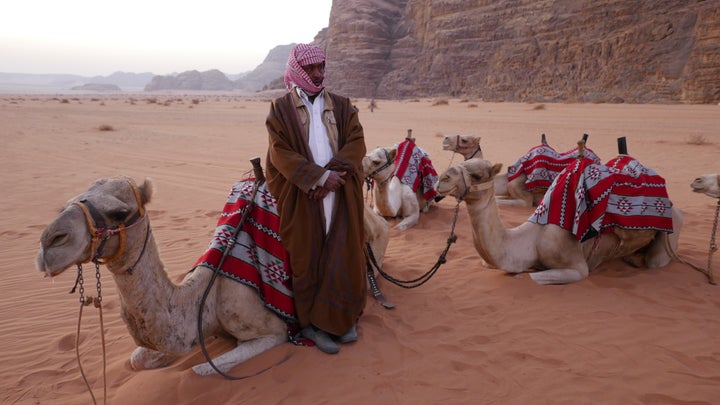 Zarb is another dish with a long heritage that signals party time to every Jordanian palate. I experienced the process and devoured the product while at a tent camp in Wadi Rum. The setting, as well as the preparation, could not have been more authentic.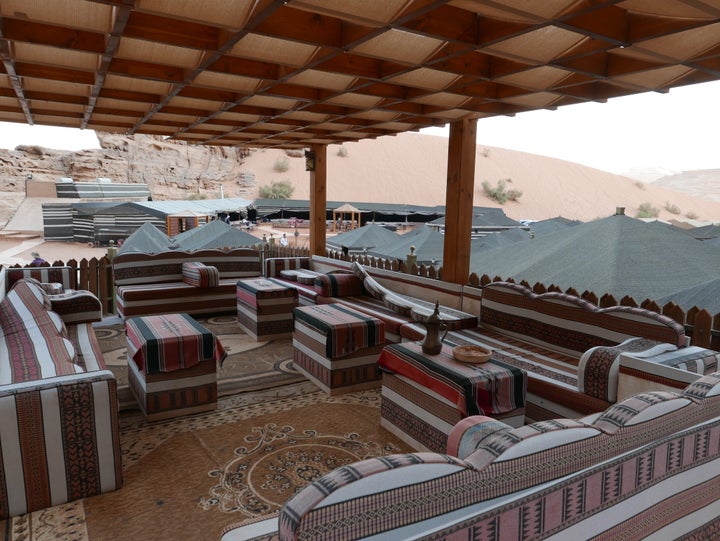 Created in the taboon, a Bedouin oven that's buried in the ground, zarb is the original slow-cooker dish. With hot coals at the bottom of the hole, the taboon is stacked with layers of lamb and chicken that are marinated in lemon juice, salt and garlic, along with any vegetables and herbs on hand (green peppers, eggplant, onions, potatoes, carrots, thyme, parsley).
The oven is lowered into the hole, the top goes on, and sand is shoveled onto the sides and on top. A blanket goes over that. (Echoes of a New England clambake, eh?) Within a couple of hours, it is ready, with a rich mixture of juices and flavors that is perfect over rice.
Not all Jordanian dishes involve so much culinary drama. There are many techniques and recipes you easily can pick up and employ back home. Cooking classes abound in various formats and locations around the country. Petra Kitchen, just up the road from the awe-inspiring archaeological site, is a modern teaching kitchen that teams professional chefs with visitors to prepare several dishes at each butcher-block workstation. The result is a "we-made-it" feast.
The evening I took part, the menu included an easy-to-prepare tahini salad. Tomatoes, cucumbers, onion, parsley and a hot green pepper are diced and then mixed with crushed garlic and salt, lemon juice, vinegar and sesame-seed tahini.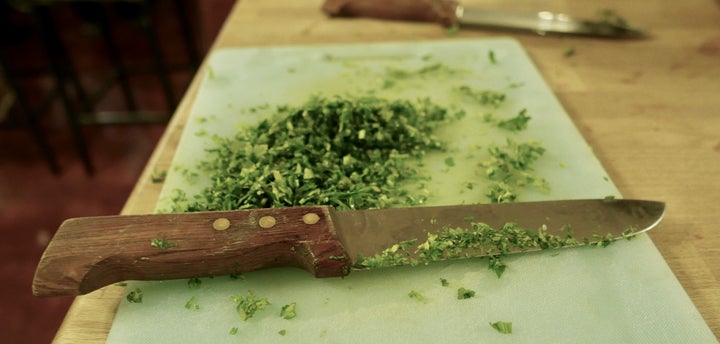 For me, the big take-away was that to get real Jordanian taste, chop everything much more finely than we Americans are used to. The chef must have thought I was a slow-learner as I turned the tomatoes into dice-sized chunks, not, as he insisted, pieces one-quarter as big. Tasting the salad, it was clear why he urged me to think small—the tiny bits more freely share their flavors, and each forkful has the taste of the whole.
Galayat bandura is a popular dish in the Arab world (literally translates as "skillet of tomatoes"). It's served at any meal of the day and as anything from a mezze to an entrée. Preparation is simple. Sauté pine nuts in olive oil until brown. Save them for garnishing. Then sauté sliced garlic in the olive oil. Add tomatoes, green chili peppers and boil for five minutes. Simmer for 15 minutes before serving with the pine nuts on top.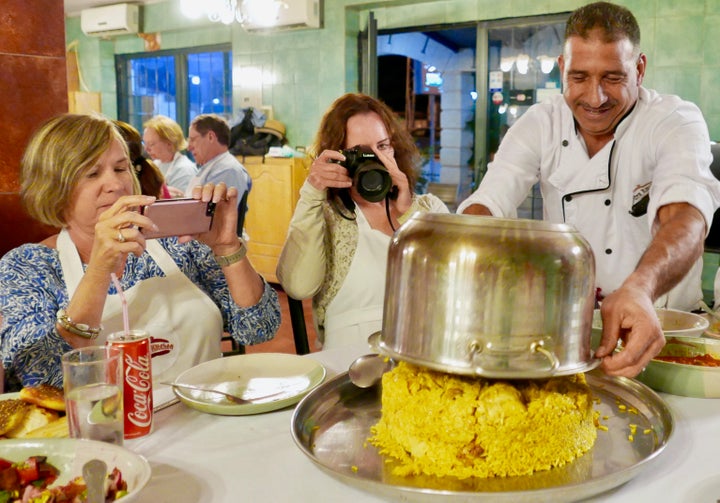 A more complicated and downright fun dish is magluba, "upside down." Eggplant, cauliflower, rice, chicken, ghee (clarified butter) and spices, such as paprika, cinnamon, cumin, turmeric and black pepper, are placed in a deep soup pot in very specific layers. Meat broth is poured over it all, and the pot is covered. After cooking on the stove at low heat for about 40 minutes, the pot is turned over on a large platter (hence the name "upside down"). What tumbles out is a fragrant mound of well-blended flavors.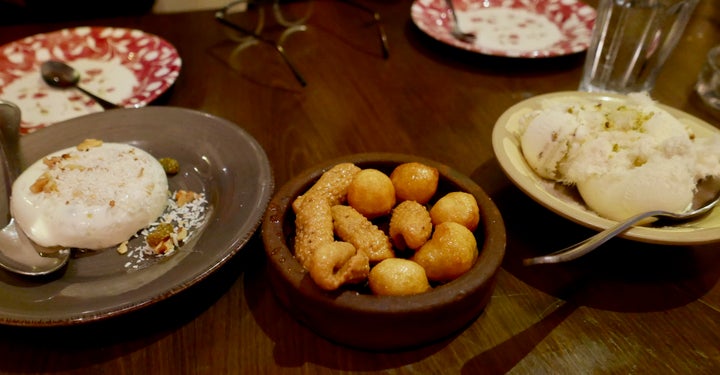 Desserts? Baklava is familiar—puff pastry filled with pistachios and drowned in honey. So is barazeh, a sweet, crunchy sesame-seed cookie featuring honey and pistachios.
And, of course, dates are ubiquitous. They come in hues from light to dark; they're dipped in chocolate; they're stuffed with nuts; they also add sweet flavor and a firm texture to treats such as maamoul (date- and pistachio-stuffed shortbread cookies) and um ali (bread pudding with raisins, cream and rosewater). Expect to find rosewater enhancing the flavor of custard and ice cream, too.
Whatever the meal, it will end with Arabic coffee. Spiked with cardamon, this pleasantly pungent brew is served very hot ("so hot it scares your mustache") in small cups that your host or server will refill several times.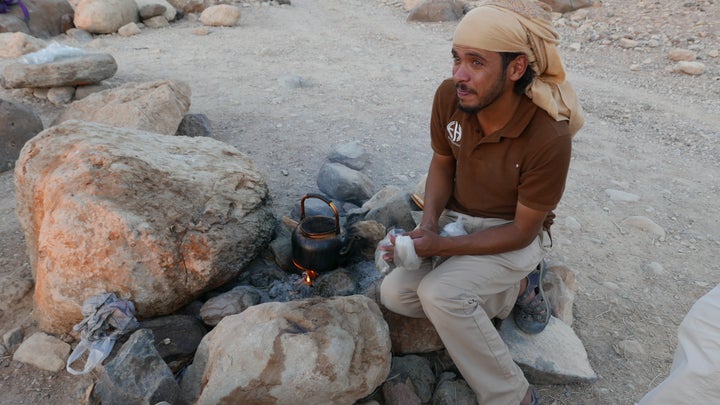 Regular refills also are standard practice when tea is served. Bedouins season their black tea with sage; for others, thyme and mint are popular add-ons.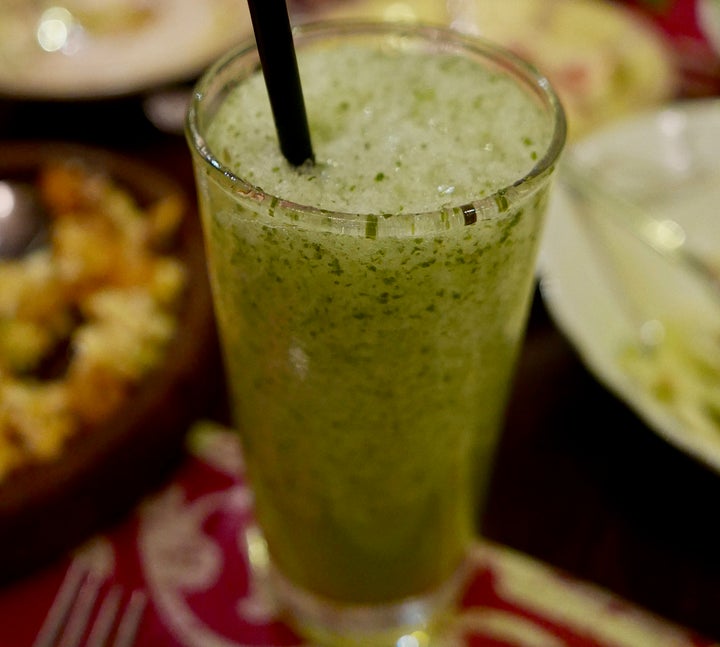 Perhaps the most refreshing way to enjoy Jordanian mint is in a limonana, blending lemon, sugar and mint. Like other dishes, this drink is found throughout the Middle East. But there is something special and distinctive about sipping it in Jordan.
Popular in the Community